Drywall waterproofing is mostly a myth. While there are some drywall types that are more water resistant than others and the performance of drywall can be improved with surface coatings in damp environments, drywall itself can never truly be 100% waterproof. For a waterproof wall and ceiling system that will never grow mold or mildew, you'll have to give up on drywall completely and opt for a PVC-based product like Trusscore Wall&CeilingBoard.
The Reality of Waterproof Drywall (and Why It Doesn't Work)
Waterproof drywall has been a highly sought after building material in the construction and home improvement worlds
While it's possible to improve the water performance of drywall with paints and coatings, surface treatments will never truly make drywall waterproof
The same is true of so-called greenboard drywall, which has an improved performance profile in wet and damp environments, but isn't truly waterproof
A PVC-based product like Trusscore Wall&CeilingBoard, is the answer when you require proper waterproof performance
Why Waterproof Drywall
Drywall is made from gypsum and paper cladding, which are two highly absorbent materials. In certain rooms of your house – like basements, bathrooms, laundry rooms, and kitchens — that are known to be humid, it's only a matter of time before your drywall starts to show tell-tale signs of water damage.
When drywall gets wet, bad things happen: The walls bubble and swell. The paint becomes stained and discolored. Mold and mildew can grow. And as the gypsum that's sandwiched between the drywall's paper layers degrades, the sheet of drywall loses its structural integrity. Once that happens, the only solution is to rip out the drywall and replace it, which is expensive and inconvenient.
In fact, most professional contractors advise not to use any drywall at all as a backing for tile in a shower or sink area. Instead, they recommend using a product like cement board with a moisture barrier behind it. Likewise, drywall isn't recommended for ceilings. Because if it does get wet, it can fail structurally and create even bigger problems.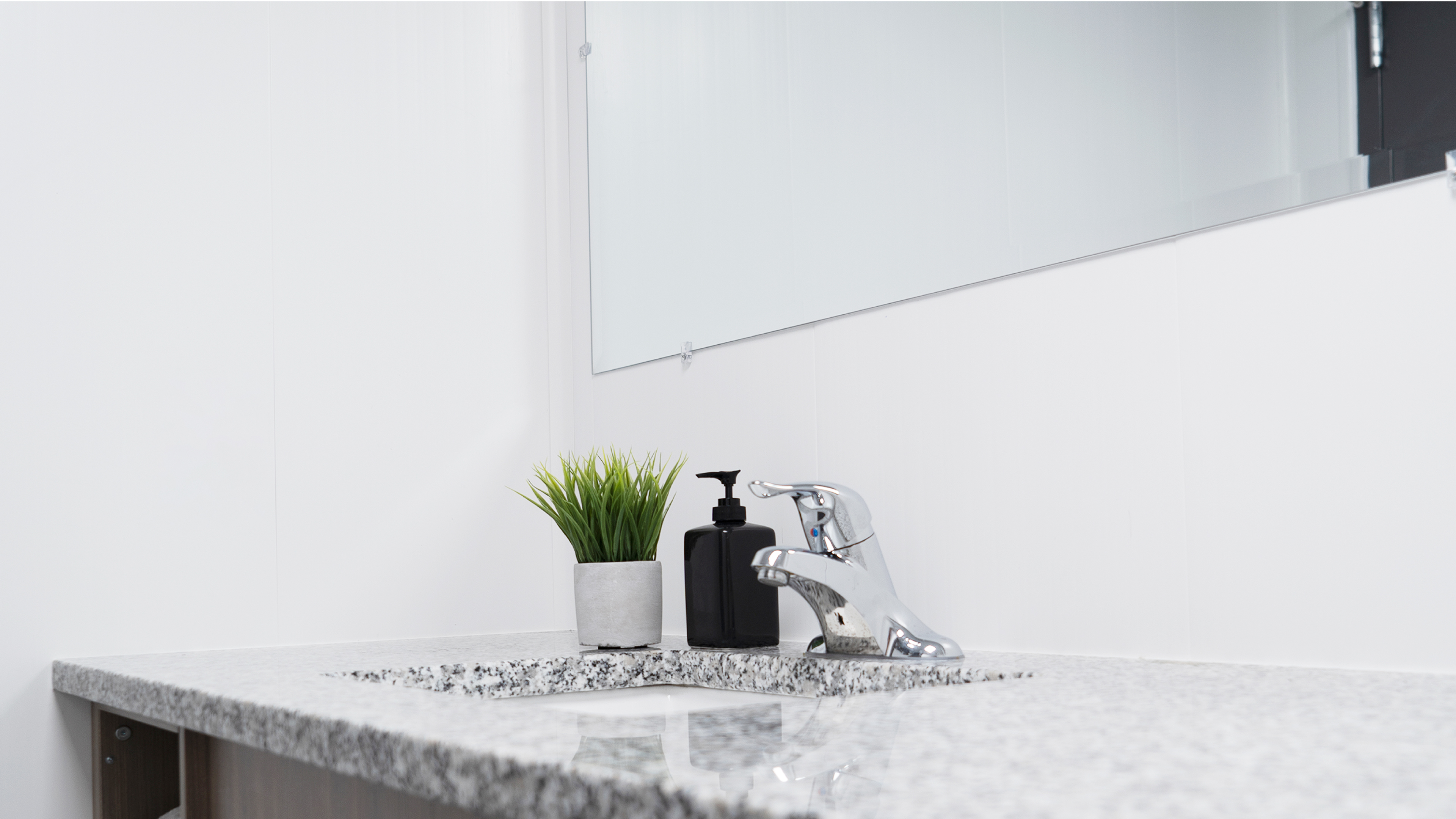 Find a Retailer
Trusscore works with thousands of retailers across North America to bring you the best service and access to our products.
How to Waterproof Drywall
To prevent costly and time-consuming repairs from water damage and improve the water resistance of drywall, there are two options you can choose from: You can apply a waterproofing primer to standard drywall, or you can buy a water-resistant version of drywall from a local retailer.
Using a Waterproof Primer
The most popular way to waterproof your drywall is to use oil- or latex-based waterproofing primer. These primers are made by most paint manufacturers and are designed to prevent mold and mildew from growing on the surface of your drywall. The steps to waterproof drywall with primer are also quick and easy:
Clean any dust off the drywall using a wet dry vac or microfiber cloth. Don't use water or cleaning supplies — this can introduce moisture to the drywall which is counterintuitive to the whole waterproofing process.
After the drywall is free of dust, apply the primer in a thin, even layer using a paint roller brush. For corners and along baseboards, use a smaller paint brush.
Apply a waterproofing paint over the primer for added protection. Waterproofing paint provides a finished look and adds an extra layer of defense against mold and mildew growth.
Buying a Water-Resistant Waterproof Drywall Alternative
You can also buy water-resistant drywall known as "greenboard drywall." The paper facing on greenboard drywall has already been treated with a waxy coating and chemicals that are resistant to moisture and mildew. Greenboard offers better performance than conventional drywall in damp or wet environments and can increase the lifespan of your walls in moderately humid rooms.
But a note of caution: Neither of these solutions deliver a 100% waterproof result. They'll improve the drywall sheet's water or moisture resistance but, if enough moisture is present, the sheet is still subject to damage and will need to be replaced.
The only way to have completely waterproof walls and ceiling performance is to use a drywall alternative like Trusscore Wall&CeilingBoard.
Trusscore Wall&CeilingBoard is a Waterproof Drywall Alternative
Made from PVC, pre-finished Trusscore Wall&CeilingBoard panels are a 100% waterproof alternative to drywall for interior spaces.
Thanks to its tongue-and-groove interlocking system, Trusscore Wall&CeilingBoard panels create a watertight seal that protects your interior walls from water damage. Plus, the non-porous surface panels are designed to shed water and will never grow mold or mildew no matter where it's installed in your home.
In addition to being waterproof, Trusscore Wall&CeilingBoard has several other benefits over drywall, too:
Where Can I Install a Waterproof Drywall Alternative like Trusscore Wall&CeilingBoard?
Trusscore Wall&CeilingBoard and Trusscore SlatWall are best suited for high-traffic, humid, and utility areas of your home, including:
---
Bottom line? There are ways to improve drywall's water performance with the use of waterproof paints and veneers. And there are drywall types available that perform better in damp environments than others. But the answer to the question of how to waterproof drywall is: you can't. There's no way to have truly waterproof drywall.
The solution you can trust in wet environment? Trusscore Wall&CeilingBoard and Trusscore SlatWall. They're made to perform when the going gets wet.