Drywall waterproofing is mostly a myth. There are drywall types that are more water resistant than others, and the performance of drywall in wet environments can be improved with surface coatings, like waterproof paints. But for a truly waterproof wall and ceiling panel, one that can resist mold and mildew no matter how wet it gets, you need performance you can trust – a PVC-based product like Trusscore Wall&CeilingBoard.
Waterproof drywall has been a long-sought holy grail in the construction and home improvement worlds
While it's possible to improve the water performance of drywall with paints and coatings, surface treatments will never truly make drywall waterproof. At best, they'll make drywall more water resistant
The same is true of so-called green drywall. It has an improved performance profile in wet and damp environments, but it's not truly waterproof and can't be used behind shower tiles
A PVC-based product, on the other hand, one like Trusscore Wall&CeilingBoard, is the answer when you require proper waterproof performance
Nobody likes completing a renovation and later discovering that moisture has damaged their newly installed drywall. The repairs are expensive and time consuming.
And the truth is, the use of drywall in certain rooms in a house – in basements, in bathrooms and laundry rooms, and in kitchen sink areas – poses a problem. The reason? Drywall simply doesn't like moisture. Certain rooms in a house, rooms like the ones listed above, are, of course, considerably wetter than others.
Any contractor will tell you: When drywall gets wet, bad things happen: The walls swell. They discolor. They become a source for mold and mildew. And the gypsum that's sandwiched between the drywall's paper layers degrades, robbing the drywall sheet of its structural integrity. The only solution when drywall gets wet is to rip it out and replace it, which of course is as costly as it is inconvenient.
Can drywall be waterproofed?
In a word, no. Waterproof drywall is not a thing.
What is a thing is water-resistant drywall. There are drywall types, known as green drywall, blue drywall, and purple drywall (and distinguished by the affiliated color) that offer better performance than conventional drywall in damp or wet environments. These types achieve better performance with thicker paper – the paper that all drywall uses to sandwich the gypsum – and with the use of a wax coating on the paper.
It's also possible to improve the performance of drywall in wet areas by coating it in a waterproof primer and paint.
But a note of caution: None of the above solutions will deliver a waterproof product. They merely achieve better water or moisture resistance. Meaning that if enough moisture is present, even water-resistant drywall will become subject to damage.
In fact, most contractors will caution you to not use drywall at all as a backing for tile in a shower or sink area, and instead they recommend using a product like cement board, along with a moisture barrier behind it.
Likewise, water resistant drywall isn't recommended for ceilings. Because if it does get wet, it can fail structurally and create big problems.
Bottom line? The only way to achieve proper wall and ceiling waterproofing is to use a waterproof product.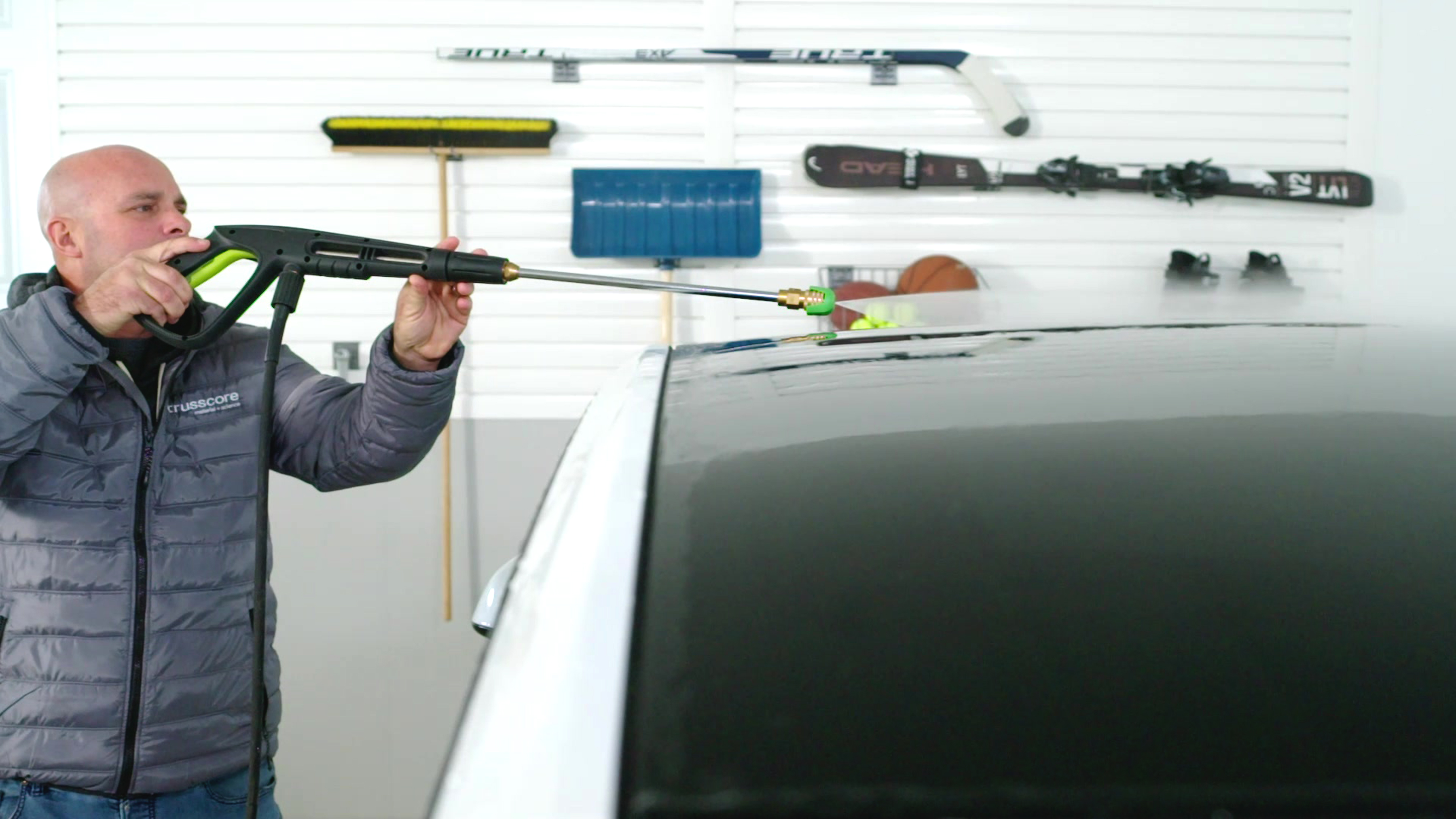 Trusscore Wall&CeilingBoard: The solution to waterproofing drywall.
Trusscore Wall&CeilingBoard is made from PVC, meaning it will shed water when it gets wet, and it won't become a vector for mold or mildew no matter where it is installed.
It's ideal, therefore, for wet locations like basements, bathrooms, laundry rooms, and garages. Bonus? It's strong, durable, and far more impact-resistant than drywall.
It also installs up to four times faster than drywall and with none of the mess or hassle. There's no taping, no mudding, no sanding.
How waterproof are we talking? Trusscore Wall&CeilingBoard is so impervious to water that you can clean it with a pressure washer – but it cleans so easily that a simple wipe with a damp cloth will usually do the trick.
Trusscore Wall&CeilingBoard also has the advantage of blending seamlessly with another Trusscore product, Trusscore SlatWall, which is a wall-based storage system ideal for garages and basements, or any room where additional storage is required.
Like Wall&CeilingBoard, Trusscore SlatWall is made from PVC, meaning it has the same water-shedding properties and won't ever become a vector for mold or mildew growth.
And like Wall&CeilingBoard, SlatWall installs quickly and is long-lasting.
Bottom line? There are ways to improve drywall's water performance with the use of waterproof paints and veneers. And there are drywall types available that perform better in damp environments than others.
But the answer to the question of how to waterproof drywall is: you can't. There's no way to have truly waterproof drywall.
The solution you can trust in wet environment? Trusscore Wall&CeilingBoard and Trusscore SlatWall. They're made to perform when the going gets wet.