Goodbye drywall, hello Trusscore!
As the true alternative to traditional drywall systems, Trusscore products are the answer to your garage dreams. With Trusscore Wall&CeilingBoard and Trusscore SlatWall, your garage can combine on-the-wall storage capacity with bright, durable, water-resistant walls that will never grow mold or mildew and clean up with a simple wipe.
If you're searching for waterproof garage wall panels that can deliver a functional, great-looking space that never needs painting or refinishing, look no further. Trusscore has you, and your walls, covered.
The Ideal Drywall Alternative for Garages
Those of us that are fortunate to have a garage of any kind know how important of a space it truly is. So why do most garages lack inspiration, storage capability, and durability? When you transform your garage with Trusscore, those problems become a thing of the past.
Trusscore Wall&CeilingBoard and Trusscore SlatWall combine to give your garage the upgrade you've been dreaming of. Even better, it installs 4x faster than drywall and will transform your garage into a bright, organized, durable space. A Trusscore garage can be what you make of it — use it as a workshop, organized family storage area, home gym, the perfect backdrop to showcase your vehicle, or maybe even all of the above.
HGTV's Bryan Baeumler Shares How Trusscore Can Transform Your Garage
Trusscore Customer Story
See how Trusscore saved this ailing garage from moldy, crumbling drywall
A Garage Wall Storage System for Total Organization
Garage organization and garage storage solutions are among the top needs of every homeowner. That's why Trusscore Wall&CeilingBoard is designed to seamlessly blend with Trusscore SlatWall and its suite of compatible home organization accessories — wire baskets, shelves, and hooks — to provide flexible, head-turning, garage wall shelving and storage.
And we'll let you in on a little secret — most homeowners who have transformed their garage with Trusccore only have one regret:
"I wish I incorporated more Trusscore SlatWall!"
Be bold with SlatWall in your design to make the most of your space.
Installation Help
Trusscore Wall&CeilingBoard and Trusscore SlatWall combine as the perfect garage drywall alternative that installs directly over existing drywall or bare studs. Lightweight but strong, Trusscore products are designed to install quickly and easily by Do-It-Yourselfers and professionals alike.
Whether you're considering a DIY garage makeover or hiring a professional — or you are the professional, our Installation Help page has everything you need to know when installing Trusscore products.
Products to Transform Your Garage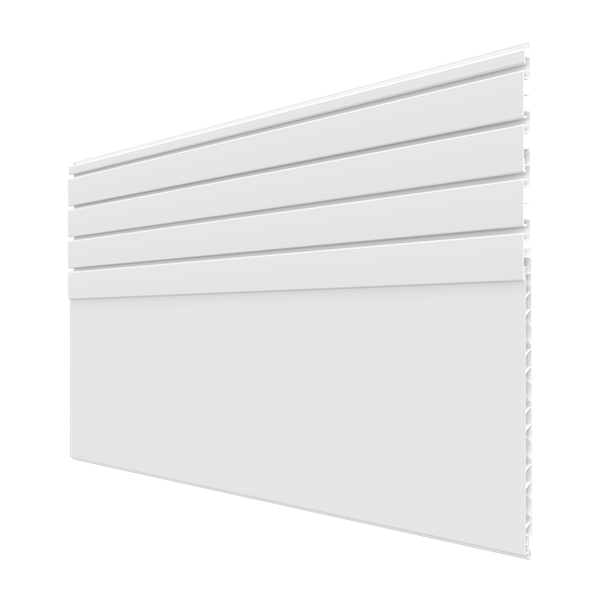 Wall&CeilingBoard and SlatWall
---
Designed with a high-strength polymer formulation, Trusscore Wall&CeilingBoard and Trusscore SlatWall will transform any space. The durable, lightweight, and easy to install wall and ceiling panels combined with the high functioning organization possibilities of Trusscore SlatWall make them the perfect pair for your next project.
Learn More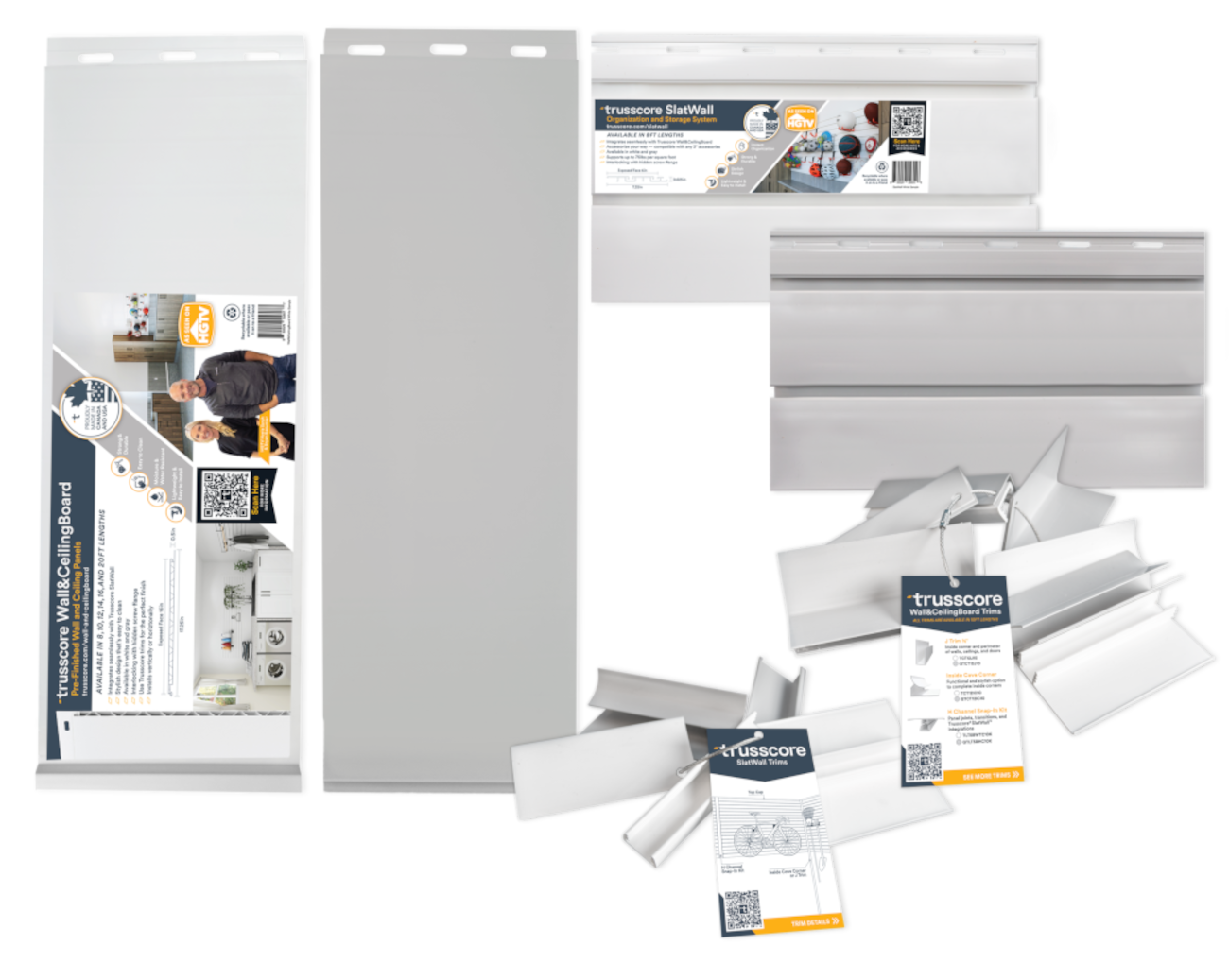 See for Yourself
The best way to see and feel the quality of our materials is in person. Compare Trusscore samples to get a better sense of the color and style suited for your next project.
Planning your project?
Our material estimator tool can help you plan your project and estimate the material required to suit your needs.
Have a question about Trusscore?
A Trusscore Product Specialist is on hand with answers — ask us about product availability, installation help, estimation tips, and more.