Everyone wants a bright, dry, and mold-free basement that drywall simply can't promise. For basement walls and ceilings, the answer is Trusscore.
Our moisture and water-resistant basement wall and ceiling panels have a bright white or soft gray finish that adds resilience, style, and functionality to your home, outperforming alternative products in basement spaces.
Basements can be complicated spaces. Moisture creeps over time, humidity tends to collect, and your basement drywall is just a drop of water away from the start of a mold problem. With anything other than Trusscore on your walls and ceiling, your basement is at risk.
Trusscore Wall&CeilingBoard is perfectly designed to replace drywall as the choice material for your basement walls and ceilings. Panels are waterproof, cleanable, and durable. Drywall simply can't say the same.
Trusscore SlatWall is the perfect accompaniment to your basement wall system alongside Trusscore Wall&CeilingBoard. It's engineered with the same properties and benefits but boasts a complete wall storage solution ready to snap in your favorite baskets, hooks, and shelves. And since the risk of water damage makes using your basement floor as storage space a risky strategy, Trusscore SlatWall can be a critical element in your basement space.
When drywall gets wet, the outcome is never pretty. One of the amazing features of Trusscore Wall&CeilingBoard is it can handle repeated soakings with no issue. There's no swelling, no mold growth.
Bryan Baeumler, Builder, professional contractor, and host of several HGTV television shows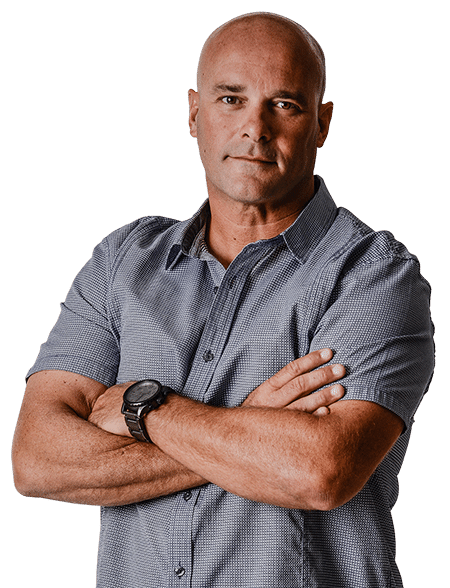 Nowhere in your house is it more critical to have a wall and ceiling material that stands up to moisture, water, and mold. Trusscore Wall&CeilingBoard answers that call, and then some. Whether it's a flooded basement, a spilled glass of water, or a humid space, you'll want Trusscore on your walls.

Designed for longevity, Trusscore Wall&CeilingBoard and Trusscore SlatWall will stand the test of time, day in and day out. Their high-strength PVC formulation gives you the peace of mind that comes with a product that is engineered to outlast the life of the basement they're installed in.

Have you ever tried to carry a 4'x8' sheet of drywall down your cramped basement stairs? It's not fun. Sometimes, it's not even possible.

Trusscore panels are lightweight, so they're no hassle to handle. Plus, with their tightly interlocking tongue and groove design, panels install on your wall studs with ease and speed. No mudding. No taping. No sanding or painting. No problem!
The Ideal Drywall Alternative for Basements
It's no secret that a finished basement adds value and living space to a home. Trusscore Wall&CeilingBoard and Trusscore SlatWall are the perfect upgrades for your basement space, delivering a bright, clean finish and unparalleled functionality.
Basements tend to be damp and dark. Trusscore products, made from PVC, are mold- and mildew-resistant panels for basement walls and ceilings. They reflect light, they shed water, and they won't expand or swell. And Trusscore products clean up with a simple wipe. Plus, Trusscore Wall&CeilingBoard is tough — it's made with an internal truss design that ensures your basement walls will last and handle high traffic and bumps without issue.
With Trusscore, your basement will look and function at its best.
Combine with SlatWall for a Basement Wall Storage System
Storing items on the floor of your basement is asking for trouble since basements are prone to flooding, leaks, and moisture-related issues. Trusscore SlatWall lets you reclaim control of your basement storage without compromising on the material properties that make Trusscore products ideal for basement spaces.
Trusscore Wall&CeilingBoard integrates seamlessly with Trusscore SlatWall and its suite of accessories – hooks, shelves, and baskets – to maximize the storage potential of your basement walls. As storage needs change, the accessories can be easily repositioned. Trusscore SlatWall features a standard 3" slat design, meaning most widely available accessories will easily snap into place.
When it's time to upgrade your basement walls and ceilings, the choice is clear: Trusscore Wall&CeilingBoard and Trusscore SlatWall.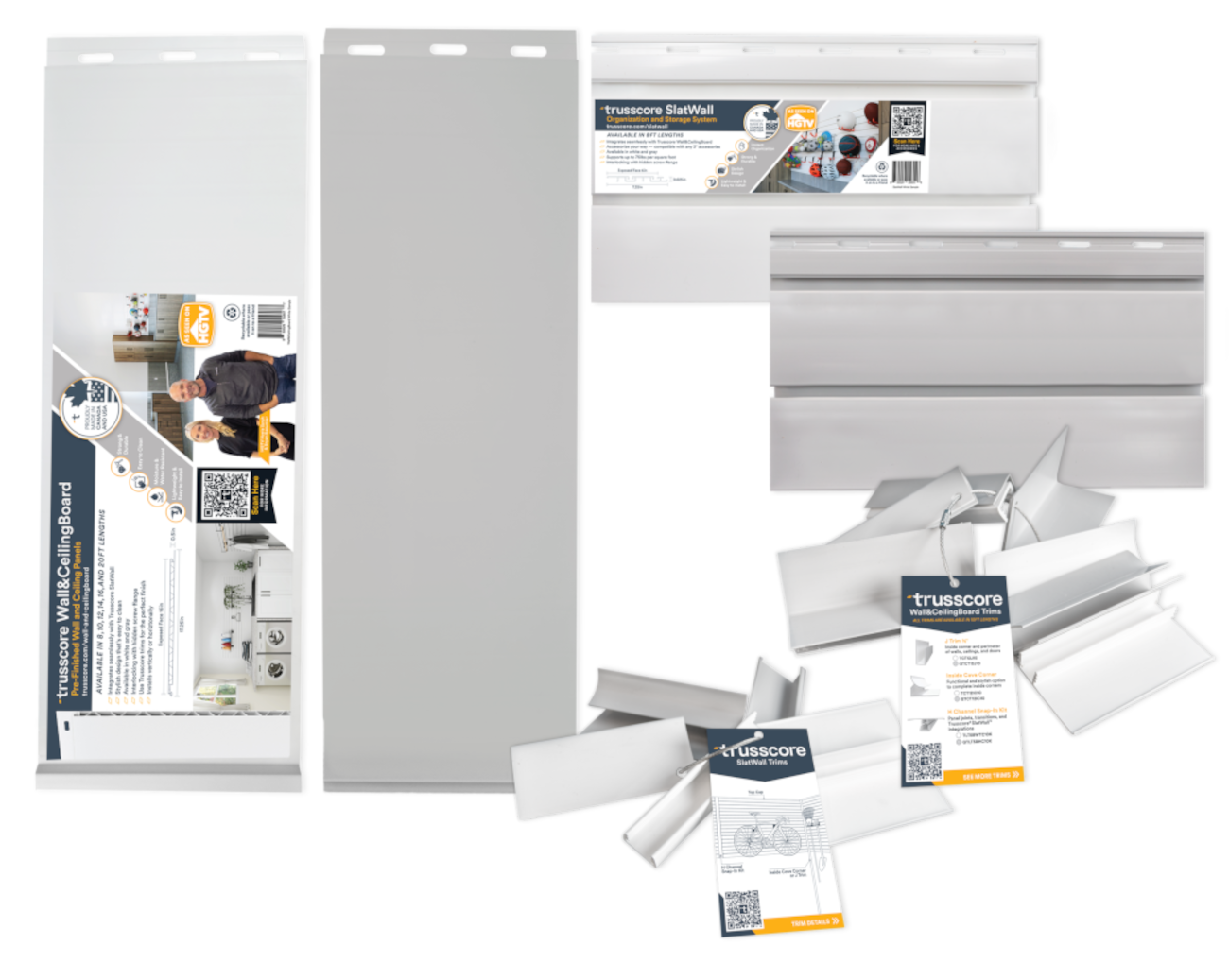 See for Yourself
The clean, bright design of Trusscore products will make a statement for your next project. Get your hands on some samples to experience the durability and quality first-hand.
Take Your Basement from Ordinary to Extraordinary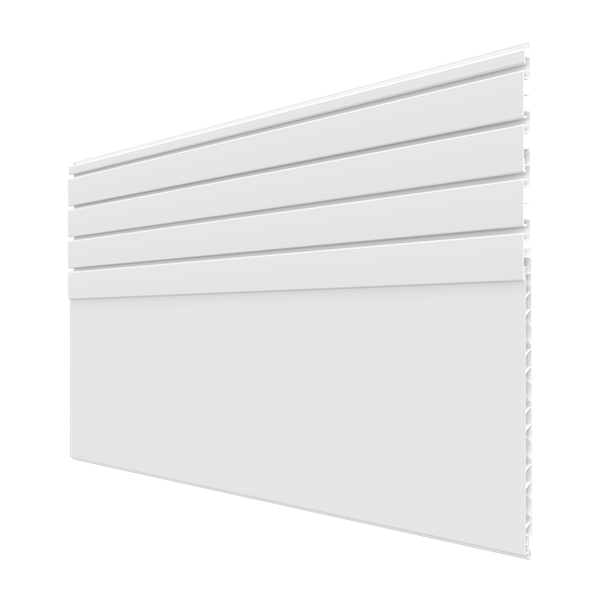 Wall&CeilingBoard and SlatWall
---
Designed with a high-strength polymer formulation, Trusscore Wall&CeilingBoard and Trusscore SlatWall will transform any space. The durable, lightweight, and easy to install wall and ceiling panels combined with the high functioning organization possibilities of Trusscore SlatWall make them the perfect pair for your next project.
Learn More
Order Trusscore Samples
If you haven't used Trusscore before, samples of Trusscore Wall&CeilingBoard, Trusscore SlatWall, and Trusscore trim rings can help show you what you've been missing out on.
Find a Residential Retailer
Trusscore works with thousands of retailers across North America to bring you the best service and access to our products.