Drywall is by far the most common garage wall and ceiling building material used today, but there are many alternatives that deliver better performance and unique styling. We run down some of the available options and detail their strengths and weaknesses.
Your garage deserves better
Drywall has some advantages as a garage wall and ceiling product, including its fire performance and convenient availability; but that's not the whole story
There are a host of alternative materials that, depending on the use case, offer a range of interior finishes and, in some cases, far greater performance
Some of the alternatives include wood, metal, cement, and PVC-based products like those from Trusscore
Drywall has long been the default building product for garage walls and ceilings. But is it the best product?
Garages today are required to perform multiple roles. They're used to store vehicles, of course, but they're also used as storage rooms, workshops, and, in some cases, home gyms and offices. These roles aren't always suited to drywall's strengths and weaknesses
Today, there are many drywall alternatives that, depending on your garage and its primary use, may perform better than drywall and may just be the better choice.
But before we discuss those alternatives, let's talk about the use-cases where drywall does make sense.
Drywall – or gypsum board – is a popular wall and ceiling product and has been for some time. It's readily available and contractors and installers are familiar and comfortable working with it. It can be painted in an unlimited number of colors, and it generally does the job asked of it in a dry, controlled environment.
Drywall also has well-recognized fire performance qualities, slowing the spread of heat and flame. Fire codes in many jurisdictions require drywall to be present on walls that adjoin a garage to a house, and if there are living quarters above the garage, this code applies to ceilings, too. In some cases, drywall is required for fire code reasons even for a detached garage located within three feet of a home.
It's important to consult with your contractor, builder, and local municipality on garage fire code requirements.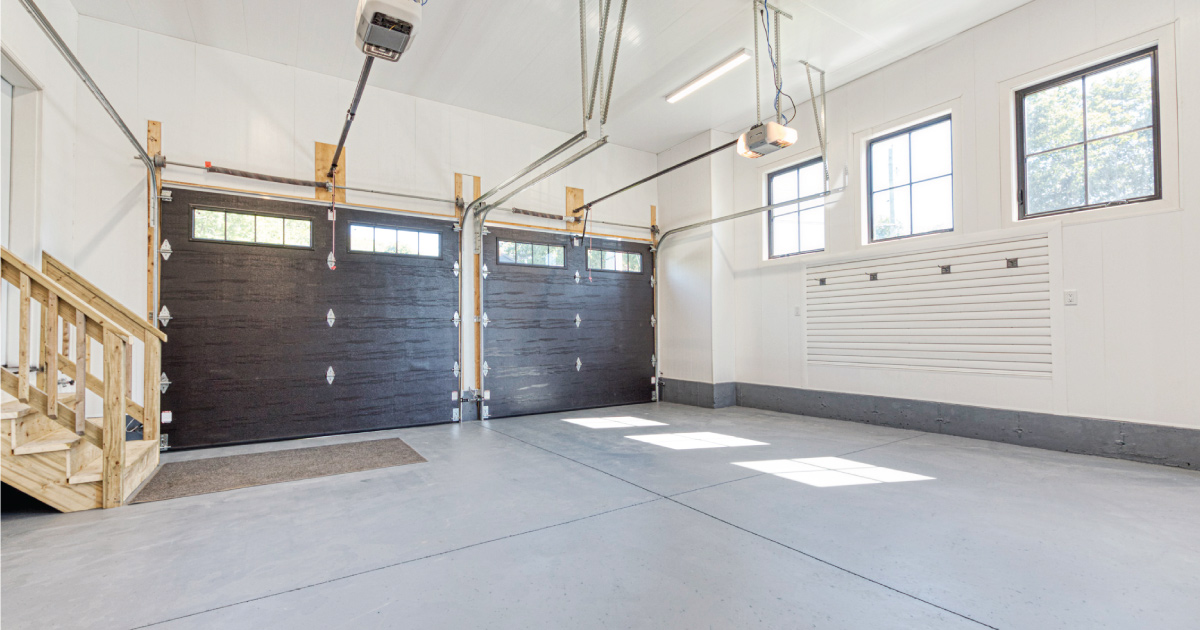 Drywall Disadvantages in a Garage
Drywall is a good option if your garage is dry. It's not a great option if moisture is present in your garage because when drywall gets wet it swells, degrades, and the gypsum that's sandwiched between the two cellulose covers surrenders all of its structural strength. Remediation requires plenty of time, money and, in the case of Do-It-Yourselfers, sweat equity.
And drywall can be a pain to install – taping, mudding, sanding and painting.
Find a Retailer
Trusscore works with thousands of retailers across North America to bring you the best service and access to our products.
Drywall Alternatives for Garage Walls: Pros & Cons
In a market where drywall alternatives are readily available and there's so much to discover, it's important to learn how these alternatives can deliver interesting styles and impressive performance beyond what drywall has to offer. Here are a few:
Wood sheathing
Plywood, medium-density fiberboard (MDF) and oriented strand board (OSB) are expedient and low-cost solutions for garage walls. They can be attached over studs quickly with framing screws and, unlike drywall, wood doesn't require any taping, mud, or sanding.
Wood sheathing isn't the best solution if you're looking for a more finished result and wood panels will swell and discolor if they get wet. Plus, if these panels remain wet, they'll continuously support mold and mildew growth.
Metal panels
Metal panels deliver a stylish, contemporary look and are available in many finishes. Different metals – steel versus copper, for instance – deliver unique results. Different textures can be achieved by using corrugated sheets or metal roofing material such as AG panels. Panels are relatively easy to install with screws into studs.
But the outlook for metal panels isn't always ideal. Metal can be costly to build with, and untreated steel is likely to develop rust when it gets wet. Plus, with fasteners exposed on the exterior face of the product, moisture is able to penetrate through the fastener to the substructure behind the panels, putting it at risk of mold, mildew, and structural damage.
Cement board
Cement board is generally used underneath floor tile, yet it can be used as a wall product on its own. Cement boards are strong and durable, and they deliver a unique, industrial look. They also set the stage for the future if you plan to add tile to your wall.
There's no mistaking it – cement board is a heavy product, meaning it might prove difficult for one person to install. The material cost of cement board can also be rather high; however, it can be a sufficient option in a high-moisture area because cement won't absorb water and won't support mold or mildew growth.
Pegboard
Pegboard is a great option if you want to hang tools or equipment from your garage. It installs quickly onto studs with screws.
Pegboard comes with significant downsides for a wall and ceiling material, though. It's not a particularly strong product – especially pegboard made from MDF – and, in terms of the look it delivers, you'll likely only want to use it in the areas used for tool storage rather than the entire garage. Plus, it's far from ideal that your insulation cavities in your walls and ceiling will be exposed through the holes in the pegboard.
Like any wood-based product, it will swell if it gets wet and can support mold and mildew growth.
PVC-based panels from Trusscore
Trusscore Wall&CeilingBoard and Trusscore Slatwall are an ideal garage wall and ceiling solution, particularly if you need to hang tools and equipment from your walls – typical of most homeowners.
Both products are PVC wall panels that are lightweight and install easily over bare studs or drywall. Both are also impervious to water, meaning they'll never swell or degrade when they get wet. If they do get wet, the material won't support the growth of mold or mildew and can be wiped clean in an instant.
The panels are lightweight and easy for one person to install.
Trusscore Customer Story
See how Trusscore saved this ailing garage from moldy, crumbling drywall
Combine PVC Panels and SlatWall for the Ultimate Garage Solution
When it comes to selecting materials for your garage, it can seem like a daunting task, but it doesn't need to feel that way. If you know the advantages and disadvantages of the drywall alternatives available to you, you're that much closer to selecting a material that is ideal for your space.
Trusscore Wall&CeilingBoard and Trusscore SlatWall deliver a bright, crisp finish and are easy to clean with a damp cloth or common cleaner.
Trusscore Wall&CeilingBoard is has a high strength-to-weight ratio, a unique inner truss design, and is impact resistant. Plus, the product installs four times faster than drywall since it doesn't require taping, mudding or sanding and never requires painting.
Trusscore SlatWall blends seamlessly with Wall&CeilingBoard panels and becomes a solution to hang hooks, shelves and baskets that quickly snap into place, helping you achieve a storage solution for tools and equipment, and, ultimately, a clean, organized garage space – just in time to get ready for the winter months ahead.
Products That Leave Drywall in Its Dust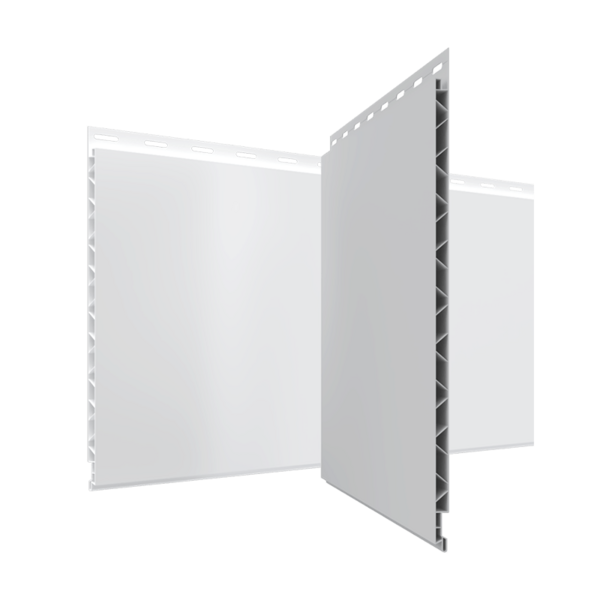 Wall&CeilingBoard
---
Trusscore Wall&CeilingBoard is an ideal drywall replacement that's durable, easy to install, and easy to clean. The wall and ceiling panels are perfect for many different residential, commercial, and agriculture applications.
Learn More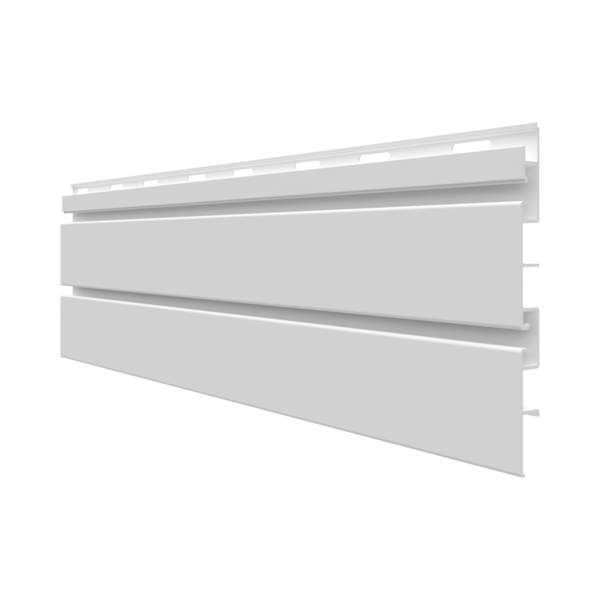 SlatWall
---
Declutter your space with Trusscore SlatWall, the organized and accessible solution for any garage or workshop. An ideal pairing with Trusscore Wall&CeilingBoard, SlatWall is easy to install for do-it-yourself projects and offers a wide range of hooks for your needs.
Learn More