Easy-to-clean, washable wall board exists: Trusscore Wall&CeilingBoard is a PVC-based drywall replacement that's easy to install and, most importantly, easy to wipe clean.
To Summarize:
Keeping drywall clean is a problem. Drywall doesn't like water, and scrubbing drywall often removes paint with the dirt
Trusscore Wall&CeilingBoard is a PVC-based, washable wall covering – a drywall replacement that won't swell or expand when it gets wet
Superior to drywall, Trusscore Wall&CeilingBoard won't support the growth of mold or mildew if it gets damp
Common household cleaners and a quick wipe keep Trusscore Wall&CeilingBoard looking like new
Trusscore Wall&CeilingBoard is a sanitary panel that installs more quickly than drywall, and for less money
Hygienic Wall Systems
Keeping your home's walls and ceiling clean isn't easy. From kids to dogs to cooking mishaps to just regular, day-to-day living, household walls and ceilings absorb a beating. And too often it shows.
Sure, some marks and stains can be cleaned from drywall, but the process gets tricky. Scrub too hard and the paint comes off with the dirt. Use too much water and the drywall expands and swells, and then you've got an even bigger problem. Often, if the dirt and stains are too severe, we just sigh and resort to applying a new coat of paint.
But matching paint can be difficult. And painting a room is a big investment in time and money, when really all you want to do is make your walls look nice once again.
What you need is an easy-to-clean wall covering. Solution? Trusscore Wall&CeilingBoard.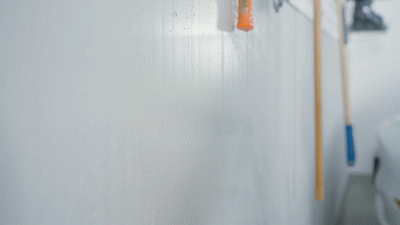 Easy to Clean Wall Panels
Trusscore Wall&CeilingBoard is a PVC-based replacement for drywall that cleans with a simple wipe. It's a washable wall panel, one that's designed to handle all kinds of abuse. Your kids like using your walls as a palette for artistic expression? No problem. Crayons and paint wash right off.
Wall&CeilingBoard is not only an easy-to-clean wall panel, it's also a sanitary wall panel. It can be safely cleaned with bleach or cleanser and Wall&CeilingBoard won't support mold or mildew growth.
That means it's perfect for areas of your home that are the hardest to keep clean – garages, mudrooms, laundry rooms, playrooms, pantries, and basements.
Trusscore Wall&CeilingBoard comes in a bright, crisp-looking, white or grey finish that reflects natural light, lending an orderly, clean look to any space.
It's impact resistant, and it installs far more quickly and cheaply than drywall.
Day-to-day life has a way of showing up on a home's interior walls and ceiling. Cleaning up shouldn't be a headache. The solution is to use Trusscore Wall&CeilingBoard.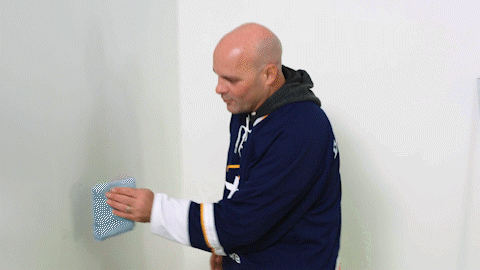 Let us know if you are renovating your space with Trusscore - mention us on social media @Trusscore and share your experience with us, or contact us directly by clicking the button below: