The drawbacks of drywall
Drywall has many disadvantages. It's heavy and awkward to work with. It requires days for installation, taping, mudding, and painting. It's susceptible to damage from impact. And drywall performs poorly when it gets wet — it swells and supports the growth of mold and mildew.
So what makes Trusscore Wall&CeilingBoard PVC wall paneling a better choice than drywall?
Let's Break It Down
There's more to consider than just material cost. You want your project to look good and perform for years to come. You want value. Let's evaluate the benefits and the total cost of ownership for drywall versus Trusscore Wall&CeilingBoard for a true apples-to-apples comparison.
See how easy it is to install
Trusscore Wall&CeilingBoard installs with screws and a simple tongue and groove connection system that do-it-yourselfers and professionals alike can install quickly.
The boards feature a pre-punched flange and hidden fasteners that provide a smooth, beautiful surface on your wall or ceiling. Download the installation manual for step-by-step instructions on how to install Trusscore Wall&CeilingBoard.
Material
Unlike drywall, Trusscore Wall&CeilingBoard is an integrated wall system. It doesn't require timely painting or finishing after installation. Panels click together, fasteners are invisible for a clean finish, and Wall&CeilingBoard integrates seamlessly with Trusscore SlatWall to create a total wall storage solution: baskets, hooks, and shelves easily click into place to create new functionality for your space.

| | | |
| --- | --- | --- |
| | Prefinished panels | |
| | Hidden fastener system | |
| | Compatible trims | |
| | Seamless integration with SlatWall for storage | |
Labor
Trusscore Wall&CeilingBoard requires less labor than drywall and installs four times faster. It's lightweight and easy to handle — with just one person needed for installation.

| | | |
| --- | --- | --- |
| | Fast installation | |
| | User-friendly/one-person install | |
| | Lightweight | |
| | Easy to handle | |
Maintenance & Care
Trusscore Wall&CeilingBoard is maintenance-free. It cleans with a simple wipe, it's resistant to chemicals and, unlike drywall, it can't be damaged by water or moisture.

| | | |
| --- | --- | --- |
| | Chemical resistant | |
| | Easy to clean | |
| | Moisture & water resistant | |
| | Maintenance free | |

| | | |
| --- | --- | --- |
| | High-strength | |
| | Durable | |
| | Impact-resistant | |
| | Recyclable | |
Cost Comparison
Factor in material, labor, and maintenance and it's clear that Trusscore Wall&CeilingBoard delivers far better performance than drywall for far less money.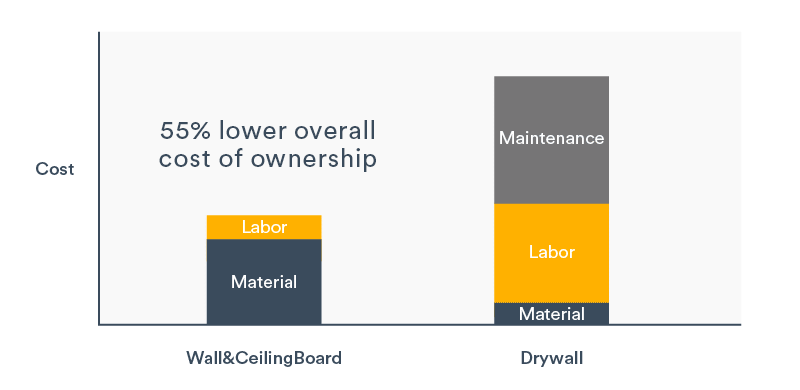 *Maintenance cost based on repainting (material and labor) twice over 20-year period
Drywall: A Pungent Problem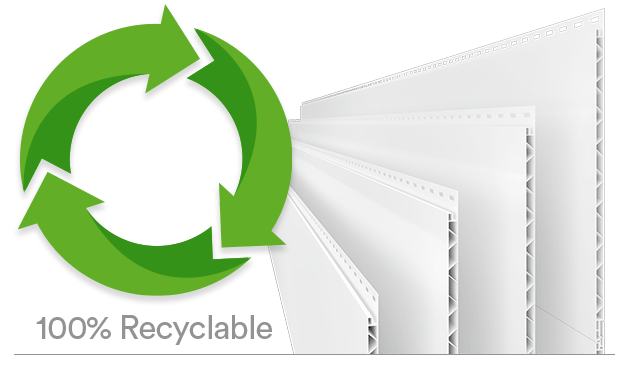 An estimated 75% of drywall ends up in landfills, where it makes up 25% to 40% of the national solid waste stream. Once it reaches landfill, drywall decomposes and produces smelly and potentially lethal hydrogen sulfide gas. It can also leach dangerous sulfates into the groundwater supply.
Trusscore Wall&CeilingBoard is made from PVC, which is long-lasting and has a lower carbon manufacturing footprint than glass or metal. Wall&CeilingBoard is 100% recyclable and can be reground and reused in the manufacturing process.
Discover the Strength and Durability of Trusscore PVC Wall Paneling
Trusscore Wall&CeilingBoard is lightweight, water-resistant, and easy to work with. It installs four times faster than drywall and delivers superior performance with a 55% lower total cost of ownership. There's no denying that drywall is a familiar building material, one that's been in use for more than 100 years. But popularity does not equal quality. At Trusscore, we're committed to changing the way you build, for the better.
Order Trusscore Samples
If you haven't used Trusscore before, samples of Trusscore Wall&CeilingBoard, Trusscore SlatWall, and Trusscore trim rings can help show you what you've been missing out on.
Find a Residential Retailer
Trusscore works with thousands of retailers across North America to bring you the best service and access to our products.