Customer Story
Creating an Ideal Commercial Office with Trusscore
The Rundown
A 42,000 square foot distribution center in Listowel, Ontario, with 8,000 square feet of dedicated office space. White and gray Trusscore Wall&CeilingBoard is installed throughout the entire office, including in the board room, hallway, cafeteria, and bathroom.
Find out why they turned to Trusscore Wall&CeilingBoard to solve it all!
About Ideal Supply
Ideal Supply is an Ontario electric supply and independent automotive parts distributor that sells wholesale industrial, safety and electrical supplies, generators, new energy, automation, and data communication services.
There are 31 Ideal Supply branches across the province, and the wire distribution center in Listowel, Ontario services them all. The distribution center totals 42,000 square feet, with 8,000 square feet in dedicated office space and an additional 34,000 square feet in warehouse space.
"[The Listowel] facility focuses on the electrical distribution segment and has one type of product only, which is wire," says Chris Moon, General Operations Manager at Ideal Supply. It's a wire warehouse, and it services all 31 branches that Ideal Supply has across the province. We buy these massive reels [of wire] and cut them down into products our customers can use. We buy in bulk, and, for example, one wheel may have five kilometers of wire on it, but an electrician might need like 30 meters to do a job. So, we cut the needed wire off and resell it."
The Goal: Install A Low Maintenance Wall System that Looks Good with Little Effort
Construction of the Ideal Supply distribution center and commercial office started in November 2021, and included the construction of a boardroom, a cafeteria, a private bathroom, personal offices, and an area for product demonstrations.
When it was time to select a wall cladding system to install throughout the office, the Ideal Supply team knew it wanted a low maintenance product that would stand the test of time.
"We have no retail presence here at this location, it's strictly a distribution center, but we do still have customers come in here to look at or pick up products," says Moon. "We didn't want to have to worry about 'Is there a big scuff on the wall?' or 'Do I need to paint something?' or 'Did somebody put a hole in the wall material?' before a customer visits."
The Challenge: Drywall Doesn't Hold Up in High-Traffic Environments
With customers and Ideal Supply warehouse workers in and out of the commercial offices, the Ideal Supply team and their contractor — Hyde Construction — knew that drywall wouldn't stand the test of time.
That's when they were recommended a local drywall alternative: Trusscore Wall&CeilingBoard. Made from PVC, Trusscore Wall&CeilingBoard is a lightweight, interlocking wall and ceiling system that's an alternative to painted drywall in commercial offices. They're scratch, dent, and damage resistant, and they're available in a variety of lengths — 8', 10', 12', 14', 16', and 20' — and in two colors. While Trusscore Wall&CeilingBoard is a premium product, it's also prefinished and offers several cost-saving benefits over drywall.
"The big thing is that the total cost of ownership of the Trusscore product is cheaper than drywall," shares Moon. "As a raw material, Trusscore is more expensive than drywall, but where you get your savings is absolutely in the installation. There's no taping and mudding and fussing around with painting and all that stuff. You get a finished product that installs relatively quickly. So, you're paying a little bit more for the upfront product, but your overall cost is less. And frankly, we think it's a more durable product than just traditional gypsum board or drywall."
A year after its installation, Trusscore has proven itself to be far more durable than drywall.
"I think [Trusscore] looks fantastic. From a benefits standpoint, you don't get some of the smudging and scuffing you may see on drywall if somebody rubs up against the wall the wrong way or something like that," says Moon. "Honestly, I'd say it's basically no maintenance up to this point. And the white [Trusscore Wall&CeilingBoard reflectivity] helps a lot here. It feels clean, the ceilings feel tall. It's great."
The Result: Trusscore Wall&CeilingBoard is a Staple in Future Ideal Supply Buildings
The Ideal Supply team is so happy with the performance of Trusscore Wall&CeilingBoard that it's having it specified in other company projects.
"If we're having a contractor do any type of renovation in any of our business operations, we're actually asking for them to consider Trusscore as the product when they're building the quote, says Moon. "We're having it installed at [a new Ideal Supply] location. [The new location] has a showroom for automation products, showing things like how robot arms work and factory floor automation. It's also going to be a training center for customers, and that's a second piece of renovation we're doing and we're going to install Trusscore there, too."
When asked if they would recommend Trusscore to other contractors building commercial offices, the Ideal Supply Team is all for it.
"We'd absolutely recommend it."
Why Does Ideal Supply Choose Trusscore?
Industry-Leading Durability 
The mechanical strength of PVC combined with its abrasion resistance means that Trusscore panels can stand up to contact without showing dents, cracks, or damage and can even outlive the buildings they're installed in. Once they're installed, you never have to worry about them again. 
Lower Total Cost of Ownership
With Trusscore Wall&CeilingBoard, you'll invest a little extra in material cost up front, but you'll save money in the long run. Panels are designed to minimize the total cost of installation materials, labor, and maintenance all while never having to be replaced. Compared to drywall, you can save 55% in total cost of ownership over the life of the product.
Antimicrobial & Easy to Clean
Antimicrobial Trusscore Wall&CeilingBoard panels are designed to prevent, contain, and destroy bacteria, fungi, and viruses in kitchens and bathrooms. Plus, panels can withstand frequent use of soaps, cleaning agents, disinfectants, and sanitizers for cleaning. They'll even stand up to repeated pressure washing without ever showing signs of wear and tear.
Bright & Reflective
White and gray Trusscore Wall&CeilingBoard panels reflect up to 90% of the light that hits them, maximizing the available natural and fixture overhead lighting in a space. This helps large offices and distribution centers boost their overall energy efficiency while creating a bright, light, and welcoming environment for customers who visit the site.
Trusscore Has Your Commercial Office Covered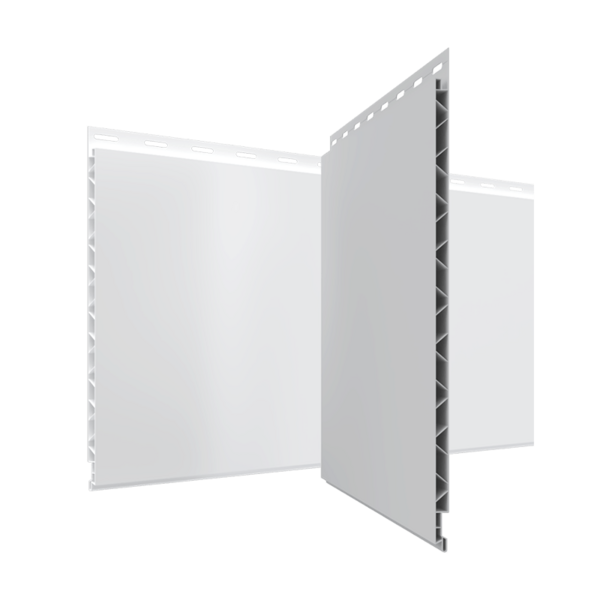 Wall&CeilingBoard
---
Trusscore Wall&CeilingBoard is an ideal drywall replacement that's durable, easy to install, and easy to clean. The wall and ceiling panels are perfect for many different residential, commercial, and agriculture applications.
Learn More
Order Trusscore Samples
If you haven't used Trusscore before, samples of Trusscore Wall&CeilingBoard, Trusscore SlatWall, and Trusscore trim rings can help show you what you've been missing out on.
Find a Trusscore Dealer
Trusscore works with thousands of retailers across North America
to bring you the best service and access to our products.