Customer Story
Garage Reno Rescue
How Trusscore saved an ailing garage from moldy, crumbling drywall
The Rundown
Mold, wear and tear, and insulation issues had left this homeowner's drywall-covered garage in need of serious intervention. Combined with a lack of storage and the well-being of his family in mind, Jeff knew something needed to be done.
Find out why he turned to Trusscore Wall&CeilingBoard and Trusscore SlatWall to solve it all!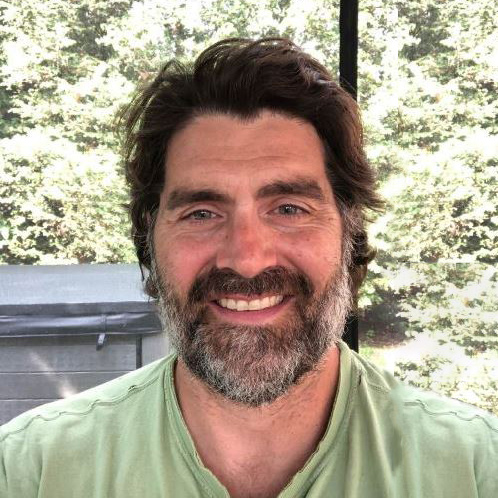 Jeff Murphy
Homeowner, husband, and father of 2
Waterloo, Ontario, Canada
24' x 26' double garage
Cascading Concerns
As is often the case with renovations, it wasn't just one issue that made Jeff Murphy realize his garage needed, as he puts it, "a complete overhaul." Rather, it was a cascade of insulation issues, water damage, and wear and tear.
It all started during a cold snap last February, when an ice damming problem emerged on the roof of Murphy's Waterloo, Ontario home above the 624 square foot garage. Investigation revealed the cause as improper insulation, meaning there was no escaping an insulation retrofit in Jeff's near future.
So, with restorative insulation work already on the repair docket, Murphy started thinking about the unsightly mold issues he'd been living with in the very same garage, particularly around a window. It was the result of leakage and moisture creep at some stage of his home's 30-year-old life. As Murphy stood in his garage and contemplated the damage, he realized the walls were long overdue for an intervention thanks to black scuff marks and holes in the wall created by his hockey-playing daughter's determination to improve her shot. Not every puck ended up in the net; some even ended up behind the drywall itself.
Did you know?
Mold on drywall takes just 24 to 48 hours to form after water damage occurs. Trusscore Wall&CeilingBoard is moisture and water resistant and will not support the growth of mold or mildew in the first place — even after being exposed to moisture.
Before Trusscore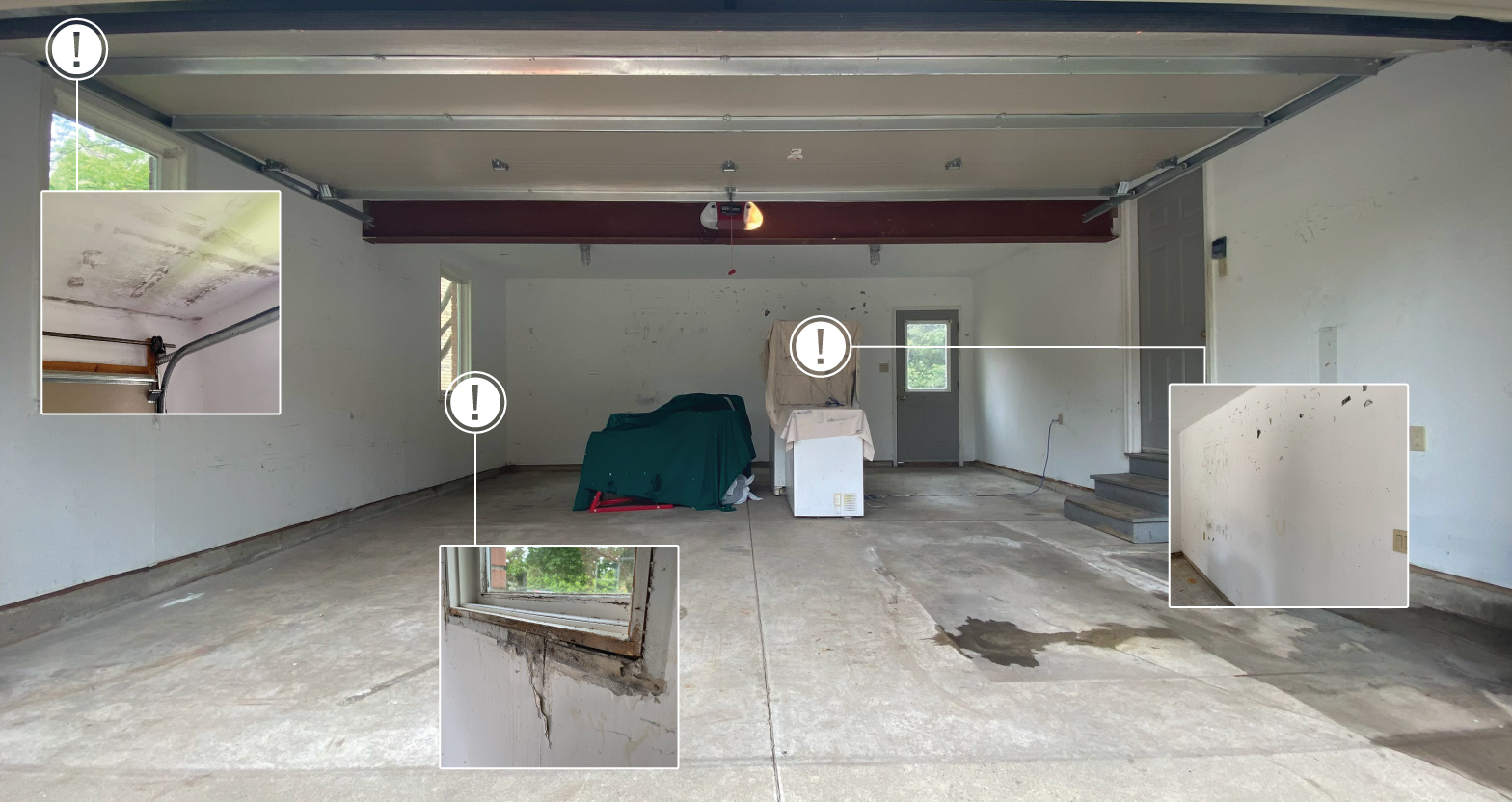 Decisions, Decisions
"My garage needed an overhaul," says Murphy.
The only remaining question was what material to use as a replacement wall and ceiling covering. Drywall had already revealed its many limitations: It's hard to clean; it swells, it rots, it serves as a medium for mold and mildew when it gets wet; and, perhaps most concerning to the hockey players in the family, it's easily damaged and fails miserably as a backstop for errant slapshots.
Investigation into potential solutions ultimately led Jeff to Trusscore Wall&CeilingBoard, Trusscore SlatWall, and a contractor eager to tackle the job: the talented Trevor Horst at Tailored Carpentry Solutions.
But before the work could begin, the plethora of items that the Murphy family was storing in the garage – the typical collection of bikes, lawn and garden tools, and sports equipment – needed to be removed and crammed into a storage shed as a temporary solution. With garage gear removed, work got underway on Jeff's 24' x 26' garage.
Out came the drywall, the insulation was rectified, and in went the one-two punch of Trusscore Wall&CeilingBoard and Trusscore SlatWall.
Trusscore Wall&CeilingBoard is a durable 16" wide PVC panel system with hidden fasteners and a bright, smooth finish whereas Trusscore SlatWall is a wall-based storage system that pairs with hooks, shelves, and baskets to create the custom-fit organization system that Jeff's garage desperately needed.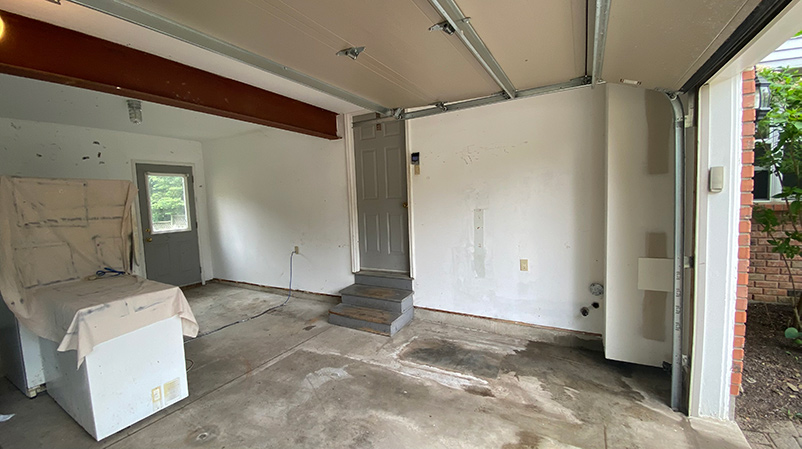 The common wall — the wall joining the house to the garage — was the only surface where drywall was left intact in favor of installing Trusscore directly over top. The common wall met local building codes for fire safety, and since there were no insulation or mold issues with this particular wall, covering it with Trusscore Wall&CeilingBoard was quick and easy.
There was no wasting time with all the typical drywall mess.
Overall, I think the Trusscore products are fantastic. All of my issues are handled.
What's better than a happy customer? A happy family.
What impressed Murphy about the installation were several things, starting with how quickly the Trusscore products were installed.
Unlike drywall, Trusscore Wall&CeilingBoard is lightweight, easy to fasten, and needs no mud compound, dry time, sanding, or painting. This means Trusscore panels typically install four times faster than drywall which keeps installation costs extremely low.
"There was no wasting time with all the typical drywall mess," says Murphy, adding that Horst was in and out in a jiffy. And what about the quality of the work?
"I'm thrilled, it looks really slick. Trevor and the Tailored Carpentry Solutions team were fantastic. I've got to say - I've been blown away by how good these guys are."
The Trusscore Wall&CeilingBoard in Murphy's garage is providing the bright, durable, hygienic ceiling and walls the family has longed for, while the Trusscore SlatWall sections now serve as a place to organize the family's outdoor gear. Thanks to the Trusscore mold resistant paneling any sign of mold is completely gone, and if, for any reason, moisture creeps back, mold or mildew won't be a problem. Trusscore products are moisture and water resistant the growth of mold, mildew, or bacteria — music to the ears of Jeff and his family.
As for any more hockey puck marks caused by slapshots gone awry, Trusscore products clean up with a simple wipe, leaving more time to practice hitting the net.
"Overall, I think the Trusscore products are fantastic," says Murphy. "All of my issues are handled."
As it turns out, necessity is not only the mother of invention, but of renovations, too.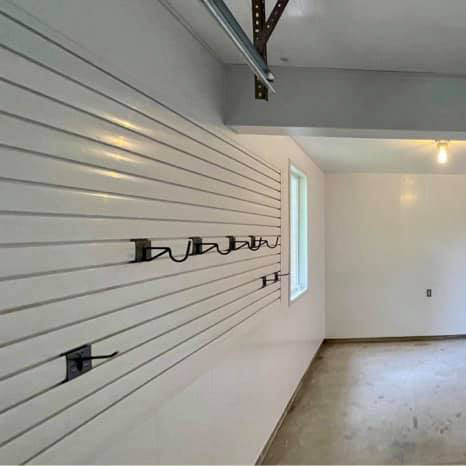 Trusscore SlatWall accessories await the organization of Jeff's family's outdoor gear in their new garage.
Take Your Garage From Sad to Superior With Trusscore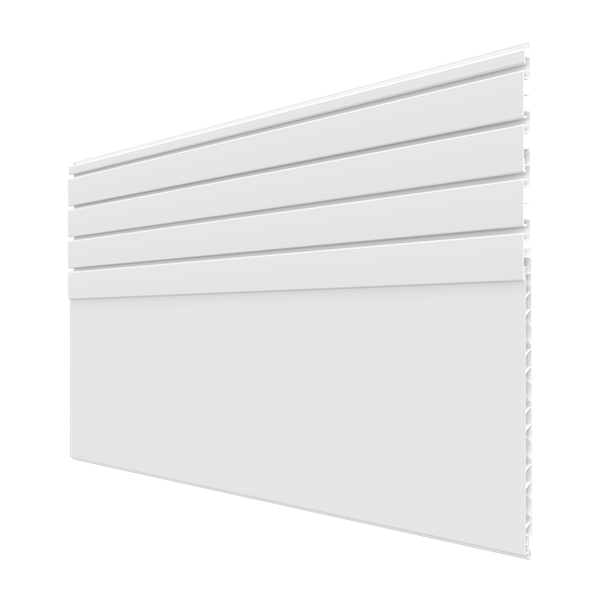 Wall&CeilingBoard and SlatWall
---
Designed with a high-strength polymer formulation, Trusscore Wall&CeilingBoard and Trusscore SlatWall will transform any space. The durable, lightweight, and easy to install wall and ceiling panels combined with the high functioning organization possibilities of Trusscore SlatWall make them the perfect pair for your next project.
Learn More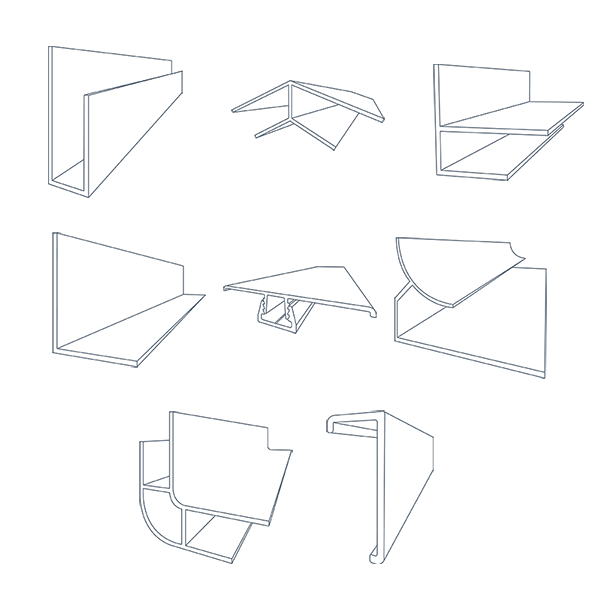 Trims
---
Trims add the perfect touch to any project by providing a functional and distinctive design element—bringing your project to life. Trusscore provides a comprehensive assortment of trims to meet all your project needs.
Learn More
Planning your project?
Use our material estimator tool to help you plan your project and estimate the material you'll need.
Ready to get started?
Contact us today to learn more about how Trusscore is right for your project, or to be put in touch with a dealer near you.