We've all seen it before. A dignitary or a political leader says a few words, proffers a bottle of champagne and with a flourish it explodes into the hull and on cue a gleaming new ship slides down the skids and into the sea.
It's not like Justin Trudeau had a bottle of champagne in his hand, per se, on March 31, the day that Trusscore made its splash in the wider world. And it's not like it was the Canadian Prime Minister who launched Trusscore, exactly.
But the thing is … he pretty much did.
Thrust into the spotlight
It was Trudeau, at a media press briefing on March 31, 2020 – just a couple weeks after the entire nation, and much of the world, were forced into lockdown due to the COVID-19 pandemic – who told the nation how Trusscore had quickly retooled its Palmerston, Ont., factory immediately after the pandemic hit, pivoting from its core products – sustainable, improved alternatives for drywall, plasterboard and fiber-reinforced plastic panels – to a new product designed to help hospitals and health-care workers protect their communities.
And just like that Trusscore, a material science company for sustainable building materials, was born.
"We were in the process of planning our company launch when the pandemic hit," explains Trusscore CEO Dave Caputo. "And then a succession of amazing things unfolded."
As the country prepared for an extended lockdown, Caputo called a "pandemic response" meeting of the new company he had helped form only a few months earlier, a meeting that was designed to plan for an extended shutdown.
"But then we thought, what if we turn the problem around?" recalls Caputo. "What if we ask what we can do for the pandemic, as opposed to what the pandemic is going to do to us?"
"What if we ask what we can do for the pandemic, as opposed to what the pandemic is going to do to us?"

Dave Caputo – CEO
The answer was to create a product that leveraged the long pedigree and roots that Trusscore grew from – MSW Plastics. MSW Plastics made extruded plastic panels for livestock – panels designed to keep them from transmitting viruses like swine flu. Trusscore was then in the final stages of a relaunch of MSW, one designed to lean on MSW's manufacturing expertise and add a robust research & development component, new products, a new look, an expanded roster of expert staff, and hyper-accelerate the company's growth and impact.
At that hastily assembled meeting, staff quickly reasoned there was no reason their livestock design and product couldn't be upgraded and improved to create panels perfect for hospitals, allowing them to reconfigure space and keep humans apart – and safe.
"It seems so obvious in retrospect," Caputo told the National Post for a story that appeared in April, 2020. "But we had a product that helped separate hogs in an African swine flu pandemic and now here was a pandemic of a different type."
The product – TempWall by Trusscore – was an instant hit. Hospitals across North America lauded its ease of setup, clean look, and anti-microbial properties.
The Partners
Reinvention, quick pivots, repurposing products on the fly aren't new ideas for Caputo, a serial technology entrepreneur, and one with a long history of support for the Waterloo Region community he has lived in for years.
A lifelong dislike for painted drywall and hunt for its replacement eventually led Caputo to the doors of Palmerston, Ont.-based business partners Joel Koops and Steve Bosman.
Caputo had sold his previous company and was casting about for a new project. Koops and Bosman, whose Chatham-area families go back decades, were in business together running MSW Plastics.
Caputo met Koops through a peer-to-peer group for executives. Both were attending a retreat in PEI, and the facility they were staying in had a slat-like product on the wall similar to one produced by Koops' and Bosman's company.
"Joel and I started talking about his company and their products," recalls Caputo. "The more we talked, the more I thought Joel's company could be the answer to my frustrations with drywall.
"I said to myself, 'I've been complaining about drywall all my life. Why don't I actually do something about it?'"

Dave Caputo – CEO
The timing was perfect.
Bosman, who grew up in a pig-farming family, and Koops, who had joined him as a partner after a stint working in sales, were enjoying success and brisk sales after lean years bootstrapping their company and establishing a customer base and product line. Farmers, particularly pig farmers, were among their biggest customers.
But both were eager to grow the company, reach new markets and push into new product frontiers.
"The company was continuing to grow, but it wasn't at the rate that we want it to be at," says Koops.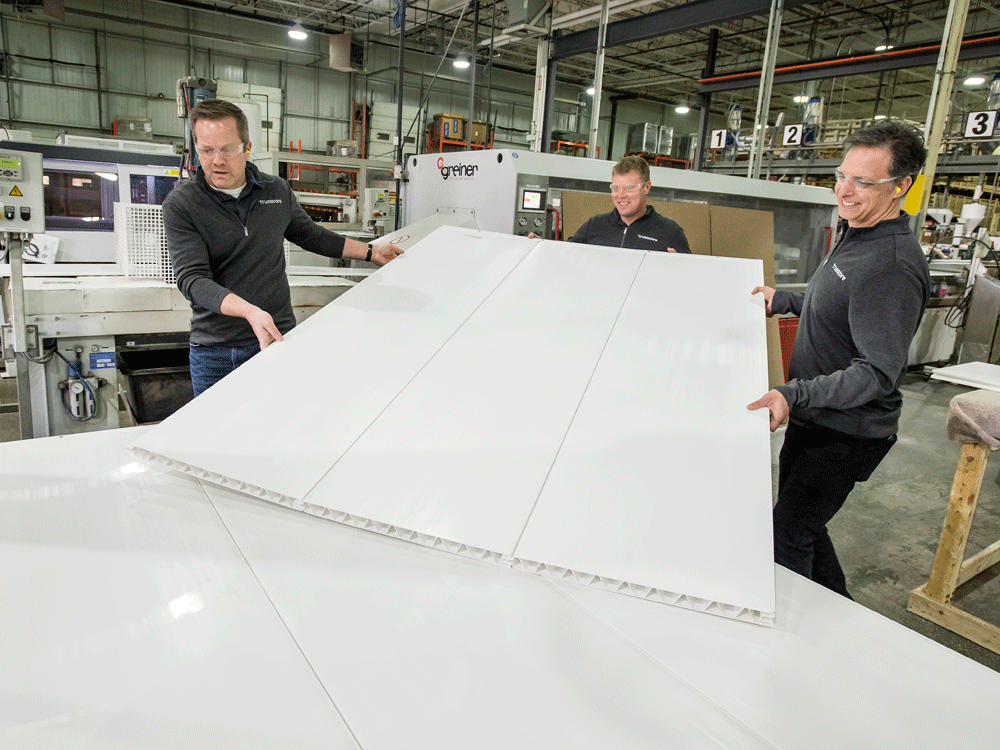 Caputo arrived with the energy, capital and ideas both were looking for. A partnership was quickly established with Caputo as CEO, Bosman as Chief Manufacturing Officer and Koops as Executive Vice President, and a new company emerged, one built on the manufacturing expertise and heritage of the old: Trusscore, which references the internal truss structure at the core of nearly every one of the company's products.
"I fell in love with Dave's energy and vision," says Bosman. "The world needs to hear about Trusscore."
Building a Material Science Company
Trusscore is focused on not just selling smart, environmentally sustainable building material, but leveraging the technological advancements underway that are destined to disrupt the construction and renovation industries. It was with that aim in mind that the company established its R&D and marketing teams in the world-famous Communitech innovation hub in Kitchener. Communitech is a public-private partnership at the core of Waterloo Region's emergence as one of the world's hottest centres for technology development.
"I think there's an under-appreciation for the revolution that's happening in advanced materials and material science right now with respect to their application for new sustainable building materials," says Caputo.
The company has additionally partnered with the University of Waterloo's Institute for Nanotechnology, a global leader in developing smart, functional materials, in order to drive innovation in its product line and ensure Trusscore materials are on the cutting edge of material science.
"We're investing heavily in R&D, which often isn't done in a manufacturing organization," says Caputo. "We intend to come up with new formulations to put new features in building materials."
Partnerships & the future
Meanwhile the company is stepping further into the public limelight, recently concluding a partnership with reality TV renovation stars Bryan and Sarah Baeumler, who will serve as brand ambassadors, showcasing Trusscore products to homeowners, contractors and, architects on their hit HGTV show Island of Bryan (in Canada) and Renovation Island (in the USA).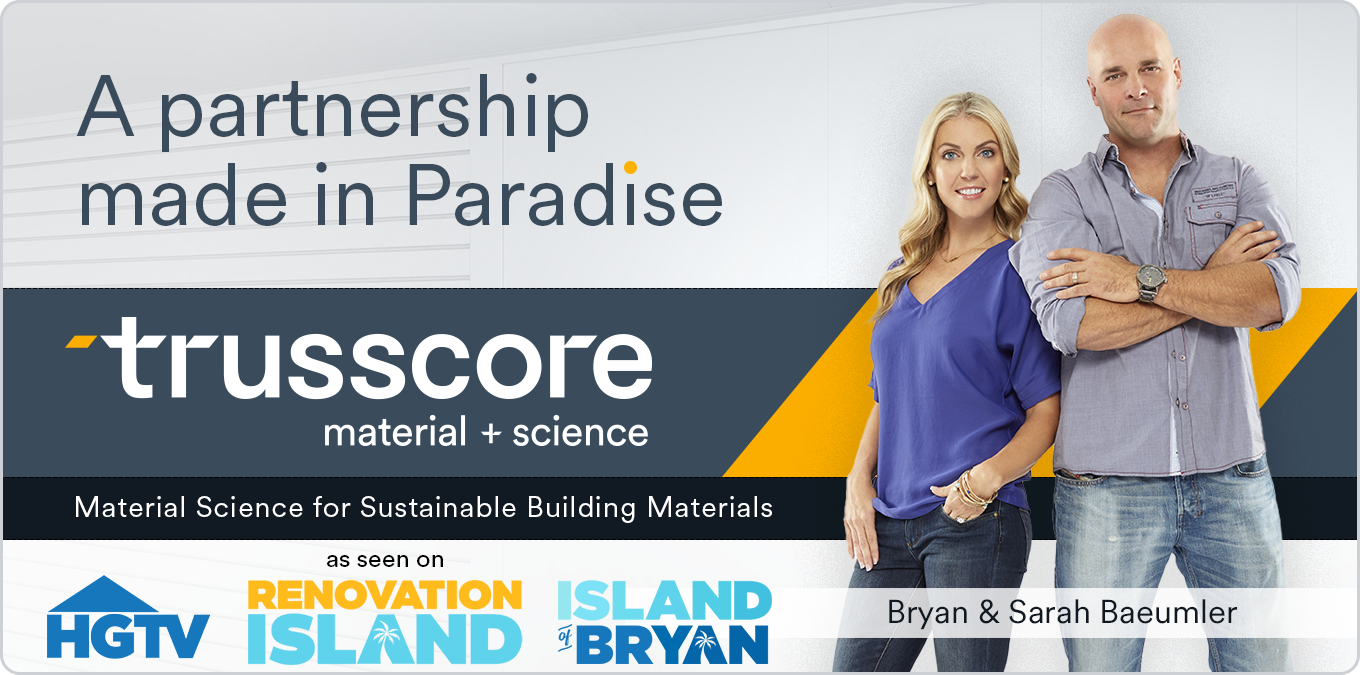 "We're not just creating a new company, we intend to change the construction and renovation space," says Caputo. "We're utilizing material science to create new products and new ways of building that will improve lives and make the structures we live and work in more comfortable and functional."
Now, cue that bottle of champagne.
Ready to get started?
Contact us to learn more about how Trusscore SlatWall can work for your project, or to be put in touch with a distributor near you.