From hospitals and dog kennels to car washes and processing plants, the Trusscore line of sturdy and easy-to-install wall and ceiling products are purpose designed for a broad range of commercial and industrial facilities.
Trusscore interlocking wall and ceiling panel systems offer superior performance and durability over conventional painted drywall, plasterboard or fibre-reinforced plastic (FRP) panels.
With a bright, white finish that improves interior appearance and lighting, Trusscore products generate a lifetime of savings and are impervious to corrosion. They're waterproof and easy to clean. Our entire lineup delivers superior antibacterial performance and an unparalleled strength-to-weight ratio.
Features include:
Chemical resistant.
Easy to clean. Power wash with soap and water for easy sanitation and bright, clean appearance.
Repels water and doesn't retain moisture – perfect for always-wet environments like car and truck wash bays.
Cost effective, with a finished cost comparable to other materials. Never needs replacing, repainting or refinishing.
Hygienic. Our stand-alone TempWall by Trusscore product is treated with an anti-microbial coating and has been adopted by hospitals throughout North America.
High strength to weight ratio. The truss-like interior design of our panels generates enormous strength while keeping weight low.
Easy to install. No tape or mud. The light weight of our panels means fast and easy work for your contractor.
Fully recyclable. Trusscore products can be reintroduced to our manufacturing process to create new product.
Applications for Commercial Needs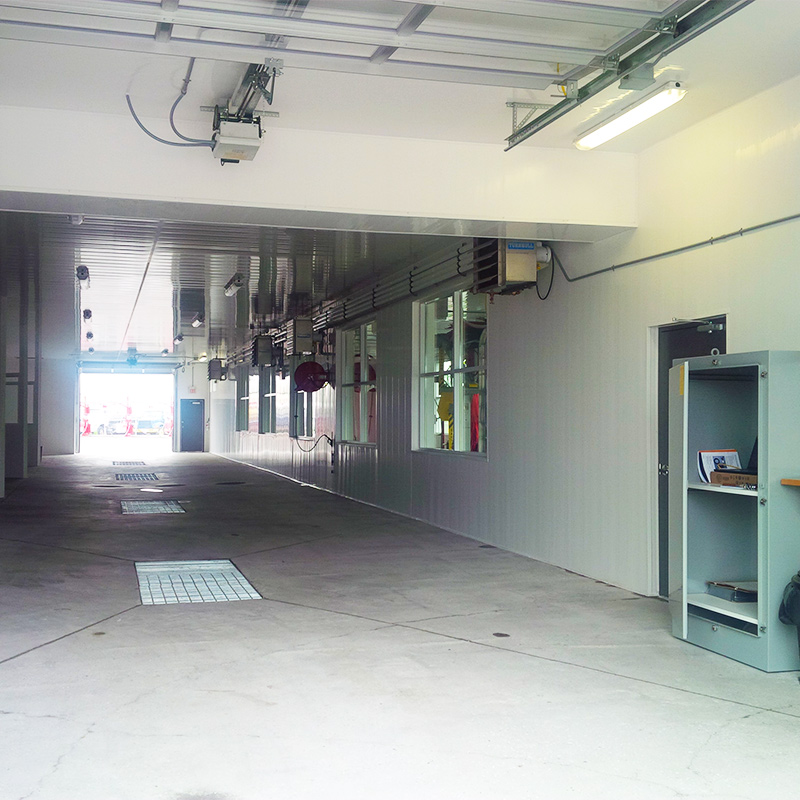 Wash Bay / Car Wash Panels
---
Trusscore Wall&CeilingBoard is the ideal wall and ceiling liner for your indoor car wash and truck wash facility, perfectly suited for the demanding and always-wet interior of a commercial wash bay.
Learn more
Trusscore's products are the ideal solution for commercial facilities, offering easy sanitation and a bright white finish to improve interior appearance and lighting.
An ideal replacement for conventional commercial wall systems, Trusscore's interlocking panel systems offer a lifetime of savings over other wall systems like painted drywall or fiber-reinforced plastic (FRP) panels.
Perfect for any environment where hygiene, corrosion or long term durability are issues, Trusscore's panel systems typically last the life of the facility.
Benefits
Superior Antibacterial Performance
Trusscore's lineup of liner panels offers a chemical resistant and sanitary alternative to conventional systems, meeting the rigorous standards of CFIA (Canada) and FDA & USDA (US) requirements for walls and ceilings.
Easy-To-Clean Watertight Design
Easily power wash with soap and water or bleach for easy sanitation and a bright, clean appearance that repels & drains water easily without holding moisture in the panels. Perfect for facilities that must be cleaned frequently, like car wash bays.
Cost Effective
With a finished cost that's comparable to other construction materials, while never needing replacing, repainting, or refinishing, Trusscore's sanitary wall & ceiling panel systems ensure a lifetime of savings.