Oriented Strand Board (or OSB) and PVC panels are two popular products available today for garage interior walls and ceilings. But which is the better choice? We compared OSB garage walls versus PVC below to help you decide.
Making the right garage wall and ceiling choice
OSB is a utilitarian, well-established, low-cost product that is frequently used as a liner for garage walls and ceilings
PVC-based panels are a newer, more expensive garage solution, one with that creates a more sophisticated, upscale garage living space, and has a far better performance profile than OSB
Here's the head-to-head breakdown
Over the years many homeowners have opted to line their garage walls and ceilings with oriented strand board, or OSB, as it's more popularly known. OSB is a strong, versatile, and inexpensive wood product that gets the job done. It's readily available, it's proven (OSB has been around since the mid-1960s) and it's straightforward to install. But is it the best product for the job? Today, many homeowners are opting instead for PVC panels for their garages. PVC-based building materials are relatively new products that are far more technologically advanced than OSB, and with many design features that are ideal for a garage space.
Durability

OSB:

OSB is an engineered product made from thin layers of rectangle-shaped wood strips that are cross-oriented and then layered in mats and bonded with adhesive resin, wax, and pressure. The manufacturing process creates a strong, reasonably durable product that is used for walls, floors, roofs, and even furniture.

The problem with OSB panels, like any relatively thin wood panel, is that OSB can be damaged by impact; the only available repair options are replacement of the entire panel or cutting out the damaged area and replacing it with new material. Replacement is time-consuming and costly.

PVC panels:

PVC panels are made from polyvinyl chloride, a specially formulated grade of plastic that is immensely strong, yet light in weight. PVC panels can withstand impact, won't ever rot and, when it comes to durability, they rarely need replacing. PVC panels are capable of outlasting the buildings they're installed in.

Advantage: PVC panels

Water resistance

OSB:

OSB comes in several grades, including one that is more water resistant than others. OSB is slower to absorb water than plywood, however once it's wet it's slower than plywood to dry. And once it's wet, OSB will expand and warp, surrendering its structural integrity and becoming an eyesore. Once again, when damaged, the panel must be removed and replaced, or the damaged area must be cut out and replaced.

PVC panels:

PVC panels are 100% water resistant, so much so they can be cleaned with a pressure washer. They dry quickly, and because they shed rather than retain water, they will never swell or discolor from moisture.

Advantage: PVC panels

Mold & mildew resistance

OSB:

Because it's a cellulose-based product, OSB will serve as a growth medium for mold and mildew if it gets wet or damp. Once mold or mildew sets in, it's hard to remove, particularly given the uneven finish of OSB. The only effective remedy is to cut out the affected area and replace it or replace the entire panel.

PVC panels:

PVC panels are mold and mildew resistant. They have no cellulose, and they shed water and dry quickly, so mold & mildew never have a chance to get established. Any dirt and grime that does set in, can be easily and effectively removed with common detergent and bleach and a wipe with a wet cloth.

Advantage: PVC panels

Cleanability

OSB:

OSB has a rough, uneven finish, making it difficult to clean. Wood strands tend to trap dirt, oil soaks into the wood fibers, and the uneven surface makes it difficult for cleaning cloths to reach trapped material; brushes work better, but even with plenty of elbow grease, OSB remains problematic to clean effectively. If too much water is used in the cleaning process, it will be absorbed by the panel, causing it to swell and warp.

PVC panels:

PVC is non-porous, meaning dirt and oils won't soak into the material; PVC cleans up easily with damp cloth to a like-new state and PVC isn't bothered by common detergents or bleaches. Hard-to-reach areas, like ceilings, can be quickly cleaned with a hose or pressure washer.

Advantage: PVC panels

Storage options

OSB:

OSB, like any wood-based wall material, offers flexible solutions for creating storage: shelving is straightforward to install; hooks can be screwed into studs, and both can be custom fit to suit needs. Reconfiguring can be time consuming; shelves and hooks must be dismantled and holes will be left when screws are removed, requiring filling.

PVC panels:

Trusscore Wall&CeilingBoard is a PVC panel that is designed to blend seamlessly with Trusscore SlatWall to create flexible, wall-based storage that can be easily reconfigured as needs change. Hooks, baskets, and shelves quickly snap into the slats and can be just as easily moved and rearranged as needs change.

Advantage: PVC panels

Installation

OSB:

OSB is relatively straightforward to install. Sheets are simply cut to fit as required and then nailed or screwed into studs. But a full 4 x 8 sheet of OSB is heavy. Ceilings, in particular, require two people for accurate placement. Once installed, seams are visible. If a more finished look is desired, paint will be necessary, adding time, cost, and labor. And because OSB has an uneven surface finish, walls won't be smooth after painting.

PVC panels:

PVC panels like those made by Trusscore are fast and simple to install. Panels are lightweight, and can be easily handled by one person, even when working on ceilings. Each panel fits tongue-and-grove into the next, and trims and panel flanges are easily screwed into studs or drywall. Seams are hidden. And there's no painting required.

Advantage: PVC panels

Reflectivity, Lighting, Aesthetics

OSB:

OSB does not reflect light well, or deliver much more than a plain, utilitarian finish. If the garage is to be used as a workshop, good, efficient light fixtures will likely be required to provide adequate lighting.

PVC panels:

Trusscore products deliver a bright, clean, upscale aesthetic suitable for a range of activities, including a workshop or home gym. Trusscore PVC panels have a high light reflectivity rating of 0.90, meaning they reflect 90% of the light that strikes their surface. The result is that fewer light fixtures are required, lower wattage bulbs can be used, and lighting costs are reduced. The environmental footprint of the space is also significantly lowered, along with energy costs.

Advantage: PVC panels
Bottom line: PVC is the better wall option for garage walls
If cost is the only category that matters, then OSB on garage walls wins out over PVC panels, and does by a wide margin. But if looks and lighting, ease of installation, cleanability, mold-and-mildew performance, water resistance, storage potential, and durability/longevity are a priority, then PVC panels are a clear winner over finishing garage walls with OSB.
As the saying goes, you get what you pay for. PVC panels are an investment in your home that will deliver overall performance that is unmatched by OSB.
Transform your garage
Trusscore Wall&CeilingBoard and Trusscore SlatWall are PVC panels create highly functional and visually striking home garage spaces. Durable, impact resistant, and easy to clean,Trusscore products, unlike products like OSB, plywood or drywall, will never need replacing if they get wet and resist the growth of mold & mildew.
Whether you're a professional builder or a do-it-yourselfer, you'll find Trusscore Wall&CeilingBoard and Trusscore SlatWall fast and easy to install. Trusscore products are widely available throughout North America. See your nearest retailer.
Products for Garage Walls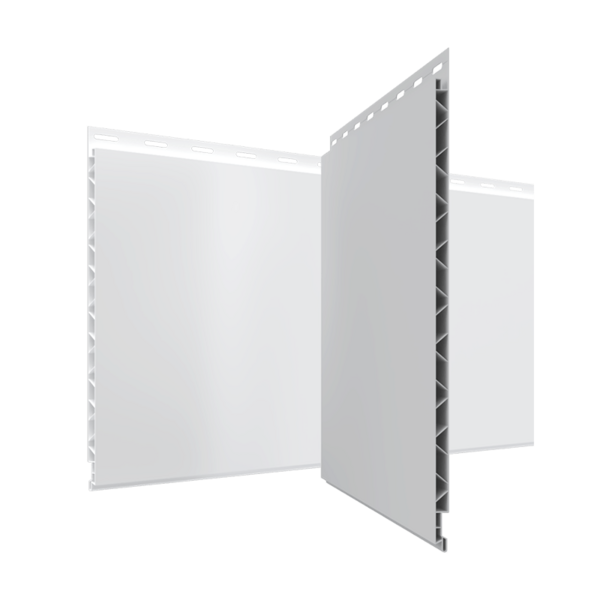 Wall&CeilingBoard
---
Trusscore Wall&CeilingBoard is an ideal drywall replacement that's durable, easy to install, and easy to clean. The wall and ceiling panels are perfect for many different residential, commercial, and agriculture applications.
Learn More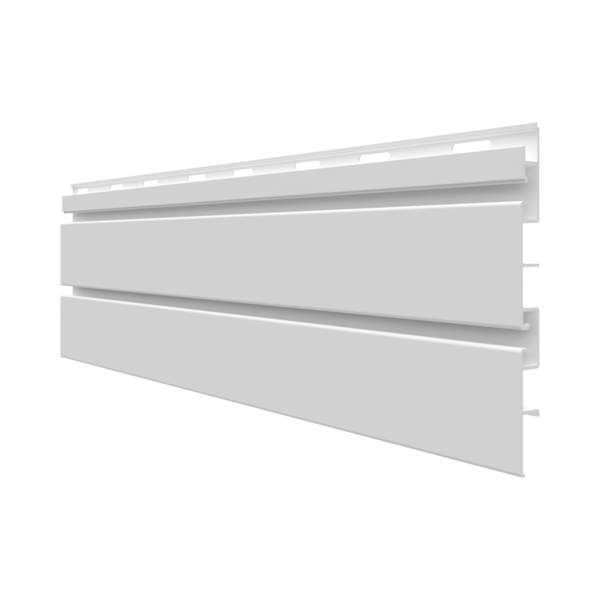 SlatWall
---
Declutter your space with Trusscore SlatWall, the organized and accessible solution for any garage or workshop. An ideal pairing with Trusscore Wall&CeilingBoard, SlatWall is easy to install for do-it-yourself projects and offers a wide range of hooks for your needs.
Learn More