The pole barn has long been a fixture on farms and ranches and today is also popular with homeowners and businesses. There are a number of options available when it comes to lining a pole barn's walls and ceilings. We break down the pros and cons of the most popular solutions.
Pole barns are no longer found exclusively on farms, and have become popular with homeowners and businesses alike, serving a host of utilitarian functions
Choosing the right building material for a pole barn's walls and ceiling will help ensure the structure delivers its desired performance
Plywood, OSB, metal and PVC are among the options available for pole barn walls and ceilings. But which is the best?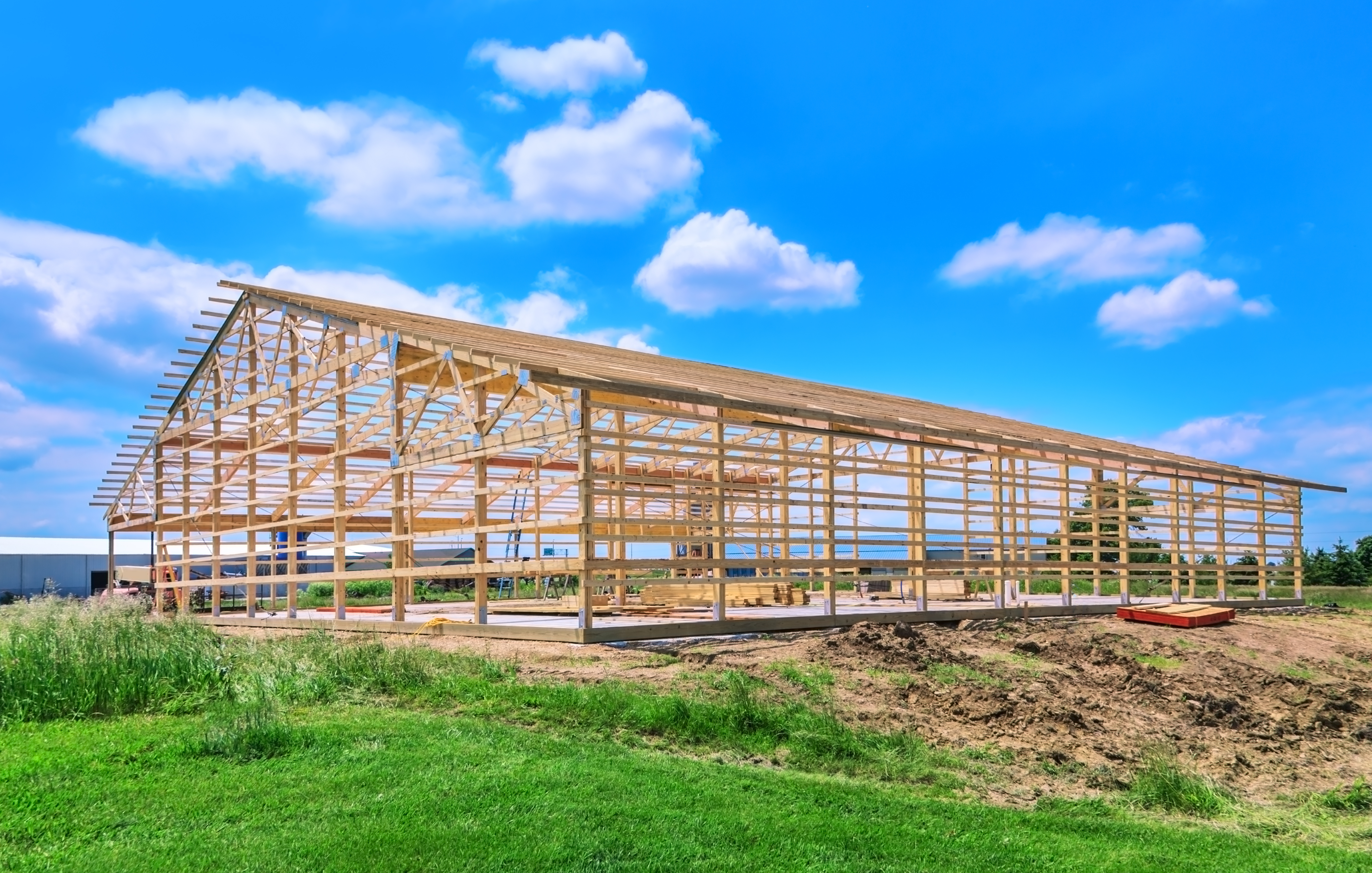 Pole barns are large post-frame structures that have a long historical association with farming and ranching. Today, pole barns are not only used in agriculture operations, but are popular with homeowners and businesses, too, serving as workshops, assembly facilities and, on the residential side, as over-large storage for vehicles and recreational equipment.
Every pole barn requires some form of interior wall and ceiling solution. Choosing the right material will allow the structure to properly function for the purpose it was intended.
Pole barn interior wall and ceiling ideas
There are a number of potential wall and ceiling alternatives, all with pros and cons in terms of price and utility. Let's run through some of the most popular:
Plywood
If you plan to use your pole barn space as a workshop or for utility functions (in other words, you don't require a finished, upscale aesthetic), plywood can be a good option. It's readily available and relatively easy to work with.
Pros
Widely stocked and available in a variety of thicknesses and level of finish
Can be painted or stained
Provides insulating value
Relatively easy to replace damaged panels
Cons
Expensive, particularly finished versions
Poor light reflectivity
Heavy, making installation labour intensive, particularly on ceilings
Swells and discolors when it gets wet
Can serve as a vector for mold and mildew growth
Oriented strand board (OSB) and medium-density fiberboard (MDF)
OSB and MDF are engineered building products made from wood chips, sawdust, and adhesives that are pressed together, creating a strong, multipurpose product available in 4' x 8' and 4' x 12' sheets.
Like plywood, OSB and MDF are readily available and straightforward to install and suitable for a workshop or utility environment.
Pros
Less expensive than plywood
Widely stocked
Provides insulating value
Relatively easy to replace damaged panels
Cons
Heavy material, making installation labour intensive
Absorbent, meaning it will swell even more than plywood from moisture
Vector for mold and mildew growth
Poor surface for paint due to absorbency and uneven finish
Drywall
Drywall is a popular and readily available material that is available in 4 x 8-foot or oversized 4 x 12-foot sheets than can be painted, producing a smooth, uniform, and upscale finish suitable for offices or residential rooms.
Pros
More fire resistant than wood
Less expensive than plywood
Produces a more high-end finish
Damaged sections can be replaced or repaired
Cons
Heavy product and labor-intensive to install, requiring taping, sanding, and painting after installation
Extremely susceptible to water damage, swelling and discoloring and surrendering structural integrity
Easily dented and damaged when bumped
Shows blemishes and nail pops
Corrugated metal sheeting
Steel and corrugated metal sheeting is a popular pole barn wall and ceiling option. It provides efficient, durable coverage that can withstand bumps and bruises from equipment.
Pros
Low maintenance
Good light reflectivity
Durable
Lightweight, easy to install
Cons
Expensive relative to other options
Can rust when in contact with moisture
PVC panels
PVC panels, like those made by Trusscore, are a long-lasting, high-performing pole barn wall and ceiling option. Unlike drywall, Trusscore Wall&CeilingBoard requires no taping, sanding, or painting, and it's available in oversized sheets as large as 20 feet long. Trusscore Wall&CeilingBoard blends seamlessly with Trusscore SlatWall, which provides space-saving, wall-based storage, ideal for a workshop or for home organization.
PVC panels provide a bright, clean looking, work space, one that's suitable for virtually any residential or industrial use case.
Pros
Lightweight
Easy to install (four times faster than drywall)
Superior light reflectivity, reducing lighting needs
Excellent performance in wet or damp environments
Durable
Recyclable
Cons
Can be tricky to paint
Materials can be pricy (a cost off-set by faster installation)
Find a Retailer
Trusscore works with thousands of retailers across North America to bring you the best service and access to our products.
Why Trusscore Wall&CeilingBoard is the better wall options for pole barns
It's believed that pole barns gained their name during the depression years of the 1930s – utility poles and telephone poles were an affordable and abundant building material that could be repurposed for large shelters.
Today's pole barns are sophisticated and smart-looking structures serving a variety of purposes. Matching the correct wall and ceiling material with a pole barn's intended use case is key to gaining maximum utility from the space.
Trusscore Wall&CeilingBoard is an ideal wall and ceiling solution for pole barns.
Wall&CeilingBoard is lightweight yet strong and durable, typically outlasting the building within which it's installed. It installs quickly – up to four times faster than drywall and is available in panels up to 20 feet in length, providing for fast, efficient coverage in large structures.
Panels have a high light reflectivity rating of 0.90, which means 90% of the light which strikes a panel is reflected, resulting in a bright, clean space while simultaneously reducing energy requirements.
And Wall&CeilingBoard is impervious to water. It won't swell or discolor when it gets wet, meaning vehicles and equipment can be hosed down or pressure washed with no damage to walls or ceiling.
As for cleaning the walls themselves, a simple wipe with a damp cloth is all that's required. Because it sheds water, Wall&CeilingBoard will never become a vector for mold or mildew growth.
Best of all for a large space, Wall&CeilingBoard seamlessly blends with another Trusscore product called SlatWall to create wall-based storage for tools and equipment. Hooks, shelves and baskets snap quickly into place on walls to create flexible storage and generate added utility for your space.
Trusscore Wall&CeilingBoard – made to measure wall and ceiling coverage for pole barns.