Pat Sweetnam needed a wall material for his boathouse that was built to last and handle the fluctuating water levels — Trusscore Wall&CeilingBoard was made for the job.
In summary:
Rising and falling water levels on Lake Muskoka left Pat Sweetnam and his wife hunting for an interior wall product that could handle the wet going in his new boathouse
Trusscore Wall&CeilingBoard – the panels shed water and easily install in a way that creates a water-resistant barrier that's easy to clean, easy to install – fit the bill.
"We couldn't be happier."
When Pat Sweetnam set out to build a new boathouse at his Lake Muskoka property last summer, he was faced with something of a conundrum.
Water levels along the shore of the property that he shares with his wife on Browning Island had been in enormous flux over the previous few years, rising and falling, Sweetnam says, "as much as four or five feet."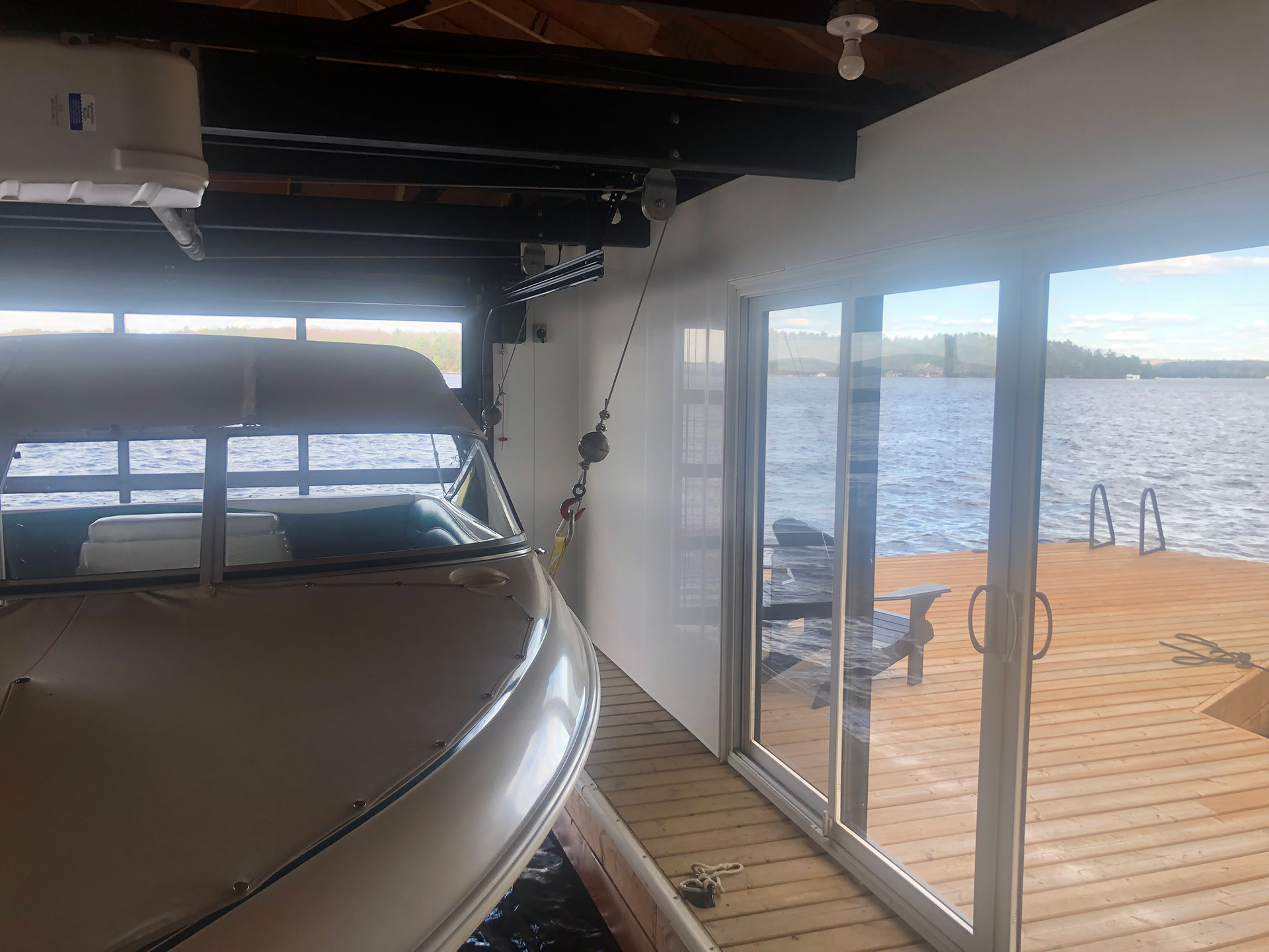 That meant traditional building materials would be far from ideal for his project. Water was very likely to rise to the level of the boathouse walls and beyond. A boathouse with walls made from traditional materials, such as wood or drywall, would almost certainly swell, stain, and develop mold with repeated soakings – hardly ideal.
"We knew that we needed something that would be impervious to those kinds of variable water levels," says Sweetnam. "We needed something that wouldn't get moldy on the inside of a boathouse.
But what to use?
Some internet sleuthing soon led the Sweetnams to Trusscore Wall&CeilingBoard. They located a nearby Trusscore distributor and a contractor who was keen to do the installation. The project was completed at the end of last summer.
"We couldn't be happier," says Sweetnam.
Trusscore products are made from PVC, so they shed water and, unlike wood or drywall, don't expand when they get wet. In other words, they're perfect, as the Sweetnams discovered, for a boathouse use-case.
The Sweetnams, who hail from Virginia, have been coming to the Muskoka area for 36 years. They typically spend seven to eight months of the year at their island property. Asked what it was that led them to the area, Pat says "It would be easier to talk about what we don't like. It's just beautiful."
The boathouse is a fundamental part of their residence's functionality and utility – because their boat is the sole method to reach their property, as well as a lifeline for groceries and supplies. That meant the boathouse, which is 22' x 28' in size, needed to be easy to maintain and built to last. Trusscore Wall&CeilingBoard fit the bill.
Sweetnam says that in addition to its performance when wet, "there were three things [about Trusscore] that we liked.
"First, the product can be pressure washed. That appealed to us because that meant the boathouse would be easy to keep clean," says Sweetnam. "Second, the product is made in a way that allows it to expand and contract," meaning it wouldn't crack like drywall when the cold weather hit. "And the third thing was the J-Channel trim on the bottom [of the Wall&CeilingBoard installation]. By drilling holes in the J-Channel, water drains away. There's no water build-up. That appealed a lot."
Trusscore Wall&CeilingBoard installs up to four times faster than drywall and for a lower overall cost. Unlike drywall there's no mudding, no taping and no painting. Once it's installed, it's durable, long-lasting and easy to clean.
Perfect to float a boathouse project like that completed by the Sweetnams.
Products for Cottages & Boathouses
Want to see your cottage or boathouse with Trusscore featured here?
Send us your photos by clicking the button below, or mention us on social media @Trusscore and share your experience with us.