Renovation stars Bryan and Sarah Baeumler featured a pair of Trusscore products on a recent episode of their hit HGTV Canada show Island of Bryan.
In summary:
Trusscore Wall&CeilingBoard and Trusscore SlatWall made their primetime debut on Island of Bryan, the hit HGTV Canada show about the renovation of an island resort in the Bahamas.
 The Trusscore products were installed in several of the the resort's new laundry and staff utility rooms, to rave reviews from Bryan Baeumler and his team in Episode 5 of Season 3
 The Baeumlers – Bryan and his designer wife Sarah – became Trusscore ambassadors in September of 2020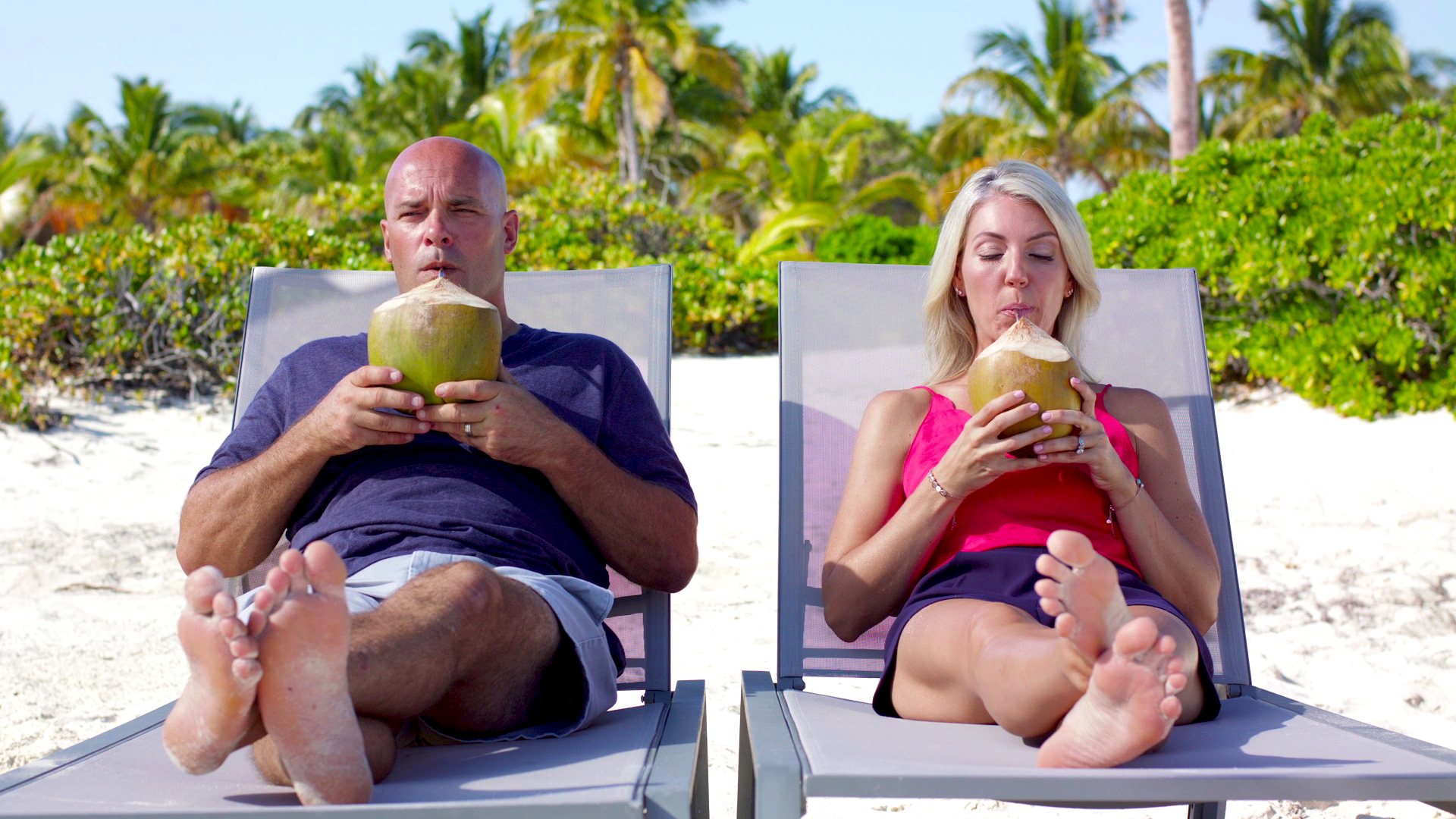 Excuse us for blushing.
Island of Bryan, the hit HGTV Canada show about the renovation of a Bahamian island resort by Burlington, Ontario professional contractor Bryan Baeumler and his decorator and designer wife Sarah, just gave Trusscore a starring role in one of their recent episodes. And the reviews were rave.
"It looks clean," said Bryan in an exchange with a member of his construction crew, examining the mid-stage PVC wall paneling installation of Trusscore Wall&CeilingBoard inside the new laundry room at the Caerula Mar Club resort.
"This is the first time that we've used [Trusscore] PVC panels here, and honestly I wish we'd had them earlier for the commercial kitchen, the basement – [for] all kinds of things," said Bryan midway through Episode 5 of Season 3.
The episode, at one juncture, showed the Trusscore Wall&CeilingBoard being installed in time-lapse fashion, and so easily that at one point Bryan joked, "That's it? I feel bad even paying you guys to install this."
Later in the episode, the finished room was on display, with Trusscore SlatWall, which blends seamlessly with Trusscore Wall&CeilingBoard to create a wall organization system, shown in its full glory: hooks, shelves, and baskets, which quickly snap into the Trussicore SlatWall grooves – used to give the Baeumlers' laundry room added functionality and a neat and tidy appearance.
And Bryan Baeumler referred to many of the additional features of Trusscore products – their water-resistant wall panels and the fact that Trusscore products are ideal for environments with high humidity and moisture – like a Caribbean resort.
"We don't have to worry about mold or if there's dirt in there," said Bryan. "We can hose it right off the wall."
Trusscore products were installed in five rooms, in total, at the resort: The laundry room, linen storage room, staff break room, and male and female change rooms. Last fall, Trusscore announced a partnership with the Baeumlers, who, as Trusscore ambassadors, showcase where and how Trusscore products can and should be designed and installed.
Canadians can watch it on Episode 5 of Island of Bryan wherever you enjoy HGTV Canada. And for our friends from the U.S., stay tuned for the next season of Renovation Island to see the reveal!