Garages have a way of becoming a dumping ground for unused stuff over the summer months. With snow and cold weather on the way, homeowners are looking to get their garage cleared out so they can use the space for the purpose it was intended – storing their vehicle. With that in mind, here are five can't-miss tips to get your garage shipshape for winter and get your vehicle under cover.
Cleaning out your garage
With winter looming, it's time to think about once again storing your vehicle in the garage
The problem? Garage floors have a way of becoming cluttered during the summer months
Here are five sure-fire tips for cleaning and organizing your garage so you can get your car moved under cover before snow arrives
It's human nature. If you're like most people, you've spent the summer months with your vehicle sitting in the driveway rather than in the garage. After all, with the nice weather, there was no need to keep your vehicle in a covered space.
And that beautiful, wide-open acreage in your garage? You've probably been doing the same thing that most of us do when presented with unused space – using it as a storage depot-slash-dumping ground.
Problem is, now fall is here, winter isn't far behind, and you must once again make room for the car.
But what to do with all that stuff?
Never fear.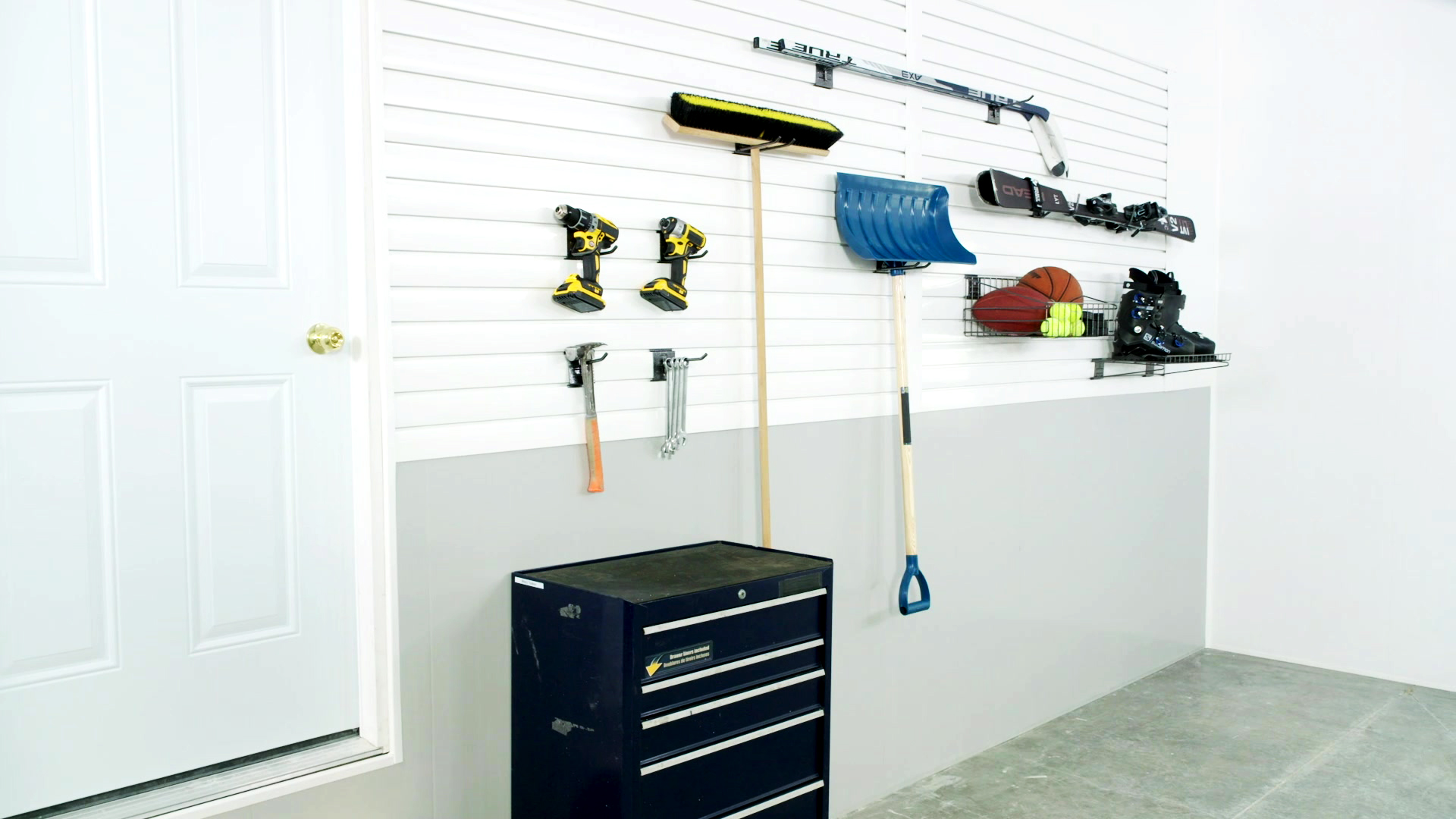 Top 5 Garage Cleaning & Maintenance Tips
Garage cleaning, organizing, and winterizing is a rite of passage in the autumn. We've got you covered with our five garage cleaning and garage maintenance tips for the winter season.
1. Organize
The only place to start a cleanup job is at the beginning. Wade onto your garage floor and take stock. Sort the items on the floor into categories. Can summer tools and summer sports equipment be taken to the basement or a backyard shed? Decide if any items can be thrown out, put up for sale, or donated to a thrift shop or second-hand store. Consider hanging bicycles on walls or from the ceiling.
2. Create storage
It's one thing to want to clear your garage floor. It's sometimes another to know where to put tools and equipment. The answer may be staring right at you – your garage walls.
Garage walls are an often-underutilized storage resource, a place to hang shovels, tools, and sports equipment.
Trusscore makes a PVC-based product called SlatWall that is ideal for creating wall-based storage. Trusscore SlatWall installs directly over drywall or onto bare studs; hooks, baskets, and shelves then quickly snap into the slats, and presto, you have a home for many of the items taking up garage floor space.
SlatWall is easy to install, cleans with a simple wipe, and repels water. Unlike drywall or pegboard, , SlatWall doesn't support the growth of mold or mildew. And as storage needs change, hooks, baskets, and shelves can be easily rearranged.
3. Clean
Now that you've cleared some floor space, it's time to spruce it up. Use a push broom to remove dust, dirt, leaves, and, if there's a need, scrub floor stains with detergent. Clean the windows. Wipe down all surfaces, including walls.
And keep this in mind: Trusscore SlatWall seamlessly pairs with another product called Trusscore Wall&CeilingBoard, a replacement for painted drywall that helps make garage cleanup a breeze. Like SlatWall, Wall&CeilingBoard is a PVC-based material that installs quickly and is impact and water resistant — scuff marks or dust clean up with a simple wipe and won't support mold or mildew growth.
4. Repair
Seal up leaking windows and cracks with silicone. Remediate any floor and wall damage. If necessary, replace garage door weather stripping.
5. Winterize
Remove your garage hose from its tap, drain the hose and then store for the winter – perhaps from a hook on your new slatwall system. Shut off the hose water supply from inside your house and then drain the water supply pipe to avoid water freezing and causing a crack in the line. Lubricate garage door hinges and rollers and replace all garage door opener batteries. Check and test the garage door and make certain the reverse sensor is working correctly.
Last, and certainly not least, stand back, admire the result of all your work, and then with a sense of satisfaction, park your vehicle in the garage.
Mission accomplished for another season.
Products For Your Garage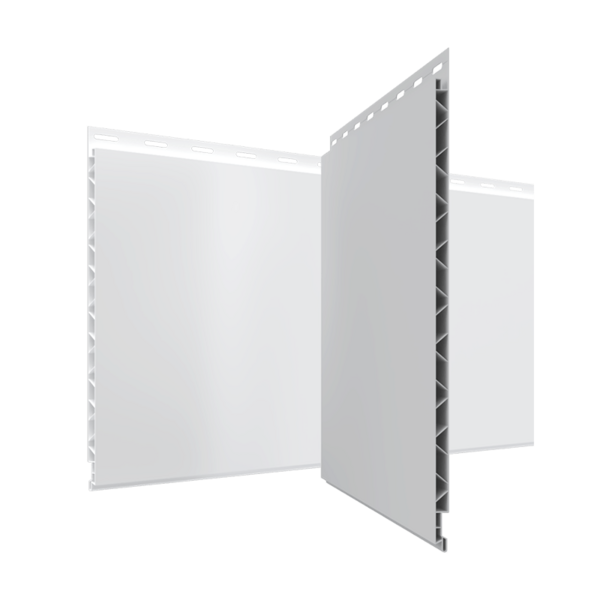 Wall&CeilingBoard
---
Trusscore Wall&CeilingBoard is an ideal drywall replacement that's durable, easy to install, and easy to clean. The wall and ceiling panels are perfect for many different residential, commercial, and agriculture applications.
Learn More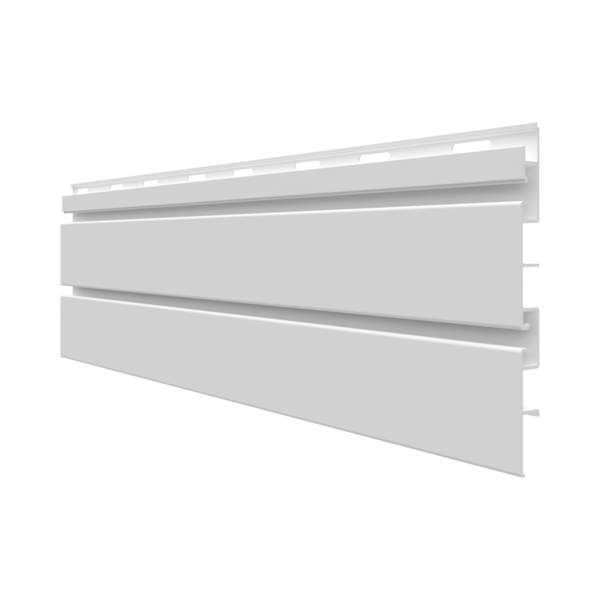 SlatWall
---
Declutter your space with Trusscore SlatWall, the organized and accessible solution for any garage or workshop. An ideal pairing with Trusscore Wall&CeilingBoard, SlatWall is easy to install for do-it-yourself projects and offers a wide range of hooks for your needs.
Learn More