Trusscore SlatWall – a strong, beautiful wall storage solution – is fast and easy to install for pros and do-it-yourselfers alike. Getting ready to install the product on your walls? Check out our top 5 can't-miss installation tips to install with ease and maximize the potential of your space.
In summary:
Trusscore SlatWall and readily available snap-in hooks, shelves and baskets are designed to clear clutter by turning walls into functional, flexible, organization assets
 Trusscore SlatWall installs quickly and easily – far faster than drywall and with far greater utility
Here are five pro tips that will help your installation go even smoother
Trusscore SlatWall is an attractive, useful addition to any wall project. As a PVC-based wall storage solution, Trusscore SlatWall pairs seamlessly with Trusscore Wall&CeilingBoard to create highly functional, impactful storage. Widely available standard 3" accessories such as hooks, baskets, and shelves pair perfectly with Trusscore SlatWall and easily snap into the horizontal channels. With this solution on your walls, you can now store tools, lawn and garden gear, and sports equipment neatly on your wall – up and out of the way. With Trusscore SlatWall, clutter-free space is yours to be reclaimed and you can finally say hello to open floor space once again.
Have you been wondering how to install SlatWall? You've come to the right place. Installing Trusscore SlatWall is fast and easy for the pro or do-it-yourselfer alike. Here are our five can't-miss tips for a successful SlatWall installation:
1. Get a cleaner cut
When cutting trim to size, tin snips are the ideal tool for a simple and clean cutting experience. And here's a hack that could save you that extra cut: To achieve clean, straight trim cuts, don't fully close the tip of your tin snips at the end of your stroke.
If you're using a circular saw or miter saw to cut SlatWall panels, installing the blade in the reverse direction is a great way to achieve the cleanest possible cut. Just don't forget to re-install the blade in its usual direction once the project is complete.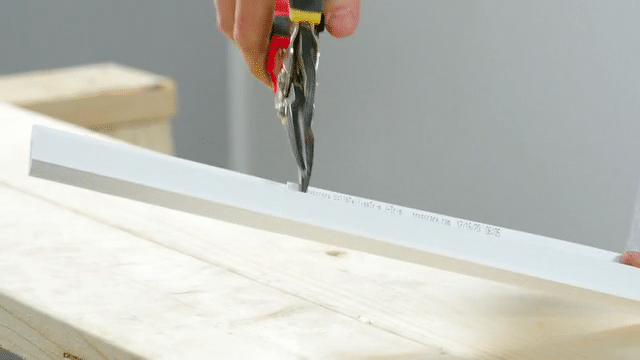 2. Get artistic when planning your installation area
Let your inner artist shine through. Draw or sketch out on the bare studs (or drywall, if your Trusscore SlatWall will be installed directly on top) where you intend to install your SlatWall. Doing so will help you get good alignment for your installation.
Start with marking your left and right sides of your installation as Trusscore SlatWall must start and end on a stud. Then mark the ideal installation height off the ground using the longest level you have.
And don't fret – your artistry will be ultimately covered by the SlatWall system itself.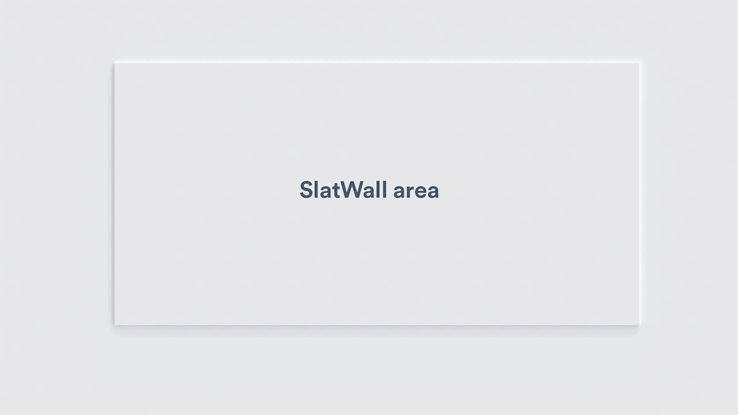 3. The panels will tell you when they're properly interlocked
Apply gentle downward pressure (towards the floor) to interlock a panel with the previously installed panel below it. As you do, listen and feel for a "snap". This snap tells you the panels have properly interlocked together.
Be sure not to overtighten the screws when fastening the panels to the studs as overtightening can disrupt installation of the subsequent panels and prevent the "snap" from taking place.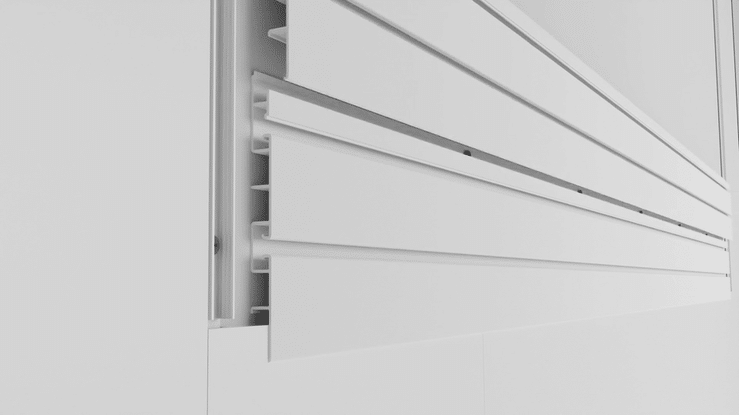 4. More is merrier — Make it a wall-to-wall install
The horizontal lines of Trusscore SlatWall are a striking design feature. Large installations that span the length of an entire wall take on a dramatic aesthetic and provide significantly more storage capacity than smaller areas.
Plus, the vertically aligned Trusscore H-Channel Snap-In Trim Kit serves as an attractive accent for a large installation, creating an appealing transition between consecutive panels.
Wrap-around, wall-to-wall SlatWall that is installed within reaching distance maximizes added storage flexibility and convenience.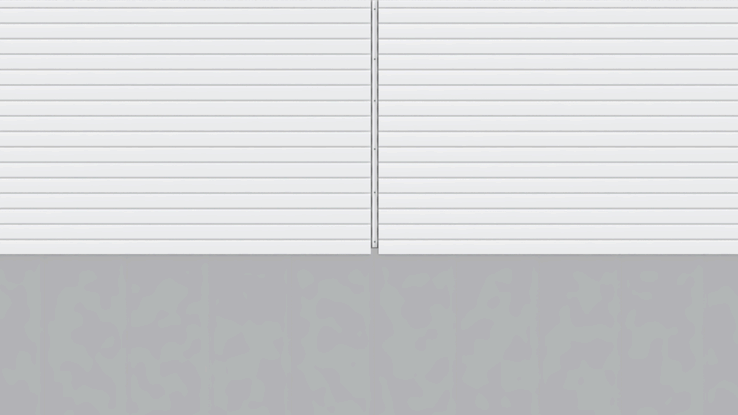 5. Getting creative can lead to breathtaking results
Getting creative in your design can pay huge design dividends. Trusscore SlatWall comes in two popular colors: white and gray. Mix and match them in distinctive pattens to create visually enticing combinations.
Trusscore SlatWall can be paired and alternated with Trusscore Wall&CeilingBoard to create additional visual textures.
Experiment with the placement of hooks, baskets and shelves for added visual appeal. By the way, Trusscore SlatWall works any standard 3" universal hanging accessory. This non-proprietary design means the possibilities are endless!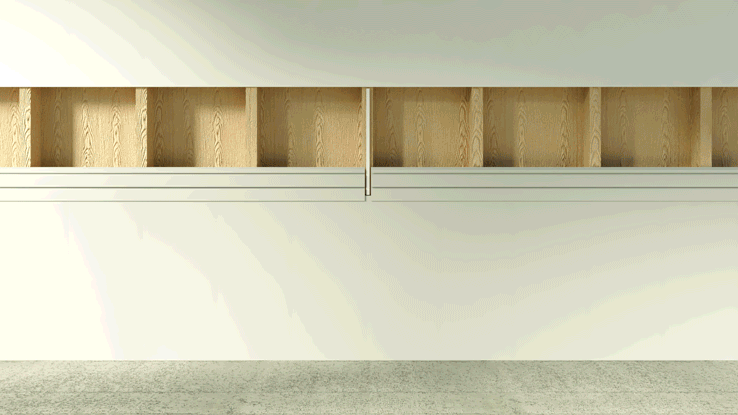 Trusscore SlatWall is a problem-solver. Whether installing SlatWall in a garage, laundry room, mud room, or office, it's designed to help you reclaim a space that has been surrendered to clutter by activating one of the great untapped resources of your space – your walls. Let Trusscore SlatWall help you put those resources to work, with easy-to-install storage that looks great and is easy to keep that way.
It really is that easy!
Install Trusscore SlatWall yourself with minimal tools in 4 easy steps.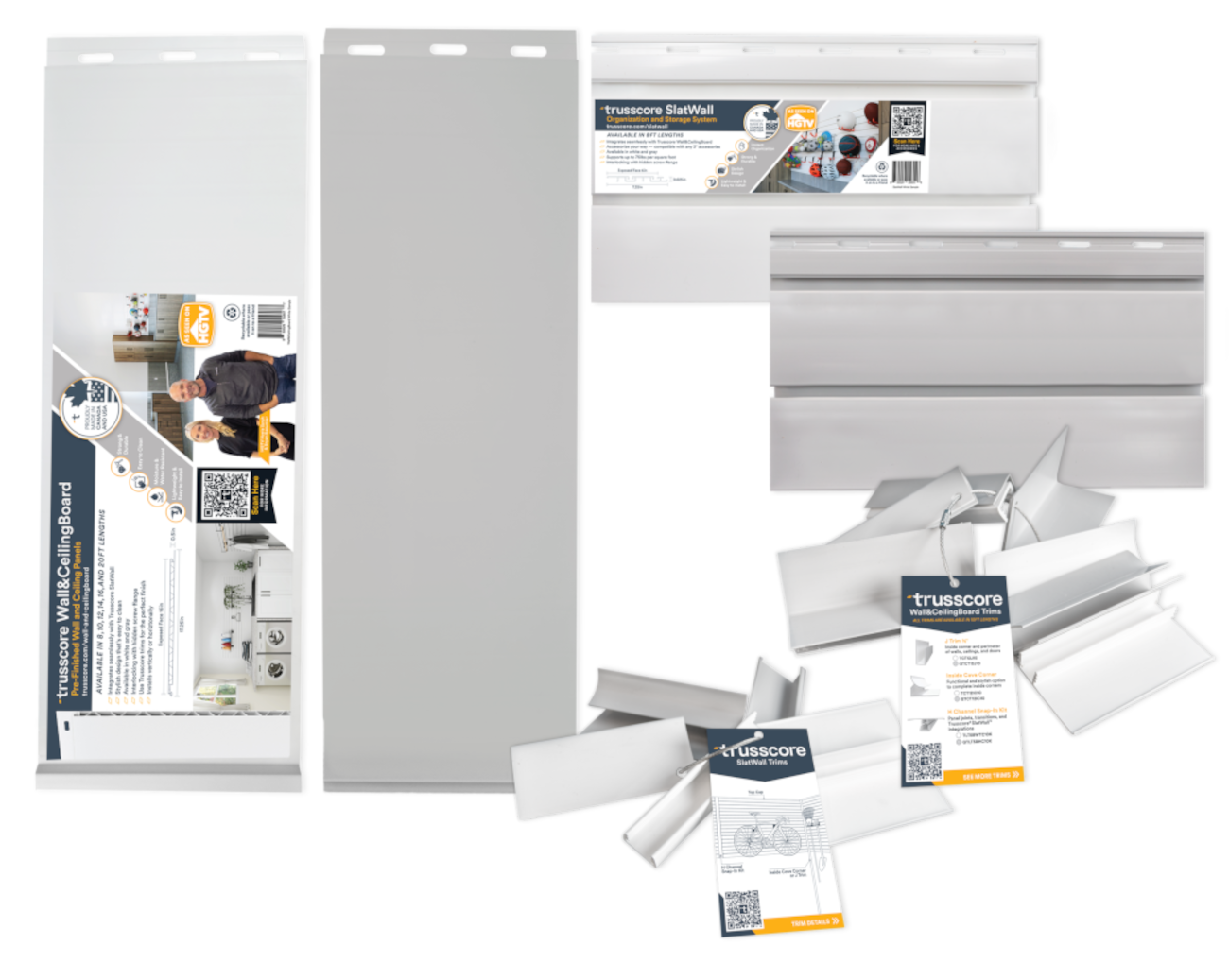 See for Yourself
The best way to see and feel the quality of our materials is in person. Compare Trusscore samples to get a better sense of the color and style suited for your next project.
Products for Organization