Trusscore Wall&CeilingBoard and Trusscore SlatWall combine to give you the tools you need to bring order from the chaos constantly lingering in your garage. Don't miss HGTV Canada professional contractor Bryan Baeumler's tips on how to organize your garage in the accompanying video.
In summary:
Searching for easy ways to organize your garage?
Trusscore products help make your garage function better, no matter the season
Transform your garage walls into storage solutions that are flexible and easy to reconfigure
The garage has a way of becoming a household's dumping ground: bikes, garden tools, snow shovels, power tools, sports equipment. Garages get asked to store so many things, across so many seasons, that disorganization has a nasty habit of creeping in and taking up permanent residence.
The solution? Trusscore Wall&CeilingBoard and Trusscore SlatWall for your garage organization
Wall&CeilingBoard and SlatWall combine to create a storage powerhouse, transforming all that beautiful wall space in a garage into a once-and-for-all storage remedy – one that works no matter what the season.
As HGTV host and professional contractor Bryan Baeumler says in the accompanying video, "As the seasons change, so can your garage."
Wall&CeilingBoard and SlatWall blend seamlessly to create horizontal or vertical organizing systems for shelves, hooks, and baskets, allowing flexible and creative storage solutions. It's easy to reconfigure it according to use case or season. The choice is yours.
"I can have access to the items that I need, when I need them," says Bryan, who stars in the hit HGTV Canada show Island of Bryan with his designer wife Sarah.
Trusscore Wall&CeilingBoard and Trusscore SlatWall PVC wall paneling are easy to install, easy to clean, and strong – SlatWall is designed to hold up to 75 lbs. per square foot. It's bright and clean in appearance, long-lasting, resistant to chemicals, and impervious to moisture. You can power wash your garage floor without worrying about doing damage to the walls.
Trusscore SlatWall accessories such as hooks, baskets, and shelves are made from steel for strength and come in a black, powder-coated finish that repels moisture and provides a pleasing visual contrast with the SlatWall white and gray finish.
Combine Trusscore SlatWall and SlatWall accessories with Trusscore Wall&CeilingBoard for a complete garage wall panel renovation and bring order to your chaos – and create room for the purpose your garage was originally built, namely, housing your vehicle.
Our Top 10 ideas for garage organization using Trusscore SlatWall & accessories:
Want to see your garage with Trusscore featured here?
Send us your photos by clicking the button below, or mention us on social media @Trusscore and share your experience with us.
Products for Garages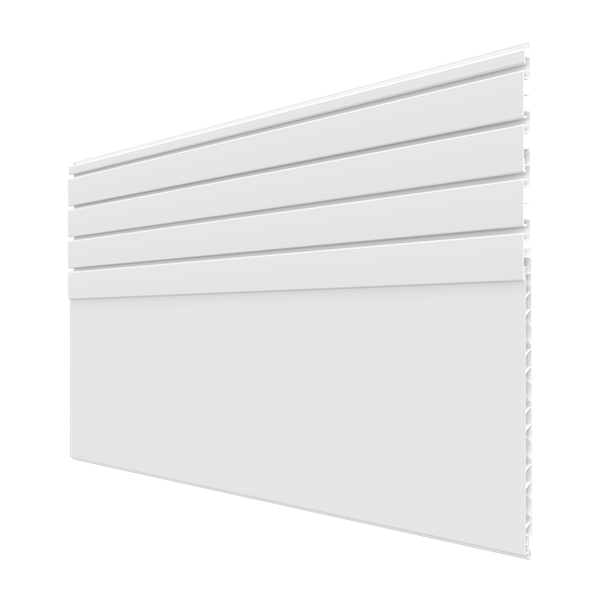 Wall&CeilingBoard and SlatWall
---
Designed with a high-strength polymer formulation, Trusscore Wall&CeilingBoard and Trusscore SlatWall will transform any space. The durable, lightweight, and easy to install wall and ceiling panels combined with the high functioning organization possibilities of Trusscore SlatWall make them the perfect pair for your next project.
Learn More