What exactly is drywall? Hmm, let's just say it can be one of the biggest pains to homeowners, and let's be realistic, from the installation process to the upkeep, drywall is just a nuisance. Often, we hear homeowners complaining about the hassle of replacing drywall in their homes, and these three signs point to exactly why this happens.
1. Holes
Drywall's lack of durability often leads to accidental holes thanks to simple things such as opening your door too hard, moving furniture, kids playing, and even termites. The constant worry of leaving a hole in your wall is something homeowners deal with, and if you must replace a hole in drywall, it is not as easy as it seems — especially if it is a big one or has gone all the way through.
2. Cracks
If they're not holes, they're cracks. Some reasons cracks appear may be due to a bad taping job, a leak/water damage, a damaged home foundation, deterioration of the wood frame, or changes in temperature and the environment. The list goes on and on proving the point of how high maintenance drywall can be.
3. Water Damage
We often save the best for last, but in this case, we saved the worst. A big question homeowners often ask is "does wet drywall always need to be replaced?" and the answer is almost always yes. Water stains, discoloration, bubbling, peeling paint,. and softened areas are all signs of water damage and are not nice to look at. The scariest thing about all of this is the potential health and fire hazard. The growth of mold lets off toxic chemicals and exposes the household to serious respiratory illnesses and even fires caused by electrical damage.
So, now that we've discussed the high likelihood of holes, cracks, and water damage (can't forget popping nails and paint tears as well), here is a quick run-down of the tedious drywall replacement process.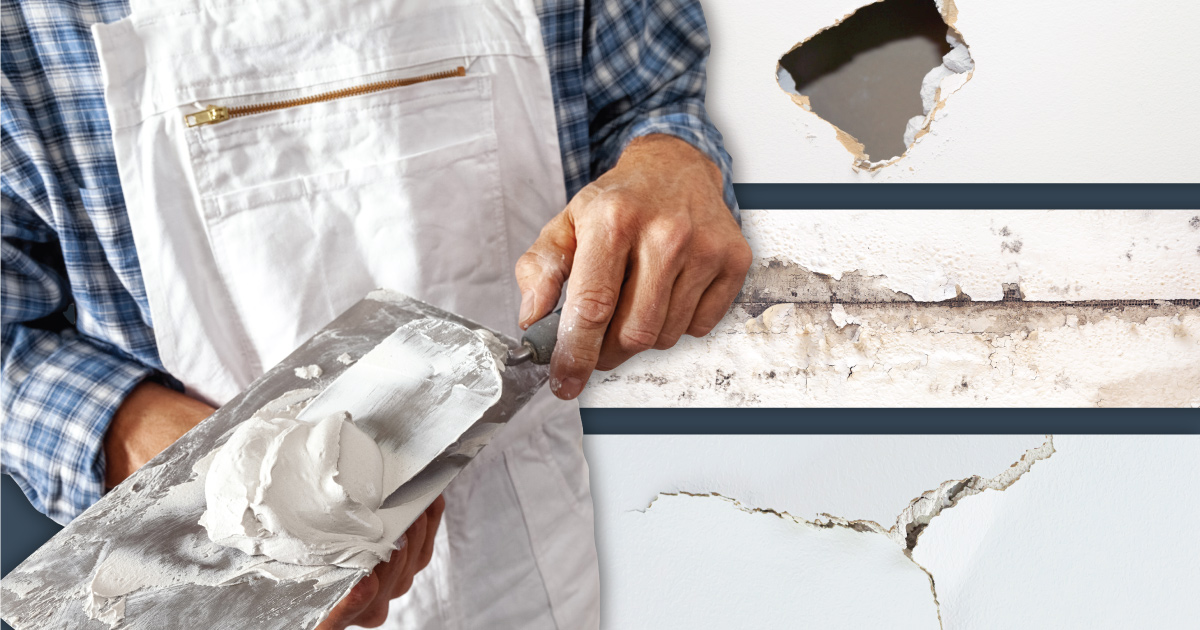 How to Replace a Section of Drywall
Tools Needed:
Utility knife
Taping Knife
Drywall saw
Drywall sander
Face mask
Paintbrush
Screw gun
Tape measure
Materials Needed:
Drywall panel
Drywall screws
Drywall tape
Drywall mud
Furring strip
Paint & Primer
Before you get started with cutting out the damaged drywall, you need to locate the wall studs and check for pipes and electrical wires. It is also important to wear a face mask to prevent dust and other small particles from entering your lungs.
Measure how big the replacement patch needed is on the wall itself and then mark it out on the new piece of drywall panel.
Using a utility knife or drywall saw, cut out the damaged drywall and cut a new piece of drywall using the measurements taken before.
Place the furring strips inside the hole in the wall and attach the new piece of drywall to the strip using drywall screws.
Using drywall tape, tape the border of the patch where the old and new drywall now meet.
Apply a thin coat of joint compound over the tape and patch using the taping knife. After it dries, scrape off any rough parts and repeat this process one to two more times.
Take your drywall sander and sand the new area to smooth it out. Goggles may be needed during this process to protect your eyes.
Lastly, prime and repaint your drywall.
Find a Retailer
Trusscore works with thousands of retailers across North America to bring you the best service and access to our products.
How Much Does the Average Drywall Replacement Cost?
Even though the average cost of drywall per square foot seems less than other alternatives out there, in the long run, due to its short lifespan and how delicate it is, it may be far from cheap. Tools, materials, labor, time, and stress all contribute to the average cost to replace drywall.
One should expect to spend an average of $300-$400 on tools and materials alone and an additional $40 - $100 per hour on labor or $30 - $70 per sheet. This process can take anywhere from days to weeks depending on the size of the project, especially if you decide to do it yourself and are generally busy. This is just not practical. Also, keep in mind this is something you may have to do regularly.
Having to worry about your wall and/or ceiling being damaged so easily is something a homeowner should not have to deal with after investing so much of their money. You should feel comfortable knowing if you're moving a piece of furniture and accidentally hit it against the wall, there will be no damage.
Replace Your Drywall With an Alternative
Looking for an alternative after reading about the complex drywall replacement process?
Trusscore offers a premium product that is PVC based and will likely outlive the building it's installed in. A 20 x 20 garage outfitted with Trusscore Wall&CeilingBoard and Trusscore SlatWall panels can range from $3000 - $5000, but the good news is that once you install it the first time, it will be the last.
Trusscore Wall&CeilingBoard installs 4x faster than drywall in just a few hours. The average homeowner can do it themselves as our panels are 40% lighter making it easier to handle and thanks to our tongue and groove interlocking system, panels connect easily together. But you can still hire a contractor — it would take them half the time it usually takes to install drywall thus making it less expensive. Unlike drywall, our Wall&CeilingBoard panels come with a standard pre-punched screw flange and panels are prefinished so once they're on the walls, your work is done!.
That isn't the only benefit though. When you install Trusscore's Wall&CeilingBoard in your home, you do not have to worry about being careful around it because of how strong and durable it is. You won't have to worry about holes, cracks, or water damage to your walls or ceilings with Trusscore in your space.
Our non-porous panels are moisture and water resistant, which allows for healthier living as there is no possibility of mold entering your home and can easily be cleaned if it gets dirty.
Create Home Organization with Trusscore SlatWall and Wall&CeilingBoard
Did you know that Trusscore Wall&CeilingBoard integrates seamlessly with our wall organization SlatWall system? Home organization is key to saving time and money and Trusscore's SlatWall is perfect for that. Our SlatWall panels support up to 75 pounds per square foot, making them the ideal storage solution for your garage.
From large items such as bikes, gardening tools, and ladders to smaller items like toys, hardware tools, and plants, Trusscore SlatWall lets you add a touch of your own creativity and customized your garage to suit your needs.
Next time you see holes, cracks, or water damage in your drywall, think twice about what material you want on your walls. Do you want a product that you purchase once and lasts forever? Or do you want to spend unnecessary money on a low-quality product? The choice is yours.
Start Planning Your Trusscore Project
Use the Trusscore Project Planner to explore different design options for your interior space.