Pegboard and slatwall are two popular wall-based storage systems used in garages. Each system has advantages, but after breaking down the features and performance of each system, a clear winner emerges

–
Trusscore SlatWall.
Choosing the wall storage system that's right for you
Pegboard has been used in garages for decades as a relatively inexpensive, wall-based storage system for equipment and tools
Slatwall systems — made of wood, MDF, PVC, and metal — are newer, delivering utility and aesthetics that pegboard can't match
Trusscore SlatWall has an advantage over all other slatwall types — it blends with Trusscore Wall&CeilingBoard to create a complete wall system that looks sharp while delivering unprecedented storage performance and does so at an affordable cost
Clean and organized garage workspaces seem to be a never-ending quest for homeowners. And it's no surprise. Everyone seems to accumulate stuff far faster than they can manage to store and organize their stuff.
One increasingly popular and effective garage wall storage solution is storing tools and equipment on walls. Which makes sense. Walls offer unused storage space and hanging items where they can be easily seen and accessed has obvious utility.
The question, then, is what type of wall-based system to install. Two popular choices are pegboard and slatwall. But there's a lot of debate about which is the better system. Let's dive in and have a closer look:
What Is Pegboard and How Is it Used?
Pegboard has been available for decades, and it has typically been the go-to product choice for economical wall-based storage in a garage.
The most common pegboard material is masonite, which is made from compressed wood fiber and resin, and then coated with a layer of oil or oil-based paint.
The upside of masonite-based pegboard wall panels is its low cost, particularly when compared to other options.
It's a product that's widely available and is dead simple to install: Simply attach the pegboard panels to furring strips — furring strips create space between the pegboard and the wall so there's room for hooks to catch behind the pegboard — using screws and add the required number of hooks to the available holes. Easy-peasy.
Pegboard Disadvantages
Lack of strength and durability
Most pegboard comes in 1/8" thickness, which won't support a lot of weight, and Masonite isn't exactly the world's strongest product to begin with. If you have heavier tools that require hanging, you'll need a thicker pegboard, or else the hooks will simply rip away from the pegboard. If you do plan to hang a number of heavier items, you might consider using a pegboard made from metal or plastic. Both are stronger. Both will cost considerably more money.
Limited organization possibilities
When masonite pegboard is installed over furring strips, a couple of problems emerge. Hooks can't be installed in the areas where the pegboard meets the furring strips; and over time, the areas of the pegboard that isn't supported by strips begin to sag, ruining the look of the job and compromising its strength.
Won't stand up to wet conditions
Masonite pegboard performs poorly in wet or damp conditions. It swells and warps when it gets wet and loses its structure integrity — hooks then rip away from the pegboard. Masonite can also become a vector for mold and mildew growth. Garages, unless insulated and climate controlled, are prone to wide swings in temperature and humidity, which induces moisture, and sometimes moisture creeps in through windows and doors. Moisture, when combined with cellulose-based products like pegboard, create growing conditions for mold. If pegboard gets wet or moldy, a homeowner risks having to replace the pegboard, introducing waste, added cost, and inconvenience. The problem can be mitigated with plastic or metal pegboard, but once again added cost becomes an issue.
Easily wears over time with use
Over time, installing and removing hooks will cause the pegboard holes to wear and expand. Hooks and tools then hang loose. The only fix is replacing the pegboard, adding cost, waste, and time. Again, metal pegboard can eliminate the problem, but not without added expense.
Slatwall vs. Pegboard
Slatwall is a newer product than pegboard and one that is fast growing in popularity. Why? Because it performs far better than pegboard and looks amazing.
Slatwall systems are available in several different materials, including metal, medium-density fibreboard (MDF), and PVC/vinyl (see our recent blog comparing garage slatwall types), each offering various advantages and disadvantages.
Trusscore makes a PVC-based product called Trusscore SlatWall that easily outperforms pegboard and offers a feature that other slatwall types don't — namely, it blends seamlessly with Trusscore Wall&CeilingBoard to create an unparalleled all-weather garage system, complete with a heavy-duty, wall-based storage component. Wall&CeilingBoard and SlatWall install far faster than drywall and with less labor. Let's look at the features of SlatWall: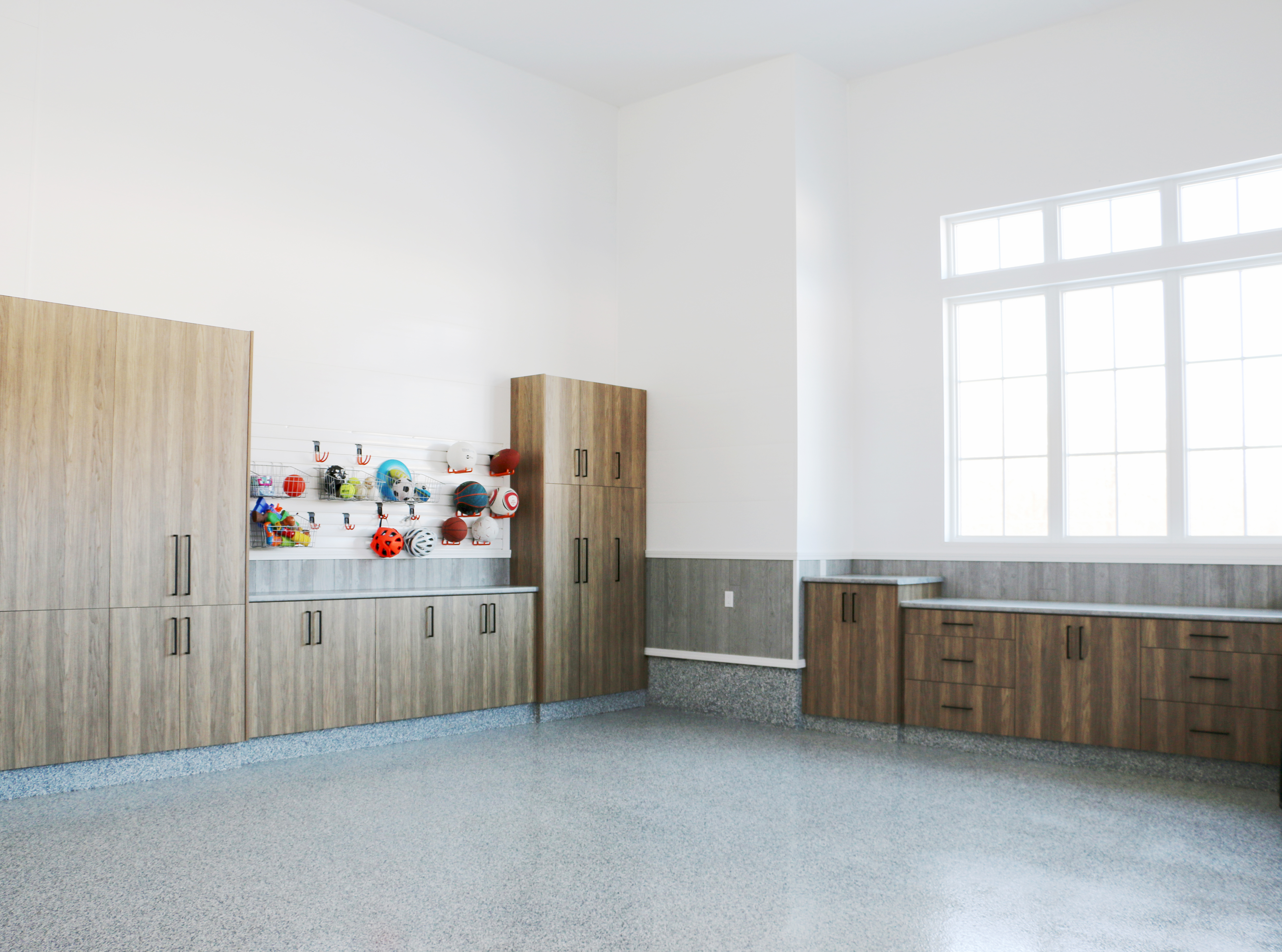 Strength & durability
Trusscore SlatWall supports up to 75 pounds per square foot, meaning it can easily support even large power tools. Trusscore products retain their structural performance even after decades of use and are designed to outlive the life of the structures within which they're installed.
Moisture performance
Because Trusscore SlatWall is made from PVC, it isn't bothered by damp or wet conditions. It retains its full strength when wet and won't support mold or mildew growth.
Versatility
Trusscore SlatWall accepts hooks, baskets, shelves which snap into the slats with ease, and provide a range of solutions for tools and equipment large and small. All SlatWall accessories can be quickly moved and rearranged as storage needs change over time and, unlike pegboard, its fasteners won't impede the placement of hooks or accessories.
Cleanability
A damp cloth and a fast wipe are all that's needed to remove marks and blemishes. Trusscore SlatWall can't be harmed by common detergent or bleach.
Impact resistance
Garages walls can take a pounding over time. If the leg of a ladder or other large piece of equipment were to make contact with pegboard, you'd have a large hole or blemish on the wall. SlatWall, on the other hand, is designed to absorb punishment. It's impact resistant.
Fast, easy installation
Trusscore SlatWall is strong but light in weight, meaning it can be installed by one person, even a do-it-yourselfer, and requires tools no more sophisticated than a screwdriver and level. Fasteners and seams are hidden.
Appearance
SlatWall is available in a gray or a bright white finish. Both produce a contemporary, high-end, look. By alternating the placement of SlatWall and Trusscore Wall&CeilingBoard, attractive designs can be achieved that delivers a modern, crisp, organized aesthetic.
SlatWall, the Better Choice for Garage Organization
A pegboard organization system has some undeniable utility and it's relatively straightforward to install. Of all the wall storage systems available today, it is among the least expensive. But you get what you pay for.
In the short term and the long, pegboard won't perform as well as Trusscore SlatWall and it won't look as good as SlatWall. With a SlatWall system, your garage will be transformed into a good-looking, organized oasis and will remain that way for decades to come.