Contractors Dave Kenney and Joey Fletcher of BroLaws Construction easily tackled their garage organization segment on Cityline by making use of their available vertical space and wall-based storage solution Trusscore SlatWall.
In summary:
Trusscore SlatWall was prime among five DIY wall storage and garage organization tips presented to Cityline viewers
Contractors Dave Kenney and Joey Fletcher laid out how fast and easy SlatWall installed into Kenney's home garage
Trusscore SlatWall helped transform Kenney's garage into a neat, tidy, functional space
A garage rescue three years in the making that only took 30 minutes to fix. And the fix was Trusscore SlatWall.
SlatWall, the PVC-based wall storage solution from Trusscore, made a guest appearance last week on Cityline, one of the longest running daytime shows in North America.
The segment, with Cityline host Tracy Moore, featured five DIY wall storage hacks for garage organization. And prime among them? Trusscore SlatWall.
"I heard you've saved the best for last," Moore said to contractors Dave Kenney and Joey Fletcher, who make a semi-regular appearance on Cityline, as they unveiled a wall in Kenney's garage that had been recently equipped with Trusscore SlatWall.
Kenney and Fletcher are brothers-in-law and principals of BroLaws Construction. In addition to Cityline, they have made appearances in several HGTV shows, including Family Home Overhaul, Home to Win, and Decked Out.
On Cityline, they walked viewers through several of the main features of SlatWall, including a time-lapse video of the installation in Kenney's garage, which Fletcher said was fast and easy.
"Easy is the main word, here," Fletcher told the Cityline viewers as the camera panned over tools, lawn implements, and recreational gear hanging neatly thanks to Trusscore SlatWall and its suite of accessories: baskets, hooks, and shelves that quickly snap into place. "We literally put this together in about half an hour last night."
The Trusscore garage slatwall system , he said, is "fantastic," emphasizing the SlatWall water-resistant properties. "So you're not going to have any mold or mildew. You're not worried about it getting wet. When it does get dirty, just spray it with the hose."
As for the fix being in, Moore more than made it apparent, to much laughter from the BroLaws, that some behind-the-scenes wrangling involving the BroLaw spouses helped push the project along and get the Kenney's garage into shape.
"I just think it's a nice thing when the spouses can come together with Cityline and make you all do work like this overnight," she said near the end of the segment. "This is phenomenal!"
Trusscore SlatWall garage storage combines seamlessly with Trusscore Wall&CeilingBoard to create a crisp, clean, wall-based storage solution in garages, basements, laundry rooms, boathouses, commercial kitchens, and restaurants – any room where storage and utility are needed.
It really is that easy!
Install Trusscore SlatWall yourself with minimal tools in 4 easy steps.
Products for Garage Organization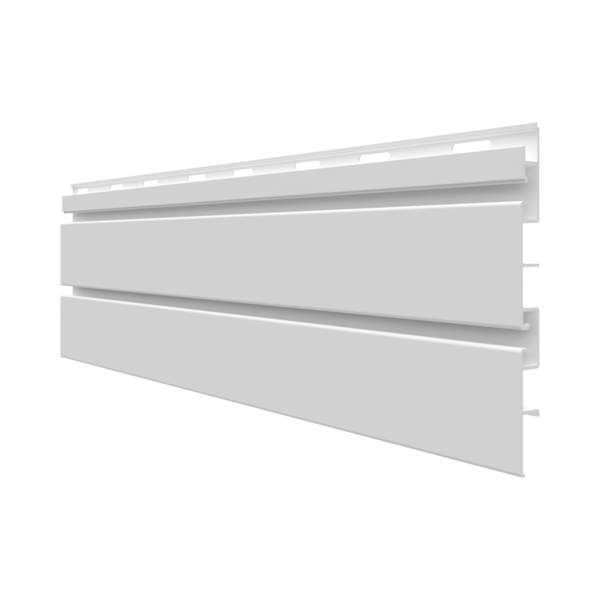 SlatWall
---
Declutter your space with Trusscore SlatWall, the organized and accessible solution for any garage or workshop. An ideal pairing with Trusscore Wall&CeilingBoard, SlatWall is easy to install for do-it-yourself projects and offers a wide range of hooks for your needs.
Learn More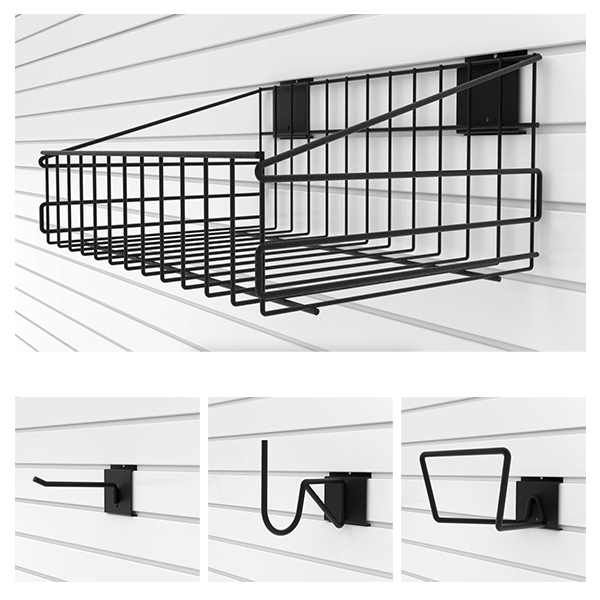 SlatWall Accessories
---
SlatWall accessories are the cornerstone of any organization project.
Our full range of SlatWall hardware, including: SlatWall Single Hooks, Double Hooks, Bike Hooks, Hose Hooks, and SlatWall Mesh Baskets and Wall Shelving, offers endless organizational possibilities for your residential, agricultural, or commercial storage project.
Learn More