Garages are often disorganized and cluttered spaces where power tools, sports equipment, camping gear, and more are stored with no rhyme or reason due to a lack of storage options. To bring order to chaos and to solve your storage problems, a garage slatwall system can help.
Storage made simple
The garage has a nasty habit of attracting clutter
Slatwall is an increasingly popular type of garage wall storage panel that's ideal at putting clutter in its place
Choosing the right slatwall system requires identifying needs, getting familiar with the pros and cons of different materials, and selecting a system that will work for your garage
Slatwall systems are a great way to maximize the storage space in your garage by allowing you to store your belongings on the wall. Using compatible accessories like hooks, baskets, and shelves that snap in or onto the slats, you can hang or store almost anything on your walls to free up space and clear the clutter from your garage floors. However, not all garage slatwall systems are created equal, and there are some things you should consider before buying and installing one.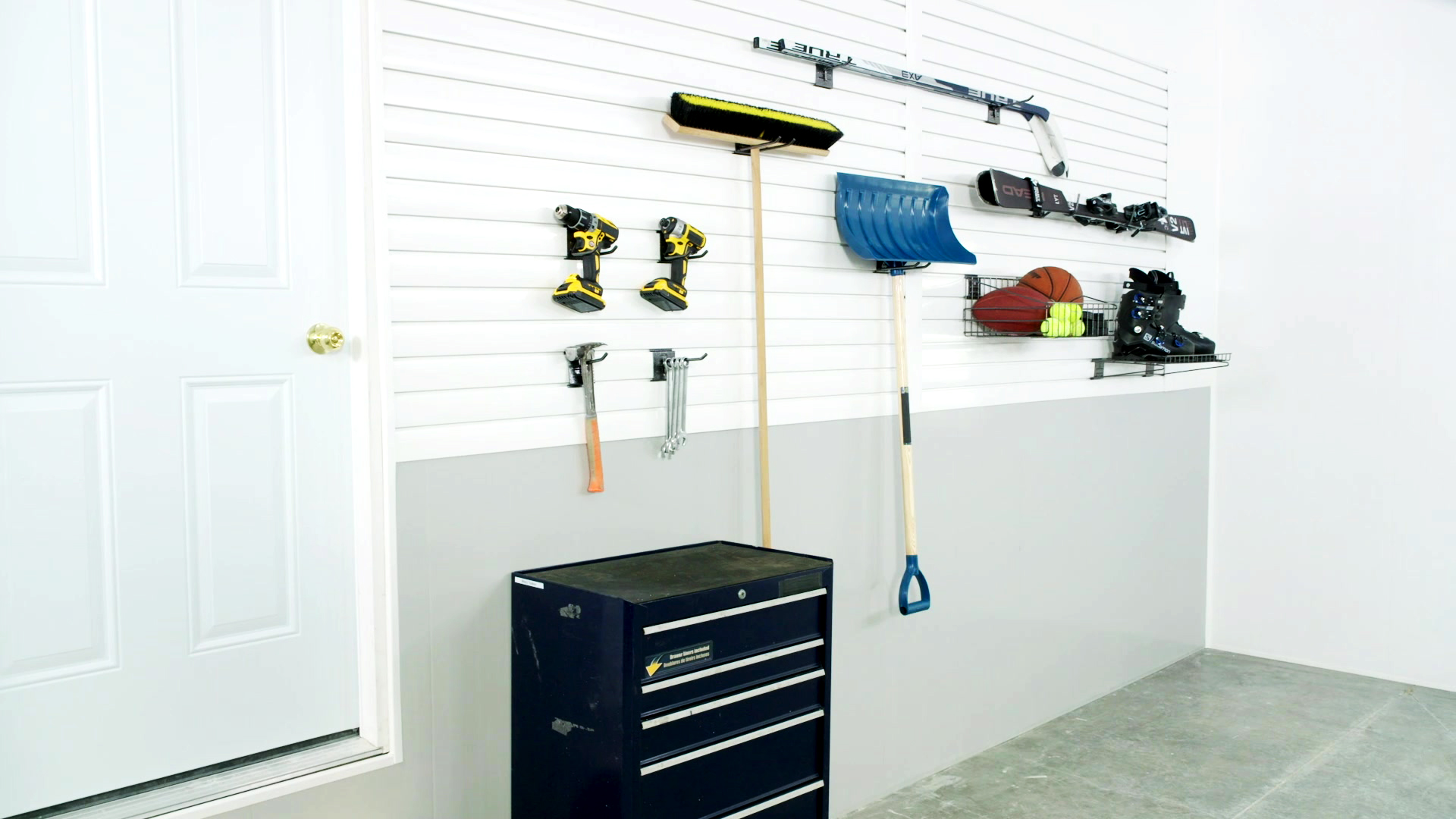 Features and Factors to Consider When Selecting a Garage Slatwall System
What material is it made from?
Most garage slatwall panels are typically made from one of three materials: metal (usually aluminum), vinyl or PVC, or medium density fiberboard (MDF). In your search, you may also find slatwall systems made from wood, but these are less popular because they perform poorly in wet or damp spaces like garages. Each material has its own pros and cons for you to consider before buying:
---
MDF Slatwall

is made by breaking down hardwood or softwood residuals into fine particles, combining it with wax and a resin binder and applying high temperature and pressure. MDF is available in different colors, is readily available, and is relatively inexpensive when compared to other options. However, MDF is dense, heavy, and difficult for one person to install. If it gets damp, MDF will also swell and expand, acting as a vector for mold and mildew growth.
---
Metal Slatwall

is typically made from aluminum and is available in brushed or smooth finishes. It's lightweight, durable, and can hold up to 100 pounds per square foot. Aluminum slatwall is also rust resistant and offers some fire resistance. One downside of metal slatwall is the cost, which is three times higher than vinyl or PVC slatwall.
---
Vinyl or PVC-Based Slatwall

like Trusscore SlatWall is lightweight, damage resistant, and can hold up to 75 pounds per square foot. Trusscore SlatWall is also moisture and water resistant, meaning it won't swell or degrade if it gets wet, and it will never grow mold or mildew. While it's cheaper than metal slatwall, it's more expensive than MDF alternatives.
Is it easy to install?
If you're planning on installing your brand-new garage slatwall system yourself, you'll likely want to opt for one that's quick and easy to install. Before buying a slatwall system, check out the product guides available online and get familiar with the installation process. If the process seems like it's out of your DIY wheelhouse, you'll likely have to set aside some of your budget to hire someone to install it for you.
Most companies will have their installation resources available on their website. For example, Trusscore offers an easy-to-follow installation video, a simple QuickStart Guide, and a detailed, step-by-step Installation Guide for Trusscore SlatWall to help customers through the install process.
Does it integrate with a complete wall system?
If you intend to install a full wall slatwall system, you likely aren't concerned with tying the slatwall into the rest of the wall. However, if you intend to install your slatwall system as a track, section, or half wall, it's best to choose a product that integrates with a garage wall material. Without that integration, there's a risk that your project won't look the way it should and won't be structurally sound.
Trusscore SlatWall has a huge advantage when it comes to wall integration. It can stand on its own as a full wall or, if it's installed as a track, section, or half wall, it can be seamlessly integrated with Trusscore Wall&CeilingBoard to offer a fully finished look in your garage. Trusscore wall and ceiling panels boast the same benefits as Trusscore SlatWall, including being strong, durable, moisture resistant, lightweight, and easy to install.
Is it compatible with a wide range of slatwall accessories?
Once you've chosen a garage slatwall system material and are ready to consider accessories, it's time to take a closer look at the slatwall system manufacturer. If their slatwall systems have a proprietary design, you'll locked into buying only that slatwall manufacturer's accessories — accessories from other manufacturers won't work.
If you're happy with the slatwall accessories available from a manufacturer, that's great! However, if you want more variety and the ability to buy accessories from third parties, you'll want to opt for a slatwall system with a non-proprietary design. For example, Trusscore SlatWall has a non-proprietary design and is compatible with most slatwall accessories on the market, including from Uline, Econoco, MasterCraft, and HandiSOLUTIONS. While accessory compatibility may not be the be-all and end-all for you, it's still an important factor to consider before purchasing a slatwall system.
Slatwall is More Than Just a Garage Storage Solution
Once you have your garage sorted and organized, you may want to invest in a slatwall system for other busy and cluttered areas of your home.
In your laundry room, slatwall systems like Trusscore SlatWall can help you store detergent and fabric softener on an accessible shelf, mount your ironing board, and attach a drying rack. In your mudroom, you can use hooks, baskets, and shelves to store coats, boots, and dog leashes. In your home office, you can declutter your desk and keep your workspace free of distractions by moving pens, documents, and knickknacks up onto your wall. And that's just the start — see all the other ways you can use Trusscore SlatWall to achieve your home organization dreams here.
The Ideal SlatWall System for Your Garage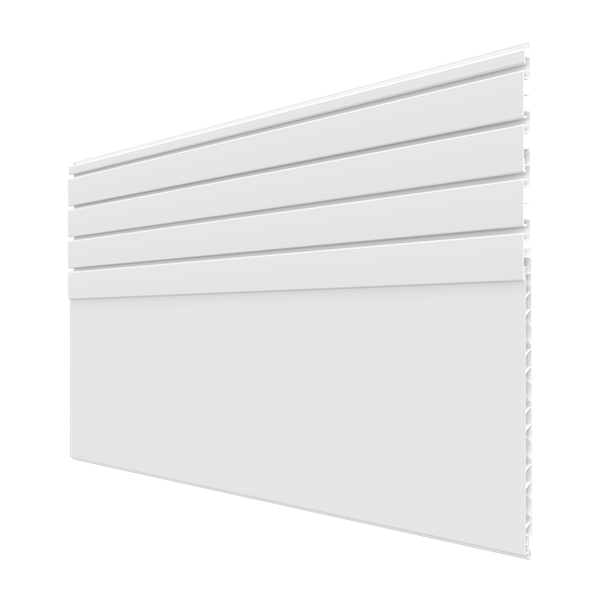 Wall&CeilingBoard and SlatWall
---
Designed with a high-strength polymer formulation, Trusscore Wall&CeilingBoard and Trusscore SlatWall will transform any space. The durable, lightweight, and easy to install wall and ceiling panels combined with the high functioning organization possibilities of Trusscore SlatWall make them the perfect pair for your next project.
Learn More