Spring is time for cottage reopening. Anyone who owns a cottage, cabin, or bunkie will happily testify how good it feels to finally reach that milestone on the calendar. The very act of turning the key in the lock says the weather is growing warmer, the nights are growing longer, and a long winter's slog can be left in the rear-view mirror.
In summary:
Trusscore Wall&CeilingBoard and Trusscore SlatWall are made for summer cottages and boathouses
Both perform better than the wood or drywall in a wet, damp environment – particularly that associated with a boathouse
Drywall often cracks over the winter in an unheated cottage, generating repairs that are costly and time consuming; eliminate the problem with Trusscore Wall&CeilingBoard
But cottage life isn't all barbeques and lounging on the dock. Most people realize that the price of leaving a cottage empty over the frozen winter is that work and repairs will need to be embarked upon once the door is opened and the windows are thrown open.
There's a way to reduce the need for those repairs – by installing Trusscore Wall&CeilingBoard and Trusscore SlatWall. Both products are made for cottage living. From boathouses to interior walls, Trusscore Wall&CeilingBoard and Trusscore SlatWall are designed to uniquely address the issues faced by cottage and cabin owners.
How so?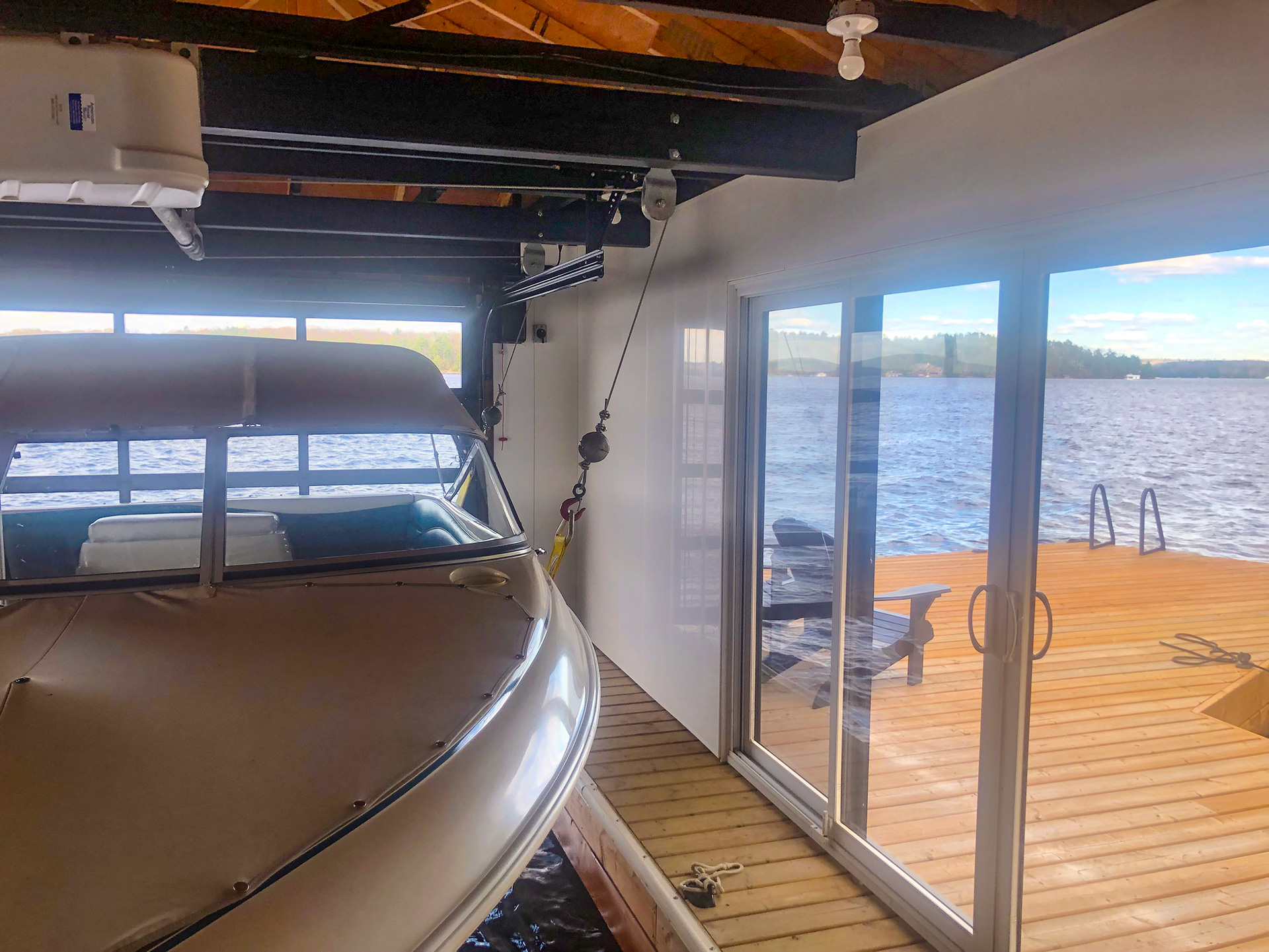 Wall and Ceiling Rescue
Many cottage owners know through hard experience that after a long winter, it's highly likely they'll be faced with a big repair: drywall has a nasty and reliable habit of cracking in rooms that have been left unheated for long periods. The only way to prevent cracking from taking place is to keep some heat pumping through a structure through the cold months to prevent contraction of the drywall. Heat not only costs money, but it's also wasteful environmentally. And it can be a fire hazard.
One of the unsung features of Trusscore products is they're designed and installed in a way that allows for temperature fluctuations. Trusscore products naturally expand and contract as the temperature changes, but they do so invisibly, within tracks that allow for just that to take place. You'll never see a broken seam; a wall created with Trusscore Wall&CeilingBoard or Trusscore SlatWall will look as good at -20 °C (-4 °F) as it will at 30°C (86 °F). That means there's no need to heat over the winter. And more time spent with a fishing rod instead of undertaking costly and time-consuming repairs.
Another issue that often rears its head upon reopening in a cottage left over the unheated, unventilated winter months is mold and mildew.
Trusscore products contain no organic material, meaning they won't support the growth of mold or mildew.
And spring cleaning of your cottage walls or ceiling will be a snap. A quick wipe with a cloth restores the bright, white finish of Trusscore Wall&CeilingBoard to the same pristine state as the day the product was installed.
Boathouse Benefit
Many cottage and cabin owners dream of adding a boathouse to their waterfront area. A boathouse not only provides security from prying eyes and protection for a boat from the elements, but it also lends some upscale panache to a cottage property and a protected place to store boating equipment.
Choosing the proper construction materials for a boathouse is paramount given the structure needs to perform in a challenging, unconventional environment – directly overtop water, which means performing amid conditions that are continuously wet and damp.
No products are better suited to handle the wet and damp than Trusscore Wall&CeilingBoard and Trusscore SlatWall.
Unlike wood or drywall, Trusscore products perform as well when they're wet as they do when they're dry.
There's no swelling, no cracking, no rotting, even with repeated soaking. Wet walls caused by wave action or a splash are non-issues – water simply glides off the walls.
And as in the cottage itself, Trusscore products, made from PVC, don't provide a medium for mold or mildew growth, meaning boathouse walls and ceilings will handle the damp conditions of a lake or river without incurring damage over the long or short term.
Trusscore products also offer unparalleled flexibility and utility for a boathouse use case. Add storage – for paddles, rope, boathooks, water skis, and the like – by installing Trusscore SlatWall. SlatWall is designed to blend seamlessly with Trusscore Wall&CeilingBoard and serve as a receptacle for snap-in hooks, shelves, and baskets, transforming a boathouse's walls into a complete storage system. Your boathouse will look as great as it functions.
Cottages and boathouses were made for the summer months. Get more utility and enjoyment from both with Trusscore Wall&CeilingBoard and Trusscore SlatWall.
Want to see your cottage or boathouse with Trusscore featured here?
Send us your photos by clicking the button below, or mention us on social media @Trusscore and share your experience with us.
Products for Cottages and Boathouses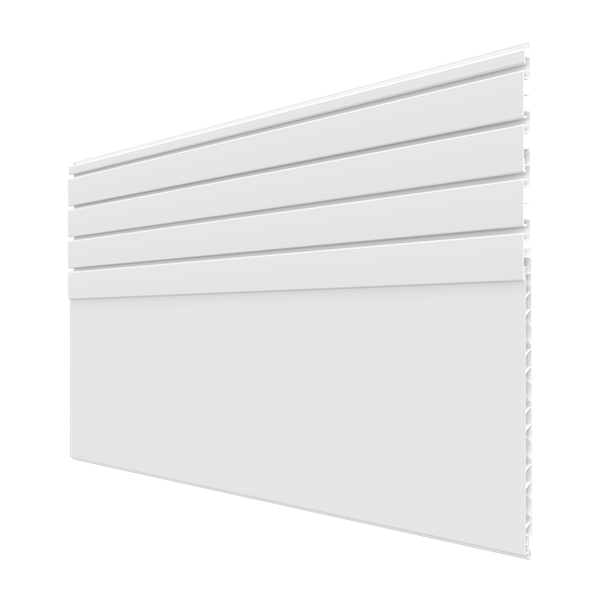 Wall&CeilingBoard and SlatWall
---
Designed with a high-strength polymer formulation, Trusscore Wall&CeilingBoard and Trusscore SlatWall will transform any space. The durable, lightweight, and easy to install wall and ceiling panels combined with the high functioning organization possibilities of Trusscore SlatWall make them the perfect pair for your next project.
Learn More