Garages often become dumping grounds for all sorts of items, leaving little room for your car or any organization. But installing a garage slatwall system can help you maximize space and bring order to chaos. In this blog post, we'll delve into the world of garage slatwall and compare two popular options: metal slatwall and PVC-based Trusscore SlatWall. Let's explore the pros and cons to help you make an informed decision for your residential garage.
The Benefits of Installing Slatwall in Your Garage
Installing slatwall in your garage — regardless of the material it's made from — brings a host of benefits that can transform your space into an organized and functional haven. Here are some key be:
Maximized Storage Space
Slatwall systems help you maximize vertical space in your garage, creating extra room to store tools, equipment, and other items on the walls. This frees up valuable floor space, making it easier to move around your garage and giving you more room to park your car or install strategic cabinetry.

Versatile Storage Options
Slatwall systems can be accessorized with items like hooks, baskets, and shelves, allowing you to group similar items together, fully customize your available storage, move things around as your needs change, and ensure every item in your garage has a designated spot.
Easy Accessibility
Slatwall systems offer easy access to your belongings, allowing you to grab what you need quickly without rummaging through cluttered boxes or shelves.
Improved Organization
You can keep your garage tidy and orderly by neatly displaying your tools and equipment, making it easier to find and put away items after use.
Flexible and Reconfigurable
You can adjust your slatwall configuration as your needs change over time. Whether you add new accessories or rearrange the existing setup, your slatwall system adapts to your evolving storage requirements.
If you're choosing between metal slatwall and a PVC-based alternative, it's important to consider specific pros and cons for each material. We dig into it all below.
Pros and Cons of Metal Slatwall
Metal slatwall is often crafted from durable aluminum and can create an attractive and modern look for your garage. Let's examine its benefits and drawbacks in more detail.
Pros of Metal Slatwall
On the positive side, metal slatwall panels are designed to stand the test of time and will look good for years to come. Here are some of the benefits you can expect from the high-performing material:
Strong and Sturdy: Metal slatwall is known for its strength and durability, and it's capable of supporting up to 100 pounds per square foot. It's perfect for heavy-duty storage needs, especially if you plan to store large or weighty items on your garage walls.
Fire and Rust Resistance: Aluminum slatwall boasts excellent fire resistance and is impervious to rust, making it suitable for all kinds of environments, especially in areas with extreme temperatures or high humidity.
Sleek Aesthetics: Metal slatwall offers a sleek and modern appearance with its clean lines and brushed or smooth finish, which can elevate the overall look of your garage.
Easy Cleaning: The smooth surface of metal slatwall makes cleaning a breeze. Wiping off dust, dirt, or any spills is a quick task, keeping your garage looking pristine.
Cons of Metal Slatwall
While it's sure to look good on your walls, metal slatwall has some key downsides:
High Cost: One of the major downsides of metal slatwall is its price. It can be three times more expensive than other options, impacting your budget significantly, especially for larger garage spaces.
Heavy and Difficult to Install: While its sturdiness is an advantage, the heavy weight of metal slatwall can make the installation process challenging, often requiring more than one person to handle the panels.
Limited Water Resistance: Metal slatwall isn't entirely moisture-resistant, which means it may not be suitable for garages prone to water or humidity issues. Prolonged exposure to moisture can lead to corrosion or damage over time.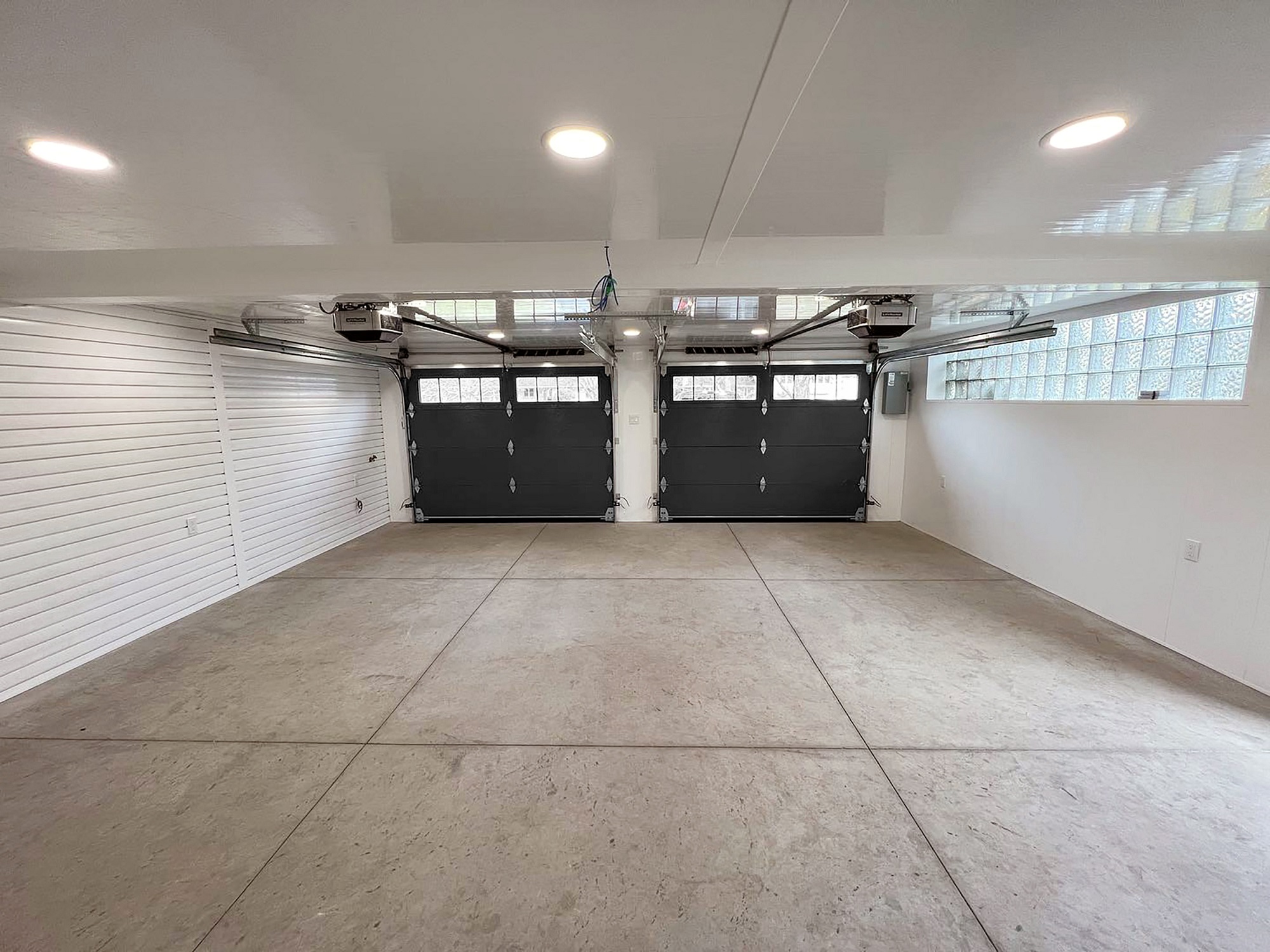 PVC-Based Trusscore SlatWall is a Better Alternative to Metal
Trusscore SlatWall has all the upside of metal slatwall with none of the down. Here are just some of the benefits you can expect to enjoy if you install Trusscore SlatWall in your garage:
Durability and Weight Capacity

PVC-based slatwall, like Trusscore SlatWall, is a heavyweight contender in the world of garage organization. Despite its lightweight nature, it's built tough and can hold up to 75 pounds per square foot, making it a reliable storage solution for most items in your garage.

Water and Moisture Resistance

Unlike metal slatwall, PVC-based Trusscore SlatWall is 100% moisture and water-resistant, preventing swelling, expansion, and the dreaded growth of mold and mildew. So even if your garage experiences occasional spills or humidity, Trusscore SlatWall will stay pristine, ensuring your belongings remain protected and preventing you from having to make costly repairs.

Damage Resistance

Life can be tough on garage walls, but Trusscore SlatWall stands up to the challenge. It's scratch, dent, and damage resistant, ensuring your garage remains tidy and good-looking for years to come, no matter how active your space may be.

Easy to Clean

Thanks to its water resistance and its non-porous surface, Trusscore SlatWall can be kept clean with soap and water, chemical cleaners, and repeated pressure washing.

Cost-Effectiveness

Trusscore SlatWall offers a cost-effective solution without compromising on quality. It falls between the higher-priced metal slatwall and more affordable options like MDF, giving you excellent value for your money without breaking the bank.

Compatibility with Accessories

Trusscore SlatWall has a non-proprietary design that opens up a world of possibilities for accessory choices and slatwall organization. You're not limited to specific brand accessories; instead, you can mix and match with those from popular brands like Uline, Econoco, MasterCraft, and HandiSOLUTIONS, allowing you to customize your garage to suit your storage needs
Find a Retailer
Trusscore works with thousands of retailers across North America to bring you the best service and access to our products.
When compared to metal slatwall, it's clear that PVC-based Trusscore SlatWall, is the better choice for your residential garage. Its unmatched durability, water resistance, ease of installation, and cost-effectiveness make it the ideal ally to conquer clutter and keep your garage organized.
Start planning your Trusscore project today with the Trusscore Project Planner.