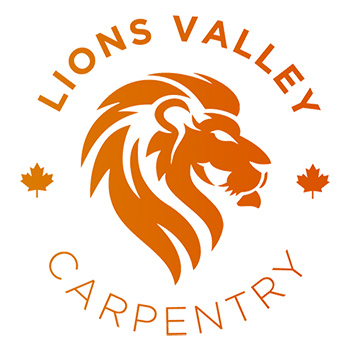 Joel Greening, 31, is the owner and principal of Lions Valley Carpentry, based in Campbellville, Ontario. Lions Valley specializes in trim, high-end finishes, and interior work.
Greening has worked on set as a contractor at HGTV and is a fully licensed "Red Seal" carpenter (Red Seal is the national standard for trades across Canada).
Greening's company, Lions Valley Carpentry, serving the Campbellville, Milton, Burlington, Oakville, Mississauga areas, has been in operation for four years and in that time has developed an expertise in home restoration work – replacing damaged walls and ceilings due to water or fire damage.
Spring, says Greening, is a time when many homeowners grapple with property damage due to water and moisture. Water sources are thawing, snow is melting, and spring showers are sure to follow. Homes in low-lying areas are at risk of flood damage.
Greening took a few moments to chat with Trusscore about the problems the spring season presents, the steps homeowners can take to repair any damage, and steps they can take to prevent damage from unfolding in the future.
Q: Joel, thanks for taking the time to talk to us. Start us off with what led you into carpentry work, as opposed to any other trade or vocation.
A: Growing up, I was into skateboarding with my friends. We wanted to make ramps and boxes to skateboard on. My dad had power tools in the garage and between all of our dads, we were able to cobble together enough tools to start building things. Over time, I became more interested in building our accessories than the actual skateboarding.
Q: I understand your company has a lot of experience with home restoration and wall restoration work. Can you tell us about it?
A: Sure. We do a lot of insurance, restoration, and rebuild work after fires or floods. So, in areas where there is water damage, and when the water has built up on the floor of a structure in any way, we'll go in and replace the lower two or four feet of drywall – anywhere the drywall has wicked up the water.
Oftentimes, after five or six days of contact with water, black mold can start to form and if you don't catch it right away, if the homeowner is on vacation or something, then we additionally have to do a bit of mold remediation on anything that's organic – materials like drywall and the studs.
Q: I'm guessing that with spring approaching you expect to soon receive a lot of calls from homeowners who need your help…
A: Yeah. If there are some copper water lines in walls that have frozen, once things start to thaw out a little bit, that's when you realize that you do have some compromised joints. You get a thaw, and it exposes your leak. So usually on a couple of warm days, we will get an influx of phone calls.
And if any cracks have formed in your foundation over time, water will seep into the crack. The water freezes over the winter, the crack expands, and then once things thaw out, and April showers begin, that's when you start to get basement flooding.
We'll also get some calls in the spring after roofers start coming in to open up and repair a roof, and a quick rainstorm happens, causing damage.
Q: Not to take business away from you, but is there anything homeowners can do to try and prevent the damage that occurs from water? I imagine waterproof PVC wall panels like Trusscore Wall&CeilingBoard would be helpful solutions in home, basement, and garage remediation work...
A: Installing proven waterproof wall panels is certainly helpful. So, if there was an area in your house that was a high moisture area, maybe like a laundry room, putting in Wall&CeilingBoard with a nice floor drain would mean that if you ever did have a backup or a leak, the restoration would be almost nothing. It would mitigate a lot of the opening up of the walls, the compromising of the vapor barrier, removing your installation, cleaning the studs.
The PVC and the non-organic materials [of Wall&CeilingBoard] mean there wouldn't be any mold growth at all. And if it was a proper installation, you wouldn't worry about the studs getting wet or damaged, either.
So, yes, if I saw someone had some serious moisture or water issues somewhere, I would definitely recommend ripping out and putting in Trusscore. You wouldn't ever have to worry about it again.