This version of this story was originally posted in April 2021 and was updated in March 2022
The end of winter and the arrival of spring have a way of reliably activating our must-tidy impulses, and no room is typically more in need of spring attention than the garage. It's a task that's never easy to tackle, but with a plan and some basic tools, it can be accomplished quickly and relatively efficiently. Here are some can't-miss steps that will organize your garage in no time.
Spring-season solutions for your garage
A garage cleaning starts with some basic supplies and an assessment of storage needs
Steel yourself for some industrial strength decluttering: trash unused items, donate to local charities, use bins for smaller items, and don't forget to give the garage floor a good sweep
For a long-term solution that will keep your garage organized and tidy, consider installing Trusscore Wall&CeilingBoard and Trusscore SlatWall, products that will harness garage wall space for storage and solve garage organization problems once and for all
The garage cleanout is a rite of the spring season — time to get rid of the leaves that blew in during the fall and the clutter that accumulated during the winter, not to mention the dirt and the salt.
A clean garage is one of those endlessly aspirational aspects of owning a home because garages have a way of becoming magnets for clutter and excess stuff (why do we have so much stuff?). Who hasn't, in mid-winter, taken an empty box or stack of books and tossed them in the garage, to be dealt with come spring?
Well, spring is here. It's time for the reckoning.
But how to attack it? How do you efficiently clean a garage? How do you make your garage function more efficiently?
Can't miss steps that will organize and clean your garage in no time
1. Start with a plan – and some supplies
Set aside some time, then draw a deep breath, open the garage door and survey the mess. What needs attention, and what will you need in terms of equipment to tackle what you see? There are some basic supplies you'll likely want to have on hand before you get started.
Here's a garage cleaning checklist:
Work gloves, and rubber gloves if you'll be handling toxic materials.

A good-quality push broom

A small step ladder or step stool for hard-to-reach places
Dust masks
Trash bags and storage bins
Deal with the low-hanging fruit, as it were, first. Are there obvious items that can be moved to a basement or backyard shed? Are there immediate candidates for the garbage bin or donation? Can tools be put away? Can sports equipment, like skis and hockey sticks, be returned to summer storage locations?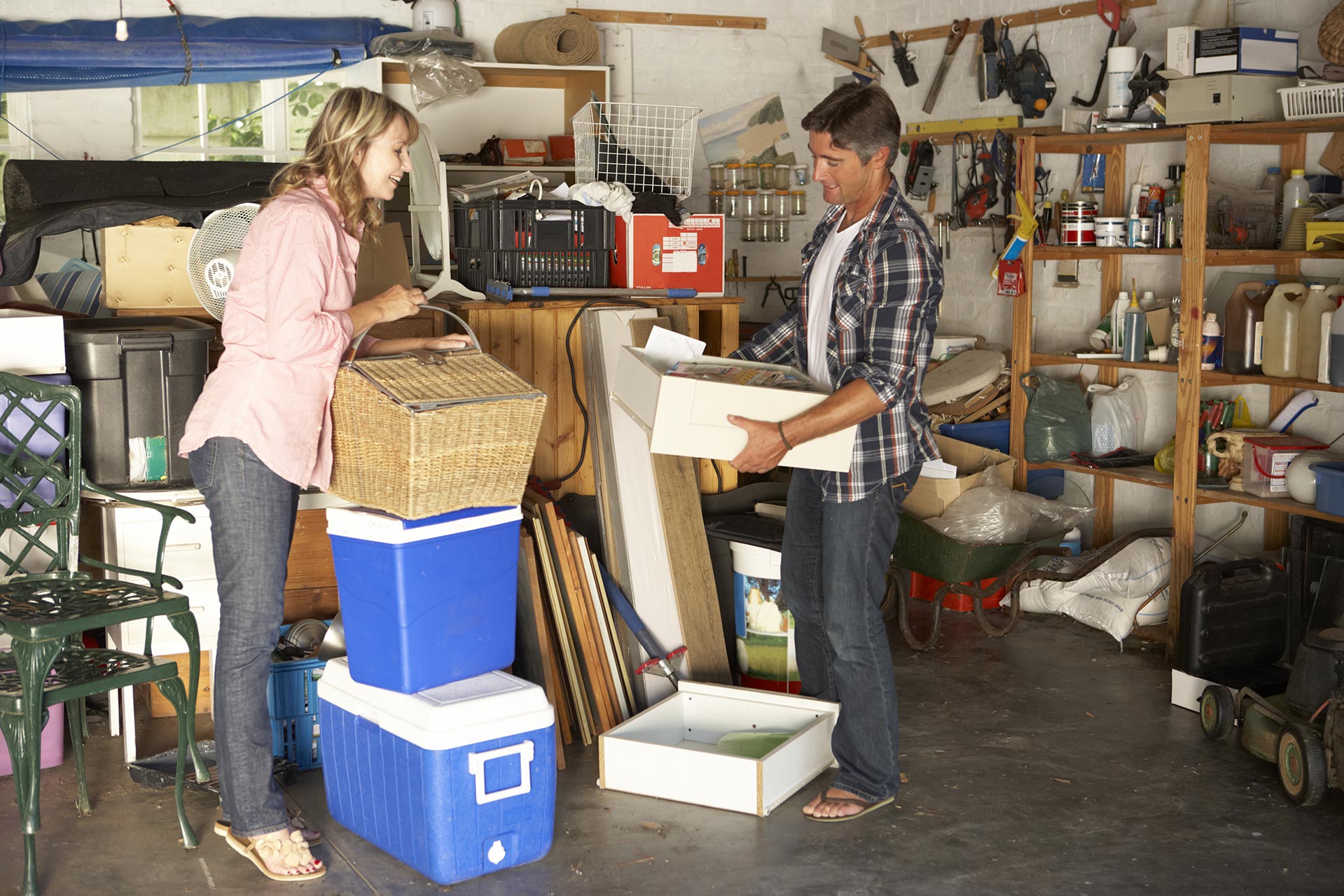 2. Declutter, donate, and ditch
Clothing and toys are always in demand at donation centers. Load up the car and take unused items to second-hand locations. Then make some hard decisions: If an item hasn't been used in a year, you probably don't need it. Toss it in with household trash or better yet take it to your local recycling center. Bicycles and old tools or furniture are prime items to sell online through Marketplace, eBay, Kijiji, or other online marketplaces and they can put a few dollars in your pocket, too.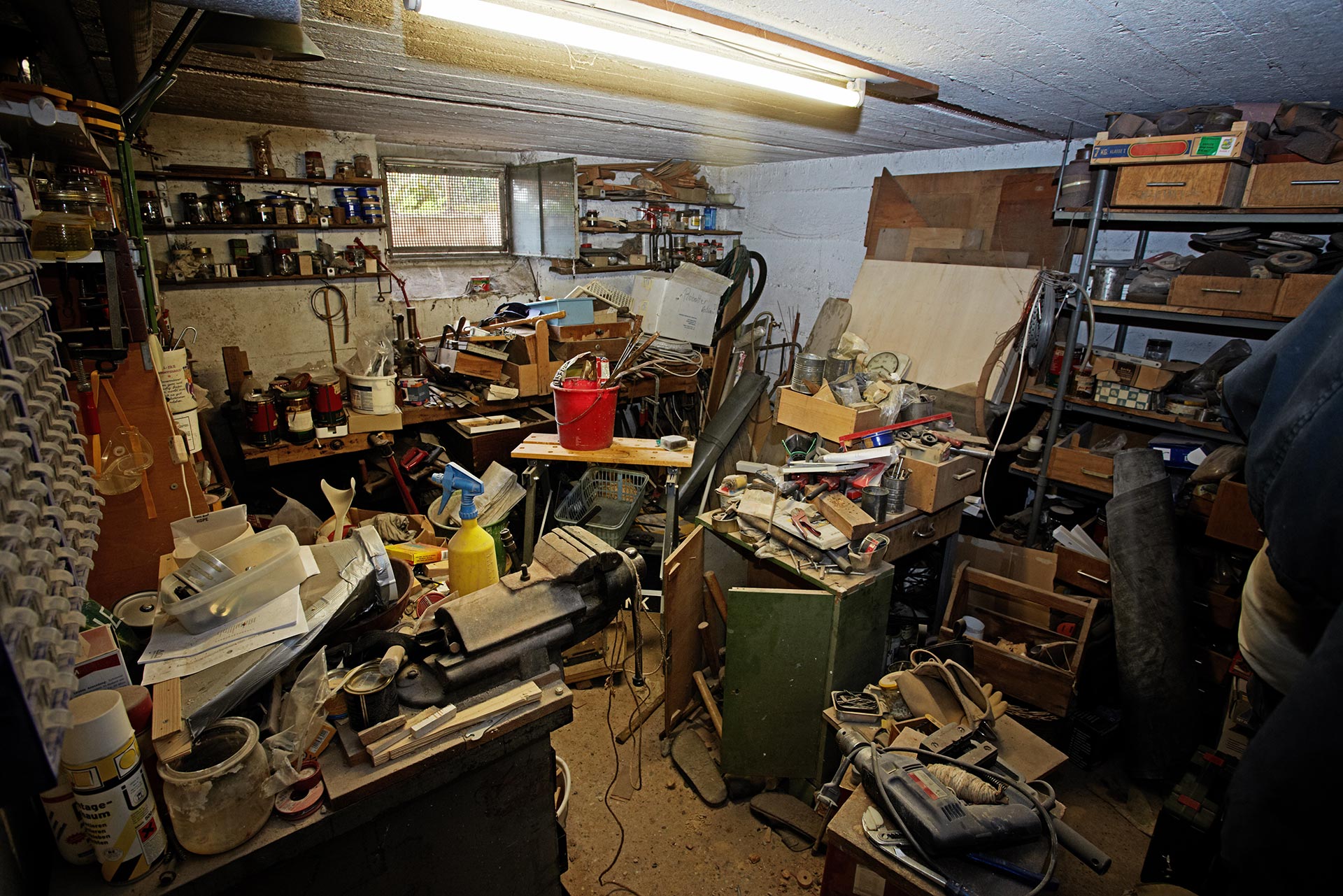 3. Clean sweep
Once you've handled the big items, drag everything — and we mean everything — out of the garage and into your driveway.
When the floor is clear, get out the push broom and give the entire space a thorough sweep. Start at the back of the garage, working your way forward, pushing dirt, dust, and leaves to the driveway.
For a deep clean, consider hitting the floor with a hose or pressure washer — but be careful. Water may damage the lower parts of your drywall, or cause it to swell. More about that below.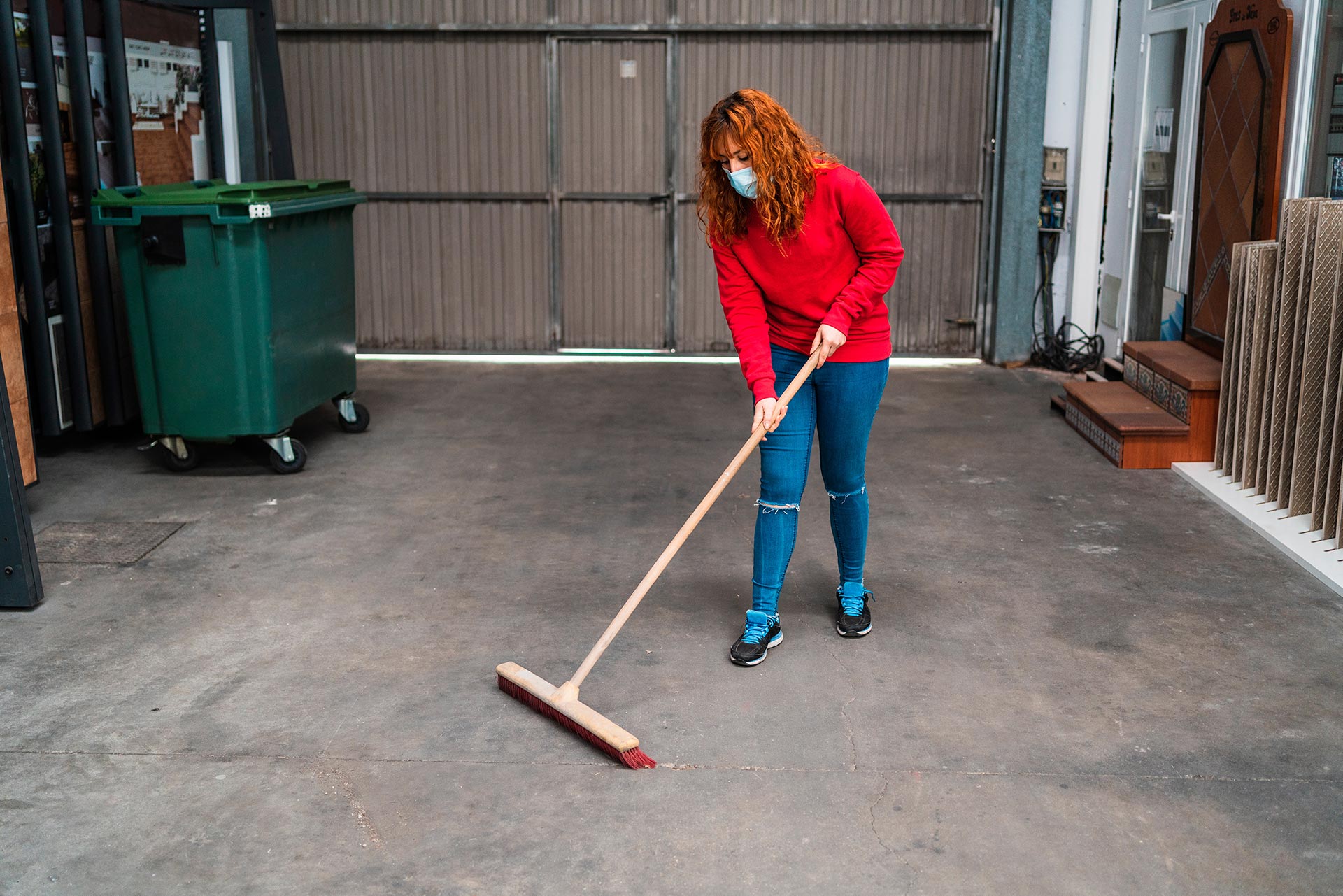 4. Replace, reorganize
After you've swept or hosed, bring each item on your driveway back into your garage, but as you do, consider whether there are other places in your home where that item can live long term. Consider creating a loft in your garage for sheets of plywood or other building materials. Screw hooks into studs for quick, hanging storage for garden tools. If a particular item absolutely must remain in the garage, designate a space for it along a wall or in a corner.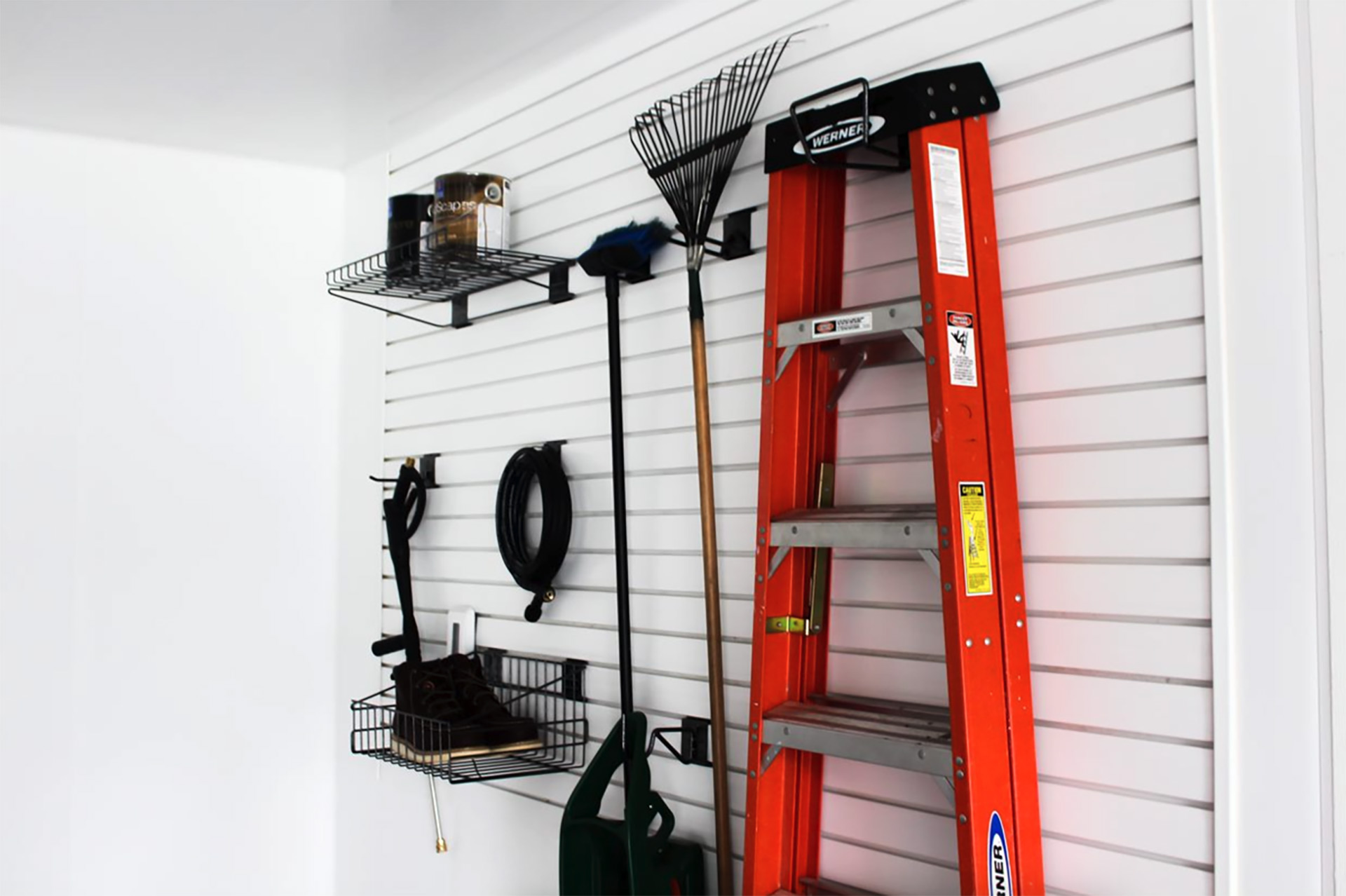 5. Upgrade garage wall storage with Trusscore products
If you're looking to make an improvement in your garage space and ready to invest in a more permanent garage storage solution, consider installing Trusscore Wall&CeilingBoard and Trusscore SlatWall.
Both products are ideal for garages. They make spring garage cleanup a snap and keep a garage organized and functional year-round.
Trusscore Wall&CeilingBoard is a drywall replacement that's impact resistant and waterproof, allowing you to take a hose or pressure washer to your garage for quick and thorough cleaning. Unlike drywall, Trusscore Wall&CeilingBoard won't expand or swell when it gets wet.
Best of all, Wall&CeilingBoard combines seamlessly with Trusscore SlatWall and the SlatWall suite of accessories — hooks, baskets, and shelves that turn your garage walls into an organizational powerhouse and keep your garage functioning smartly year after year. Garden tools, sports equipment, workshop items, all can be hung and stored on walls for quick and easy access.
Trusscore Wall&CeilingBoard and Trusscore SlatWall install far more quickly than drywall, and at a fraction of the overall price.
An organized, clean garage helps your home function more smoothly and generates pride in homeownership. That's the kind of spring cleanup we can all use.
It really is that easy!
Install Trusscore SlatWall yourself with minimal tools in 4 easy steps.
Let us know if you are renovating your space with Trusscore - mention us on social media @Trusscore and share your experience with us, or contact us directly by clicking the button below: