Whether it's attached to your house or a detached and freestanding structure, a garage is a valuable extension of your home. The extra square footage offers secure storage space, a place to park your car and protect it from the weather, and it can even add resale value to your home when it's time to sell. But how much does it actually cost to build a garage?
Building a Garage from the Ground Up
When building a new attached or detached garage, there isn't a one-size-fits-all price tag.
Size, location, materials, and finishes will all factor into the overall cost of your project.
On average, you can expect to pay between $40 and $70 per square foot.
If you don't have a garage and want to add one to your property, it's important to note that the cost to build a garage varies significantly depending on size, location, the materials you choose to build with, and whether you want a bare-bones structure or a fully finished space.
In this blog post, we'll cover some of the factors that affect the total cost of building a garage and how much you can expect to pay per square foot for a one-, two- and three-car garage.
* All prices listed in this post are in USD and represent a national average. Actual pricing may vary depending on your region and the materials you choose to build with. Last updated: January 2023.
Find a Retailer
Trusscore works with thousands of retailers across North America to bring you the best service and access to our products.
What Pricing Factors Should I Consider When Building a Garage?
Several factors affect the total cost per square foot to build a garage, including:
Size

The biggest factor affecting the cost of a new garage is size. You can expect to pay significantly more (between $25,000 and $45,000 more, to be precise) for a 24x36 foot three-car garage than you will for a 12x20 single-car garage.

Foundation

Most homeowners use concrete slab foundation for their garages. If you opt for the same, you can expect to pay an average of $4 to $8 per square foot, including labor. Heavy equipment and additional labor may be factored into your total foundation cost if you need significant grading on your property before pouring the foundation.

Framing

Wood framing is standard in most residential garages, and framing costs $1 to $5 per square foot in material (depending on local lumber prices) and an additional $4 to $8 per square foot in labor.

Roofing

The cost of roofing a garage is the same as a standard home. Typically, roofing costs between $9 to $11 per square foot, with installation included in the total. The price of roofing will vary depending on the size of your garage and the pitch of its roof.

Electrical

Running electricity to a garage and adding lighting can cost, on average, between $1,000 and $2,500, with costs increasing with the size of your structure (i.e., electrical costs more for a 24x36 garage than a 12x20 counterpart). Costs can also dramatically increase if you're building a detached garage further away from the rest of your property.

Insulation

If you're building a wood frame garage, you'll likely want to insulate it to keep the space warm in the winter — this is especially true if your garage is attached to your home. You can choose between spray foam, batting, and blow-in insulation, and you can expect to pay between $0.50 to $2 per square foot for the materials and an extra $1 to $1.50 in labor costs.

Garage Doors

A single-car garage door costs between $500 and $1,000, while a double garage door usually costs between $1,500 and $3,000, including professional installation. You'll also have to pay out of pocket for any additional accessories like remote controls or keypads.

Windows

A single window unit can cost anywhere from $300 to $1,200 for standard sizes, and the overall cost fluctuates based on window material, glass type, and window style. You'll likely save on installation, however, as window installation is typically included in your overall framing costs.

Walls and Ceilings

Pricing for covering your garage's interior walls and ceilings will vary depending on if you use plywood, drywall, or PVC-based paneling. For example, if you're planning to use drywall, you'll have to budget for sheets of drywall, mud, tape, primer, and paint as well as the cost of a contractor to install it for you. If you plan to cover the walls and ceilings of a 20x20 two-car garage with white Trusscore Wall&CeilingBoard panels, you can expect to pay around $2,600 for the materials, according to our Project Planner. You can cut down on costs by installing the panels (with ease!) yourself.

Storage Capacity

Adding storage capacity to your garage will also affect the overall cost of your project. MDF pegboard and slatwall can be installed directly to drywall for relatively cheap, cabinets can be placed around the garage (but they'll take up valuable floor space), or you can integrate Trusscore SlatWall with Trusscore Wall&CeilingBoard for high-strength storage and a seamless finish. In the same 20x20 garage example above, you could cover 25% of your garage walls with white Trusscore SlatWall for approximately $400 or 50% for $800.
Is It More Expensive to Build an Attached or Detached Garage?
As the name suggests, an attached garage is one that is connected to your home. An attached garage usually shares at least one wall with your home and has direct access into the house. A detached garage is a freestanding structure and is separate from your home.
Since building a detached garage requires starting completely from scratch, you can expect to pay about 10% to 15% more than you would for an attached garage. This is especially true if you plan to run electricity and plumbing to your detached garage.
How Much Does It Cost to Build One-, Two-, or Three-Car Detached Garage?
A detached garage costs between $40 and $70 per square foot to build, but pricing will vary depending on the quality of materials you choose to build with and the hourly rate of the contractor you hire. On average, you can expect to pay around $55 per square foot.
Using these standard prices per square foot, let's calculate approximately how much you can expect to spend on a one-, two-, or three-car garage.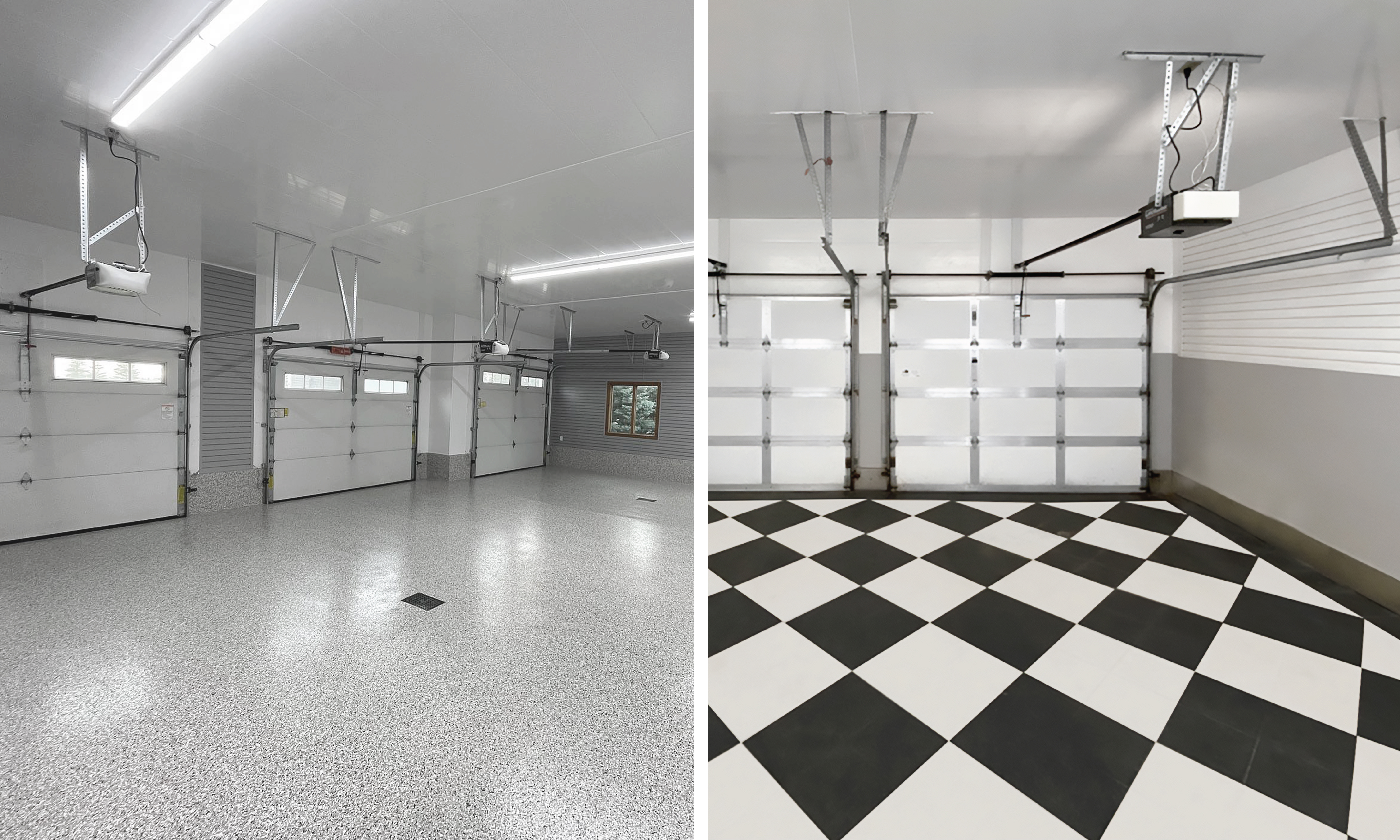 Cost to Build a 1-Car Garage
Single-car garages have a standard width of 12 to 16 feet and a standard depth of 20 to 24 feet. These dimensions typically allow for enough room to fit a single vehicle and some garage shelves or storage.
Cost
Size
Low
Average
High
12x20
$9,600
$13,200
$16,800
16x24
$15,400
$21,100
$26,900
Cost to Build a 2-Car Garage
Two-car garages are a popular option for families across North America and have a standard width and depth of 20 to 24 feet.
Cost
Size
Low
Average
High
20x20
$16,000
$22,000
$28,000
20x24
$23,000
$31,700
$40,300
Cost to Build a 3-Car Garage
The standard size for a three-car garage is 22x32 feet; however, 24x36 is a more ideal size, especially if you own a truck or other large vehicle.
Cost
Size
Low
Average
High
22x32
$28,200
$38,700
$49,300
24x36
$34,600
$47,500
$60,500
If a new garage is in your future, these price points can help you estimate how much to save and how much you can expect to spend on your project. As always, the total cost to build a new garage will depend on where you live, the size of the garage you want to build, the materials you want to build with, and the contractor you hire to complete the work. Throughout the planning process, you can always make changes to keep the project within your desired budget.