When a home renovation loomed, Matt Stevens temporarily moved his family into a makeshift lifeboat – their Trusscore-equipped garage. Garage living has never been better.
In summary:
A home renovation was about to force a family of four to find alternative accommodation
Fortunately, they had built a comfortable, three-bay garage the previous autumn, one that was equipped with Trusscore Wall&CeilingBoard and Trusscore SlatWall
Their garage was quickly adapted to serve as a temporary, and comfortable, living quarters
Matt Stevens and his wife and two daughters were rather impressed with the construction of their Trusscore Wall&CeilingBoard-equipped garage. How much so?
They moved in.
As in, the Stevens family now call the detached three-car garage next to their house in Baden, Ontario, home sweet home. Cooking. Cleaning. Sleeping. It now happens within 2,190 total square feet which, under normal circumstances, would be devoted to automobiles, bicycles, lawn and garden equipment and the like.
"Well, it just sort of made sense," Stevens explains.
It does because the Stevens recently embarked on a renovation of their two-storey house, and they realized the renovations were going to be disruptive enough that they'd temporarily require alternative living space. Yes, they might have considered a hotel. But that's expensive, and disruptive in its own right.
And then they thought: What about the garage?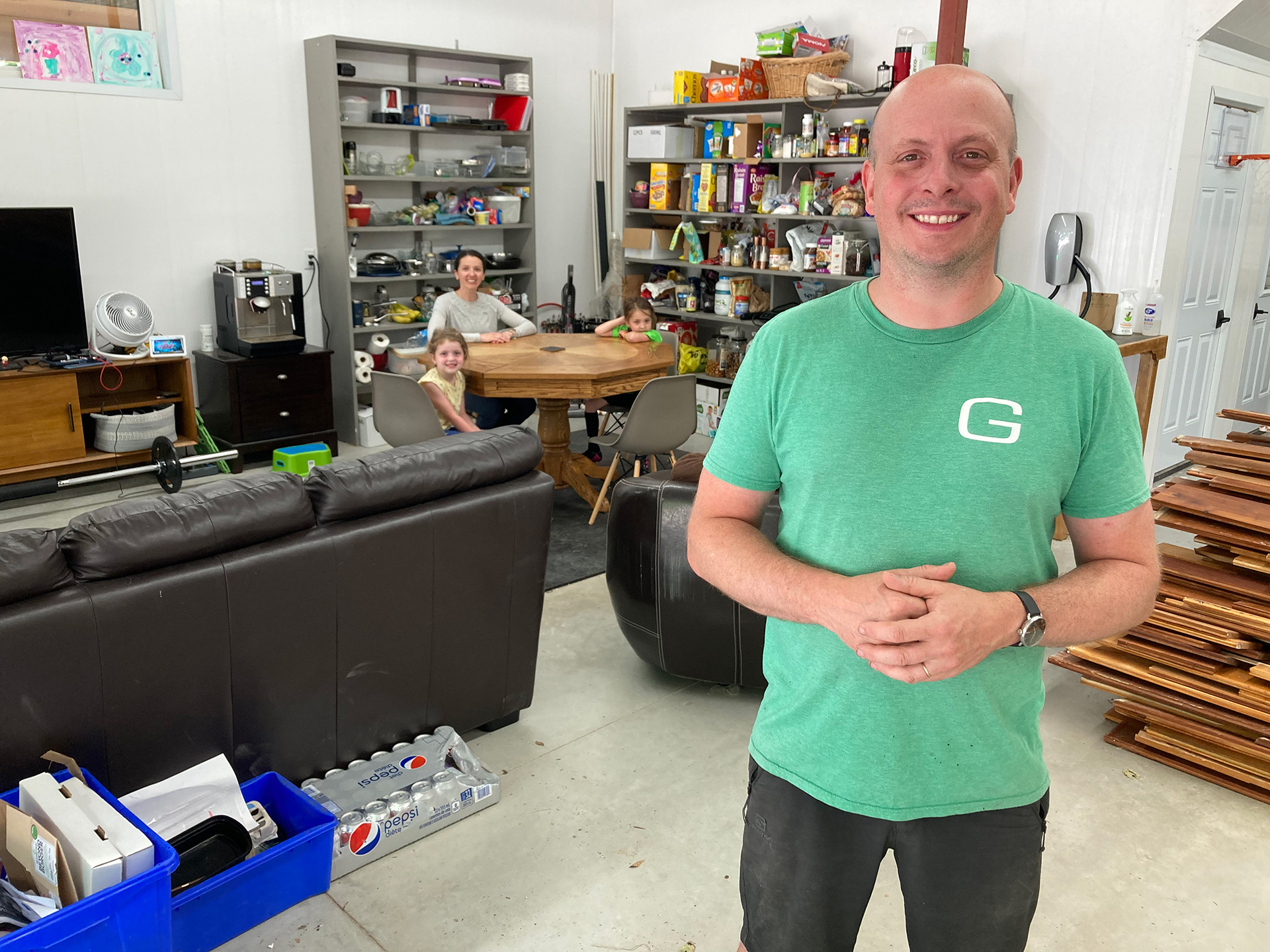 Their garage was constructed last fall and features a second-story loft that serves as a rec room. The lower floor had been outfitted from the get-go in Trusscore Wall&CeilingBoard and Trusscore SlatWall in order to enhance the interior look and beef up its functionality; SlatWall is a wall-based storage system that's uniquely useful in a garage setting, generating all kinds of storage for the things one might typically keep in a garage, including bikes and lawn and garden equipment.
So, with the home reno looming, Stevens, a technology entrepreneur who co-founded the company FleetCarma, pitched the idea of moving to the garage to his family. Voilà. The garage is now home.
"My daughters loved the idea," says Stevens. "They were absolutely elated about it."
Elation might be a bit strong as far as mom and dad were concerned. Although happy enough they had a handy alternative to ease the impact of the house renovation, they knew they'd need to get a bit creative to deliver the functionality of a house within a garage. But deliver they did.
"Right now, we have a makeshift, kitchen, makeshift living room, makeshift dining room, makeshift gym," Stevens says.
A microwave and induction cooker are handling the cooking needs. An old laundry tub and a hose were turned into a dishwashing station. A composting toilet is available when nature calls. Stevens built a couple of low benches in the loft that his kids could use as beds.
He says it was the bright, white finish of the Trusscore products, and the pleasing interior feel they create, that made the move feasible.
"I find it pretty comfortable," he says. "It's comfortable and clean and, like, a pretty nice place. I almost feel like it's a New York-style loft, or a bachelor pad with a bit of a modern vibe to it, or something to that effect.
"It feels like we're on vacation or something."
And he says it's functional. The fact that Trusscore products shed water means that, "if any water splashes, I don't have to worry about it.
"And cleanup is a snap. We just wipe down the walls. It's super easy."
Garage living is all the rage these days. Particularly during the pandemic, and as lockdowns took effect, people began eying their garages as available space that could double as offices, gyms and general living quarters, and make home living more comfortable. The trend has reached the stage that there is even a garage renovation firm out of the Toronto area that calls itself "Garage Living."
As for the Stevens, it's not like the family isn't going to be grateful when their reno is complete later this summer and they can move back into their home.
But as a temporary solution that eased the disruption of the construction? Their Trusscore garage did just fine.
"My wife and I are feeling very fortunate that we have a garage so we could move out and not get in the way of the guys doing the reno," Stevens says.
"But I think we will be excited for the day when we can go back into the house."
Garage living is nice. So, too, is home sweet home.
Trusscore Customer Story
See how Trusscore saved this ailing garage from moldy, crumbling drywall
Products for Garage Living