Hiring a contractor for a home renovation project can be a stress-filled, involved, process. You can ease the stress and reduce the odds of making a mistake by using a detailed checklist. A checklist will help ensure you ask the right questions and get peace of mind before your project begins.
The best way to protect your home and your wallet when embarking upon a home renovation is to hire the right contractor
A checklist is the best way to ensure that you hire the right company and are protected once the work begins
Here are 10 boxes that you should make certain get ticked as you set out to redo your house
When it comes to home renovations, the words "buyer beware" were never more apt. The cost, in terms of money and anxiety, of hiring the wrong contractor can be enormous.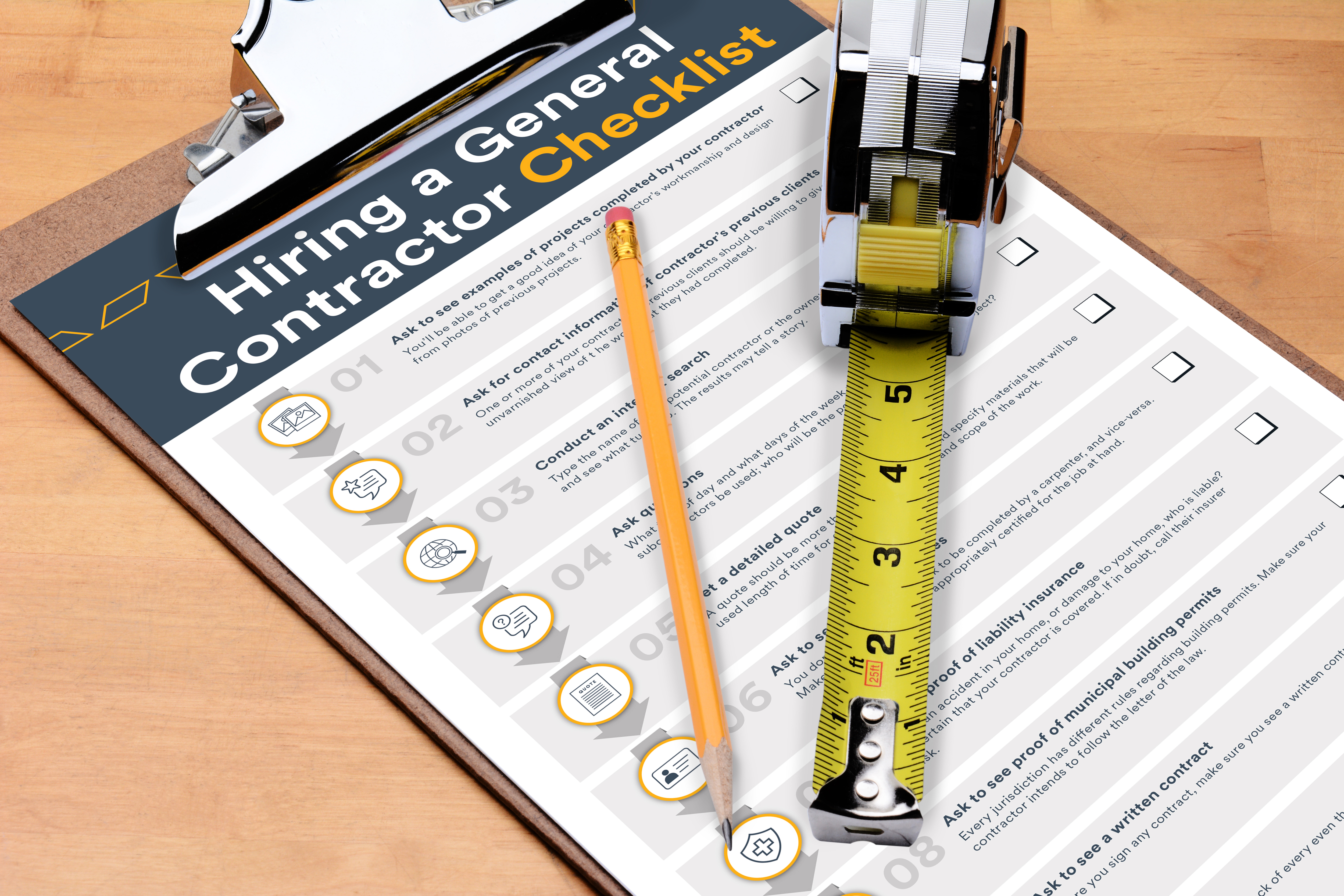 But how to hire a general contractor?
The key to not making a mistake — and mistakes usually end up costing plenty of money — is having a clear, methodical process for hiring a general contractor, one that will help you weed out the people and companies you don't want and increase the likelihood of hiring the one that won't let you down — that will do the job to agreed-upon terms and at a fair price.
To that end, once you've narrowed the field and have a short list of potential candidates, it helps to have a checklist, one that will ensure you don't miss any steps or leave yourself vulnerable.
1. Ask to see examples of projects completed by your contractor.
As the saying goes, a picture is worth a thousand words. You'll be able to get a good idea of your contractor's workmanship and design from photos of previous projects. Double check the date of the photos and make certain there are recent examples.
2. Ask for the phone numbers or email address of one or two of your contractor's previous clients.
One or more of your contractor's previous clients should be willing to give an unvarnished view of the work that they had completed. Were they happy or not? If your contractor is unwilling to provide at least one previous example, it may be a caution flag.
3. Conduct an internet search.
Type the name of your potential contractor or the owner into a search engine and see what turns up. The results may tell a story.
4. Ask questions.
There are a host of questions you need answers to before your project begins: What time of day and what days of the week will workers be on site; will subcontractors be used; who will be the point of contact during the project? We recently published a list of 25 questions you should ask your contractor before you hire them.
5. Get a detailed quote.
A quote should be more than just a price. It should specify materials that will be used, length of time for completion of the job, and scope of the work.
6. Ask to see required licenses.
You don't want electrical work to be completed by a carpenter, and vice-versa. Make sure the workers are appropriately certified for the job at hand.
7. Ask to see proof of liability insurance.
If there is an accident in your home, or damage to your home, who is liable? Make certain that your contractor is covered. If in doubt, call their insurer and ask.
8. Ask to see proof of municipal building permits.
Every jurisdiction has different rules regarding building permits. Make sure your contractor intends to follow the letter of the law.
9. Ask to see a written contract
Before you sign any contract, make sure the following items are described:
Materials that will be used
A statement that your contractor will pay any subcontractor
A detailed description of the work that will be undertaken
A dispute resolution process
A payment schedule
Applicable guarantees on both workmanship and materials
Start and completion dates
10. Open a job file
Be organized. Keep track of every event that unfolds during your home renovation project — delays, mistakes, items that were missed and need addressing, promised made, etc. And keep a copy of your contract in your job file for handy access.
Hiring a contractor checklist complete
A home renovation is an exciting project, but one that can be disruptive and anxiety inducing. Preparation beforehand, being methodical and thorough, and running a checklist so no items are forgotten or missed, will help ensure a successful outcome, one that will likely increase the value of your home and enhance the enjoyment of your home for years to come.