The largest, fastest vaccination campaign in Canadian history is unfolding across the country. TempWall by Trusscore is playing a vital role.
In summary:
Hundreds of TempWall by Trusscore panels that Bruce Power purchased in the early stages of the pandemic, and donated for use in temporary health facilities, are now being repurposed to create vaccination centers in several Ontario communities
The panels help health officials quickly configure existing spaces, like hockey arenas and community centers, into vaccination facilities capable of delivering thousands of injections per day
The panels install quickly, are treated with an antimicrobial coating, and are easily sanitized, ensuring the safe, fast flow-through of people seeking protection from the COVID-19 virus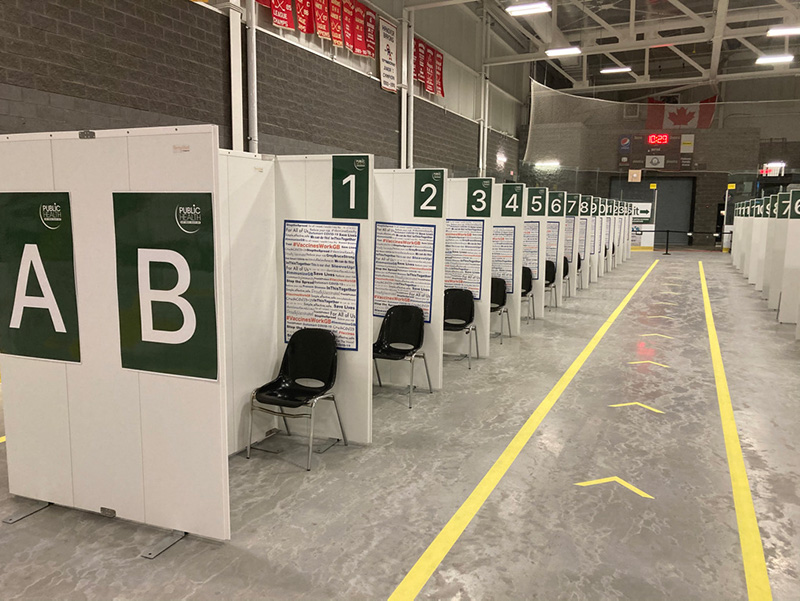 When the COVID-19 pandemic first unfolded more than a year ago, Trusscore was at the forefront of the response. It quickly retooled its production line to turn out a product designed to help hospitals cope – TempWall by Trusscore.
Today, that same product is now at the fore of the largest, fastest vaccination campaign in Canadian history.
TempWall by Trusscore is a modular wall system designed to help people maintain social distancing. When combined with additional panels, it can be used to quickly configure instant "rooms," or cubicles, and in all manner layouts, within existing structures.
In March 2020, with lockdowns being put in place, TempWall was the answer for hospitals and medical facilities looking to quickly reconfigure their space in response to the sudden influx of COVID-19 cases and keep healthy people separated from those who might not be. The product was such a hit it generated a shoutout from Canadian Prime Minister Justin Trudeau at one of his early pandemic press briefings.
Now, many of those same temporary wall dividers are being repurposed in various Ontario communities to create vaccination centers, as the province – and Canada, and nations around the world – look to get as many people vaccinated as possible, and as quickly as possible.
"TempWall was exactly the solution we were looking for," explains Rick McMurray, section manager of projects and facility property management at Bruce Power.
Bruce Power is the entity that operates the Bruce Nuclear Generating Station, located on the eastern shore of Lake Huron, just a few minutes drive north of the town of Kincardine, Ontario.
In March of 2020, McMurray and colleague Bill Whetstone were asked by their employer to quarterback Bruce Power's response to the emerging pandemic and marshal resources that could help neighboring communities. Part of that response included helping communities establish temporary health facilities to take pressure off hospitals.
McMurray and Whetstone quickly settled on TempWall and Bruce Power purchased hundreds of panels for distribution to nearby towns.
The Grey-Bruce Health Unit was among the recipients.
Panels, each of them factory treated with Aegis Microbe Shield, an antimicrobial surface coating, were set up on what would have been the ice surface at the Hanover, Ontario, arena and recreation center, also known as the P&H Centre, in order to create a patient recovery facility in the event hospitals became overwhelmed. Weeks later, when caseloads eased, the panels were stored away.
Now, with the province's supply of vaccine rapidly improving and the call going out for people to roll up their sleeves, the panels have been repurposed in a new role – as vaccination stations in the same location.

"We can vaccinate as many as 4,500 people per day here," says Tom Karl, Hanover's parks and recreation facilities manager.
The panels are set up in 10 rows – 15 stations to a row running the length of what would have been the facility's ice surface. There are 150 stations in total. People enter the facility, take their place at one of the stations, and health officials come by and administer their vaccine shot.
Then the space is quickly wiped down, cleansed, and prepared for the next person.
The entire center has been set up in a fashion that ensures the contact-less flow of people from entrance to exit. The same model is being used in similar facilities in Sarnia and Point Edward, Kindcardine and Owen Sound – all with TempWall by Trusscore panels donated by Bruce Power.
The temporary interior walls made from Trusscore panels, says McMurray, were just what the doctor ordered.
"At first we were considering using curtains to keep people separated, but you can't really wash or clean them easily," he says.
In his spare time, McMurray is the organizer of the Music in the Fields festival, held each summer in nearby Lucknow. He heard about TempWall from one of his festival colleagues.
"The Trusscore factory was close by [in Palmerston] and we thought why not? We never looked back. It's been great."
McMurray's experience in festival logistics and setup armed him with the know-how to put the hospital overflow, and later the vaccination projects, into motion.
He says the TempWall panels are sanitary, easy to clean, and allow for quick and easy setup of the vaccination facilities.
"Once we get going, the setup just goes bang, bang, bang."
And, as the Hanover facility has demonstrated, the panels have proven to be a good investment in that they can be easily repurposed. A year ago, they were being used to create added hospital space. Today, vaccination centers.
"They store easily," says Karl. "They're durable. It's pretty easy to manipulate them into different configurations.
Trusscore Customer Story
How Bruce Power partnered with Trusscore to safely design and execute an innovative mass vaccination model
Let us know if you are renovating your space with Trusscore - mention us on social media @Trusscore and share your experience with us, or contact us directly by clicking the button below: