Modern interior design has embraced gray as an understated, scene-stealing hue that makes any interior stand out – which is in stark contrast to the color's historical representation of somberness and uncertainty.
Gray has a long reputation as an "in between" color, with "shades of gray" serving as a metaphor for uncertainty and complication
Today gray walls are a go-to choice for design professionals looking for a soft, orderly, modern look
Gray just happens to be one of the color choices available when selecting drywall alternative Trusscore Wall&CeilingBoard and its wall storage solution partner, Trusscore SlatWall
The color gray gets a bad rap. It's a color that's been long associated with somber events, bad weather, and even a depressed state of mind. The term "shades of gray," has long stood as a shorthand for notions of complication and hidden meaning.
Interior designers, however, know that gray is color choice that offers enormous opportunity, one of timeless elegance and one that can be the ideal backdrop when creating a striking and attractive room.
Gray happens to be one of the colors available for Trusscore Wall&CeilingBoard and Trusscore SlatWall, the drywall replacement and wall storage system that is changing home and residential construction.
Gray, like beige, is a complementary, neutral color. It's "achromatic," meaning it's without color, per se, made up of black and white. It's a choice that's ideal as a background, setting the stage for stylish, and off-setting splashes of bright color.
The first evidence of gray as a deliberate color choice occurs in cave paintings in France that date back more 15,000 years. The color appeared frequently in the Middle Ages in garments made from undyed wool cloth – and as a result became associated with simple living and humble origins. Franciscan friars would wear undyed gray robes as a symbol of humility and frugality, earning the name the "gray friars."
By the mid-19th century, gray began to appear as the color of choice for business attire, a color that came to represent a thoughtful, serious approach, logic, formality, and hence the gray-suited businessman emerged as a cultural icon.
And, of course, shades of gray became the foundation for black-and-white photography, and in today's all-color, all-the-time, world, the gray tones of old photos continue to deliver a stately, lasting, old-world resonance.
Today, gray is considered a go-to color by designers who appreciate its neutral sophistication and its ability to anchor the additions of bright color on walls and furniture.
But gray also frequently serves as a design element of its own, adding calming softness and depth to a space.
This is precisely why Trusscore chose to produce its signature wall and ceiling products in white and gray. Together, the two colors create an attractive, off-setting contrast, one that delivers an aesthetic of quiet order. But gray can thrive without white as a contrast, too. A room outfitted in all-gray wall panels achieves an understated, monochromatic, and contemporary feel, and one that mutes harsh or excessive light reflection and, depending on your use case, may well be the ideal choice for your home or commercial project.
Bottom line? Gray shades don't deserve their bad rap. Gray is an important contributor to modern design, which is why it's central to the Trusscore Wall&CeilingBoard and Trusscore SlatWall product suite.
Products for Interior Design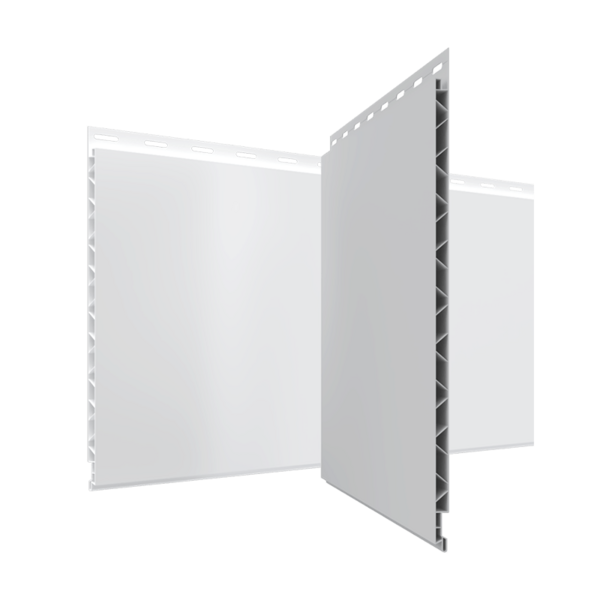 Wall&CeilingBoard
---
Trusscore Wall&CeilingBoard is an ideal drywall replacement that's durable, easy to install, and easy to clean. The wall and ceiling panels are perfect for many different residential, commercial, and agriculture applications.
Learn More