The garage ceiling is a vital piece of a garage renovation, playing a significant role when it comes to a garage's lighting, brightness, and overall appearance. There are plenty of choices available in wood, metal, and PVC, each with pros and cons and each suited for unique situations and conditions. We break it all down.
Garage ceiling options
Wood, metal, and PVC-based garage ceiling materials deliver a wide range of finishes and performance
Choosing the right material requires a decision about the preferred aesthetic and the intended use-case of the garage space
We lay out the pros and cons of several popular options, including Trusscore Wall&CeilingBoard
When homeowners decide to embark upon a garage renovation, they're apt to give plenty of thought about the kind of material they want on their walls, and even the floor, but far less so about the ceiling. The ceiling often becomes an afterthought.
That's a mistake. The ceiling plays an important role in the overall look and function of a garage, particularly when it comes to lighting and brightness. The decision, therefore, about the best material to use should get as much consideration as the walls.
The starting point for choosing the most appropriate garage ceiling material should be to ask yourself what the garage space will be used for and the kind of overall look that's best suited to that use case. Will the garage be a workshop? A home gym? Or a conventional place to store the family vehicle? Will the look be industrial/utility, or something more finished and upscale?
Best garage ceiling ideas and options available
1. Drywall
Drywall is a popular material in wide use. It's the material of choice by home builders in new construction.
Pros:
Clean look, paintable in colors that will reflect light or dampen glare, depending on need; readily available.
Cons:
Easily damaged; heavy in weight; lengthy installation process; performs poorly in wet or damp areas.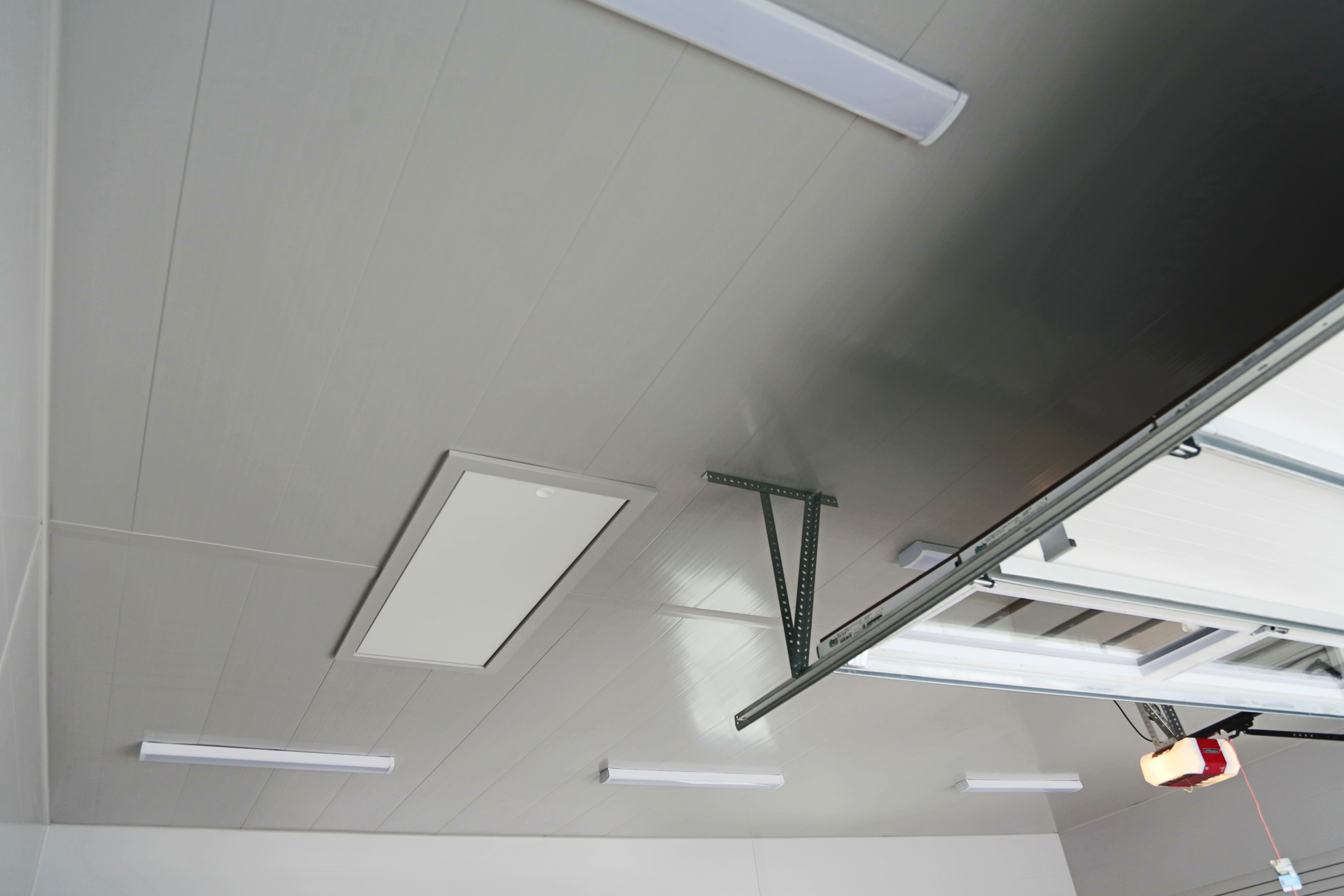 2. Plywood
Simple and readily available, plywood comes in different thicknesses and grades of finish.
Pros:
Widely available; relatively straightforward to install; paintable; suitable for a utility space.
Cons:
Relatively heavy, swells when it gets wet, unsuitable for a finished or high-end space.
3. Oriented strand board (OSB)
OSB is an engineered material made from adhesive and wood strands and is often used instead of plywood in places where the level of finish is less of an issue.
Pros:
inexpensive; relatively straightforward to install; suitable for a utility space.
Cons:
Relatively heavy; swells when it gets wet; unsuitable for a finished or high-end space
4. Aluminum soffit
Aluminum soffit is typically used on the underside of a roof overhang to protect rafters from the weather. It's an often overlooked, but entirely functional and attractive garage ceiling option.
Pros:
Durable moisture resistant; simple to install; attractive and provides good reflection of light.
Cons:
Metal products tend to be higher in price than others on a square foot basis; installation of lights and accessories over top of metal can sometimes become problematic.
5. PVC ceiling tiles
Ceiling tiles made from PVC, or plastic, come in a wide variety of colors, textures, finishes, and sizes.
Pros:
Lightweight and normally easy to install; many choices depending on the desired level of finish and look.
Cons:
Cost depends on the type chosen; tiles are not load bearing.
6. Metal and corrugated metal panels
Metal and corrugated ceiling products are strong, durable, and lightweight.
Pros:
Available in a variety of finishes and colors to suit a variety of garage use-cases; performs well in wet conditions providing it has been treated for moisture.
Cons:
Metal usually costs more than cellulose- (wood) based or PVC-based material; can be tricky to install, depending on the type of system chosen; sometimes makes lighting or accessories problematic or difficult to install.
Trusscore Wall&CeilingBoard the preferred option for garage ceilings
Trusscore Wall&CeilingBoard is, as its name would suggest, purpose-built for ceilings and is designed to tie in perfectly with garage walls lined with the same material. Trusscore Wall&CeilingBoard is made from PVC, so it's extremely durable, light in weight, and installs four times faster than drywall. It produces a bright, clean finish, reflects light, and is ideally suited to a variety of garage uses, including workshops, home gyms, and, of course, auto storage.
And Trusscore Wall&CeilingBoard can't be harmed by moisture or water and won't support the growth of mold or mildew, making it a sensible choice in spaces that are damp, humid, or wet.
Garage ceiling storage ideas for an organized space
Trusscore Wall&CeilingBoard also seamlessly ties in with another Trusscore product called Trusscore SlatWall, one that provides attractive, functional, wall-based storage using snap-in hooks, baskets, and shelves. It's an easy-to-install system that saves a homeowner from hunting for garage ceiling storage ideas, such as the hanging of storage racks from the rafters.
Garages are useful spaces that serve a variety of needs and upgrading a garage space can add utility and functionality to a home. But don't neglect the garage ceiling. A proper ceiling finish will tie the project together and play a significant role in the lighting of the space and will contribute significantly to the overall outcome.