As a warming climate drives an increase in the frequency and severity of flood events, an architect has designed a creative adaptation solution: homes that rise with the tide
Combating the impact of climate change
A University of Waterloo architect has designed a system of buoyancy blocks that, when placed underneath a house, allow it to float when water levels change
The system is an example of ways societies are responding as severe weather threatens homes and livelihoods
Adaptation techniques include new building materials, new construction methods, and the retrofitting of existing dwellings to withstand the impact of flooding
Even before climate change began to drive an increase in the frequency and severity of extreme weather events, flooding had long been a vexing social issue.
Floods wreak enormous havoc whenever and wherever they occur, damaging property, ruining businesses, and generating debilitating financial and emotional hardship.
For the majority of North Americans, most of their wealth is in their homes and vast numbers of those homeowners are uninsured. As a result, when a flood hits, the impact is catastrophic and the consequences without fail extend to businesses and livelihoods: the U.S.-based non-profit Flood Defenders says that 40 per cent of all businesses hit by a flood never reopen their doors and that 90 per cent fail within two years.
Flood Defenders additionally estimates that flooding has cost U.S. taxpayers US$850 billion in the two decades since 2000, and that floods account for two-thirds of the cost of all natural disasters.
The problem of flooding – now exacerbated by climate change and severe weather – has reached the stage where architects, builders and homeowners are beginning to develop and test creative and innovative flood mitigation techniques. The idea is to leverage new building materials and building methods to blunt the worst impact of a flood.
Among these innovations is an idea floated – literally, as it turns out – by a professor of architecture at the University of Waterloo in southern Ontario, Elizabeth English.
English has come up with a way to retrofit existing homes in a way that would allow them to float when a flood hits.
"The technology itself is actually very simple," English recently told the CBC.
The technique involves installing buoyant floats inside frames underneath the main floor of the house that allow it float as water levels change. Vertical posts guide the house as the structure rises and falls with the water. English estimates that a simple, single-story home with no basement can be retrofitted for $20 per square foot; larger homes, and those with basements, can also be retrofitted, but the cost would be higher.
English, even though affiliated with a Canadian university, lives in Breaux Bridge, Louisiana, a state with a long history of flooding problems. It was in the aftermath of Hurricane Katrina in 2005 – a storm that killed 1,800 people and caused US$100 billion in damage – that English first was struck with the idea of a floating home. Katrina devasted parts of Louisiana, and particularly New Orleans.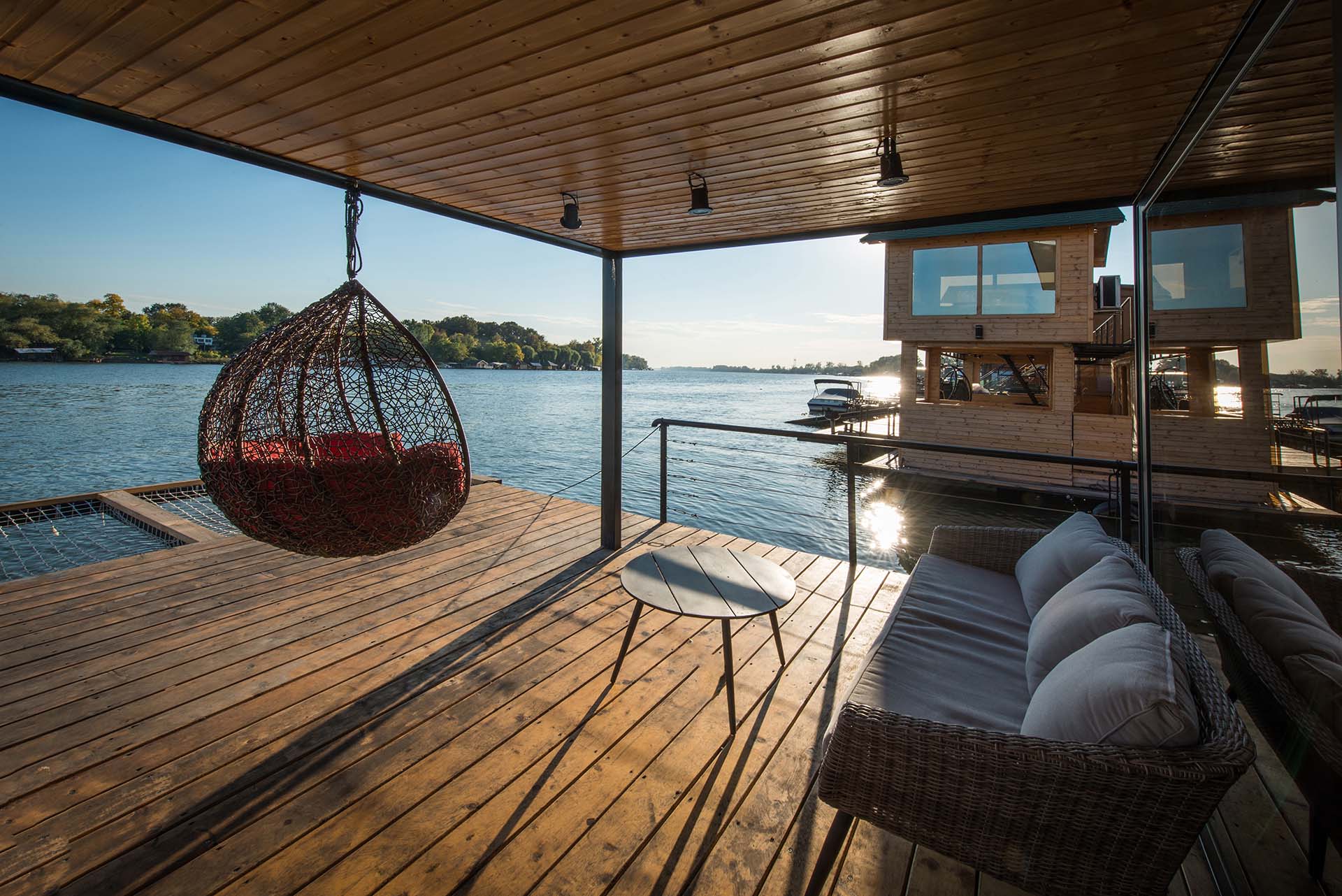 In the storm's wake she conceived and started the Buoyant Foundation Project and began the quest of helping ease the impact of flooding through innovative design.
"There are plenty of buildings where this isn't the right solution," English told the Waterloo Record in August of 2021. "But there are plenty of buildings where this is a very good solution."
English has now developed floating prototypes for regions in Canada, the U.S., Nicaragua, Jamaica, and Vietnam.
"People have been building amphibious houses for millennia," English told the Record. "But they've been doing it without the benefit of modern science and engineering and the safety features that contemporary engineering is committed to."
As climate change continues to drive increases in storm severity and frequency, societies will need to adapt. Techniques will include the use of building materials that are less susceptible to water damage; avoiding the construction of new structures on known flood plains; and by retrofitting existing dwellings in innovative ways to handle flooding events.
Floating homes might well be an idea that will rise with the tide.