High real estate costs combined with the rise of remote work has made would-be homeowners reconsider conventional housing. Instead of owning a permanent residence and putting down roots in a single city, many are making the full-time move into recreational vehicles.
To make the small spaces more livable, new RV owners are renovating their vehicles from top to bottom. As part of the renos, they need to find functional and durable materials to cover their RV interior walls and ceilings. Trusscore Wall&CeilingBoard can help.
In summary:
The real estate market is making would-be-homeowners reconsider conventional housing, and many are making the move into trailers and recreational vehicles
Renovating RV interiors to accommodate full-time living is a big challenge
Trusscore Wall&CeilingBoard and Trusscore SlatWall are ideally suited for this unique application
Top Considerations to Make Before Buying RV Interior Wall Material
If you're remodeling the interior of a previously owned RV, the interior wall, ceiling, and insulation are probably in need of some love. The walls are likely covered in scuffs and damage. If the RV has been parked for a long period, the window and door seals and seams may have degraded, allowing moisture to enter and mold and mildew to grow.
To address these two issues and to make sure your remodel stands the test of time, it's important to consider two key product characteristics before buying a new RV interior wall material:
Durability. RV walls tend to get beat up from items falling during travel and from occupants bumping into them as they move about the small space. An ideal RV wall cladding solution should stand up to contact and impact.
Moisture and water resistance. Water damage and mold growth are the most common culprits behind RV owners needing to replace their interior walls and ceilings. It's also a problem that needs to be taken care of right away — if left alone, you'll likely need to replace more than just the paneling.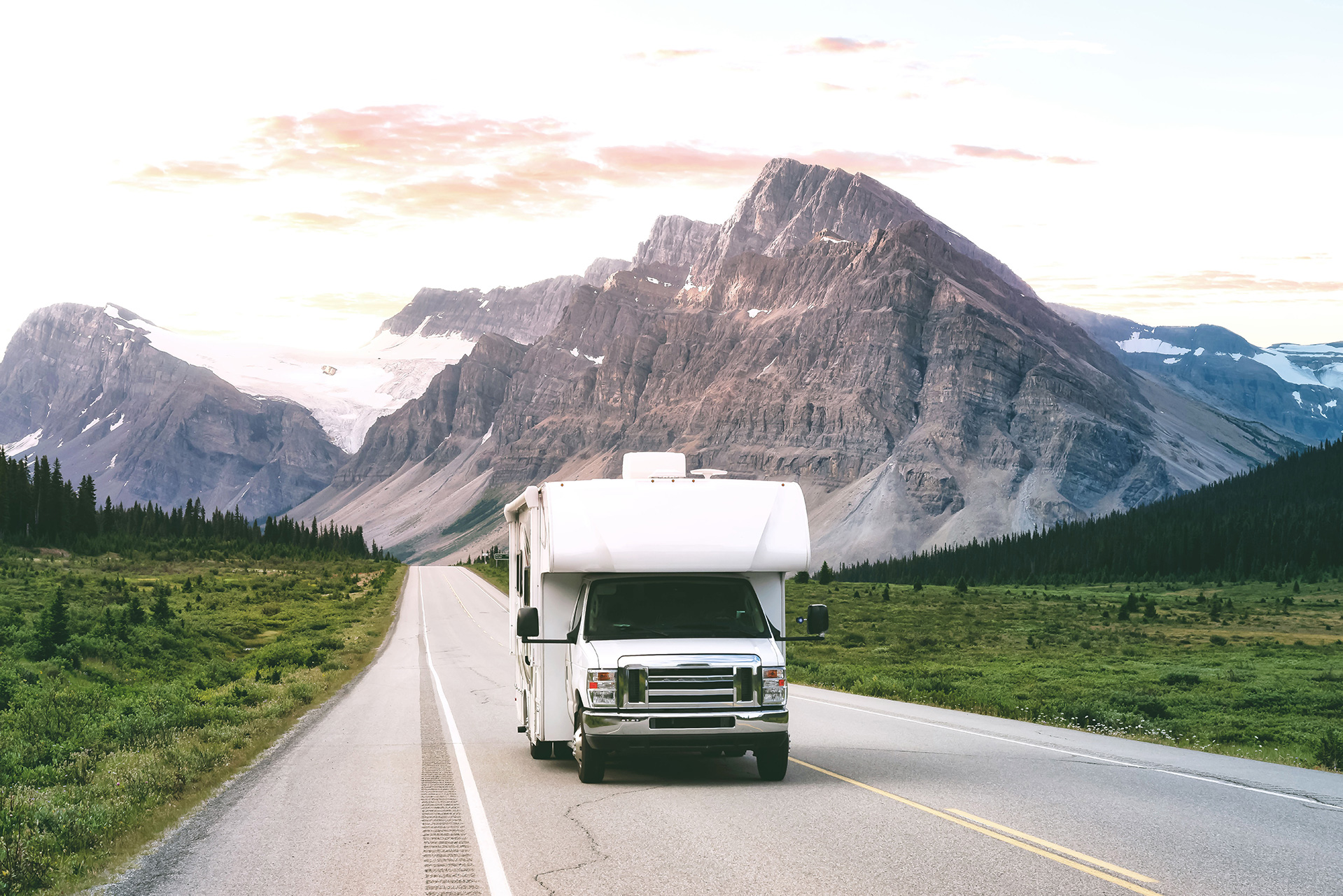 What Is the Most Popular RV Interior Wall Material?
RV walls usually have three layers: An outer layer, which forms the shell of the RV, an insulating layer, and an interior layer.
In most RVs, you'll find that the interior layer — which includes walls and ceilings — is made up of two different materials. RV walls are usually covered in thin plywood or medium density fiberboard (MDF). In higher end or more expensive campers, you may see vinyl paneling used as well. Meanwhile on an RV ceiling, you'll typically find fiberglass reinforced plastic (FRP) or PVC wall paneling because both materials are lightweight, moisture resistant, and neither need to be painted.
Whether you choose to use two different materials on your RV walls and ceilings or would prefer to outfit the whole space in one product, there are a few pros and cons for each material to consider.
Plywood
Plywood panels are made from thin layers of wood veneer, with layers placed perpendicular to each other. The layers are treated with resin and are glued together under pressure for added strength. Plywood can be made from softwood or hardwood and panels come in a variety of thicknesses, finishes, and grades of quality.
Pros
Thin plywood utility sheathing is affordable, costing less than $1 per square foot in the U.S. and slightly more than $1 in Canada.
It's relatively straightforward to install, since sheets are simply nailed or screwed into studs.
It's strong enough to handle shelving.
You can apply wallpaper to plywood for design flexibility.
Cons
The cellulose used in plywood can serve as a growth medium for mold and mildew after a panel gets wet.
Since plywood is made from unfinished wood, it can be difficult to clean since cleaning products can soak into the wood and cleaning cloths can catch on wood fibers.
While plywood is relatively strong, it's still made from wood, meaning it will show damage if it's struck with enough force.
MDF
MDF is made by breaking down hardwood or softwood residuals into fine particles, combining it with wax and a resin binder, and applying high temperature and pressure.
Pros
MDF is less expensive than plywood and is widely stocked by most retailers.
It's relatively easy to paint and seal.
Cons
MDF is heavy and weighs even more than solid wood, making the installation process a labor intensive, two-person job.
It's easy to damage and the damage is permanent — MDF can't be sanded to hide dents or scratches.
While the exterior of MDF is water resistant, the interior wood fibers will swell and mold if exposed to moisture.
MDF can only be cleaned with dish soap, warm water, and a damp soft cloth and must be thoroughly dried to prevent damage.
FRP
FRP, or fiberglass reinforced plastic, is a composite material that's made from a polymer matrix reinforced with fibers. Panels are adhered to a backer board using glue.
Pros
FRP is incredibly strong and won't show signs of wear and tear from residential use.
It's moisture and water resistant.
It's easy to clean and won't be harmed by chemical cleaners.
Cons
FRP is expensive and requires additional purchases of backer boards and glue.
The installation process is lengthy, messy, and often requires the help of a professional.
With a long history in commercial and industrial spaces, FRP is overkill in a residential space.
The glue used for FRP installations contains volatile organic compounds, making it a health risk in a small, poorly ventilated space.
PVC
PVC stands for polyvinyl chloride, which has historically been used to create pipes, cables, window profiles, flooring, and roofing due to its durable and lightweight properties. Today, PVC is also used to create wall and ceiling panels for a wide range of interior spaces.
Pros
PVC is abrasion resistant and won't show signs of damage.
It's moisture and water resistant, meaning it won't degrade if it gets wet and it won't absorb airborne moisture.
It's 100% recyclable and PVC panels can be recycled up to six to seven times.
PVC panels are cellulose free, making them insect and termite resistant.
Cons
PVC is tricky to paint and requires special supplies.
Panels are relatively expensive up front, but costs are offset through a simple installation process.
Trusscore Wall&CeilingBoard is the Ideal RV Interior Wall Material
Made from PVC, Trusscore Wall&CeilingBoard boasts the same benefits mentioned above – and then some:
When it's time to hit the open road, you want your RV to look and perform its best. Trusscore Wall&CeilingBoard is your answer. Because that's just how we roll.