Choosing the correct dock decking material for your project requires matching your needs and use-case with the right product. We sort through the available options, and some things to consider when making your decision.
Dock decking – getting it right
There are several different dock decking materials available, including wood, aluminum, composite, and PVC
Choosing the right material requires a thorough examination of your budget and needs
Trusscore makes a PVC-based dock decking material called DockDeck that looks great and is designed to last
The decision about what kind of decking material to use when you're building a dock is like deciding what kind of icing to put on a cake. The deck is the finishing touch, and you don't want to get it wrong.
A dock's deck, after all, is the place where dock aesthetics and performance come into play – it's the part of the dock that people actually use.
Docks are exposed 24/7 to a harsh environment. Sunlight, wind, and water all exact a toll, and a dock's decking takes the brunt of the punishment; it's the decking that is facing flush to the sun and rain, and the deck is the surface upon which feet make contact. Day after day. Season after season.
So, how do you decide on the right material? What are the best dock decking materials? What are the available dock decking options? And which should you choose?
First, let's consider the factors that will go into your decision.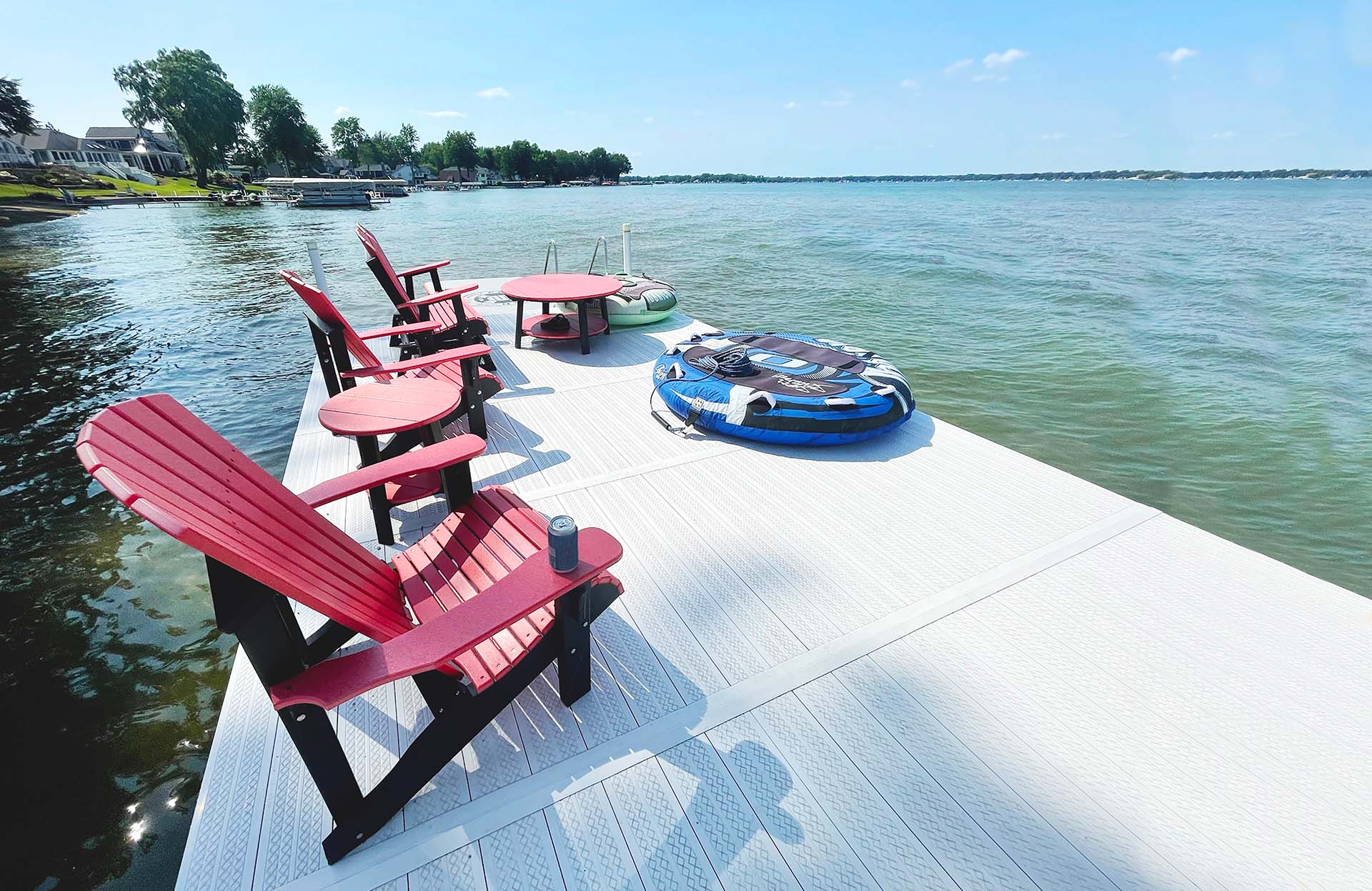 What to Consider When Selecting Dock Decking Materials?
Longevity & durability
Choosing a material that will withstand punishment will ensure that costly repairs and downtime are kept to a minimum. It will also reduce your dock's environmental footprint over timeless material will be necessary to keep your dock operational, lowering maintenance costs.
Appearance & feel
Every deck material will deliver a different look and color and you'll want the right material for your use case. A material intended for a commercial wharf may not be suitable for a tree-lined, lakeside retreat.
Budget
Each material will have a unique price, and your wallet will be your guide – but keep in mind that a material that's more durable than others, requiring less seasonal maintenance, and won't need to be replaced as often, may be less expensive over time that one that costs less upfront.
Use case
Consider your dock's primary intended use. If a dock will be used for swimming, diving, or sunbathing – meaning that bare feet will often contact the dock surface – you'll want a material that won't cause splinters and one that will dissipate heat and remain non-slip when it gets wet. If a dock is intended for commercial use, this will be less of a consideration.
Dock Decking Options for Your Property
Now let's examine the materials that are available. There are several dock decking material options. Each suit a particular use case. Each has unique advantages.
Pressure-treated wood
Wood has a pleasing aesthetic warmth, and it blends nicely with a wooded cottage environment. It's also easy to work with, cost competitive, and it stays relatively cool to the touch. Options here include cedar, which has naturally occurring oils and tannins that help make it last, and pressure-treated wood, which is designed to last outdoors.
But pressure treated or not, exposure to rain, wave action, and sunlight will eventually cause wood decking to degrade, rot, and require regular maintenance and even replacement. Replacement means a much lower lifespan and added costs. And a wood deck may not be the best choice if bare feet are expected to frequently contact the dock surface. The reason? Splinters.
Aluminum
Aluminum dock decking materials are lightweight, strong, and long-lasting. They can be powder coated, painted, or anodized (an electrochemical process that makes the aluminum corrosion-resistant) and unlike wood, aluminum will never need sanding or refinishing. Aluminum, however, can be expensive. Aluminum, and any metal material, can potentially be hot to the touch.
Composite
Composite dock decking material is typically a blend of a variety of materials, including wood fiber, polypropylene, polyethylene, and crushed minerals. The materials are bonded together using adhesives. Composite decking typically lasts longer than wood and is largely maintenance-free. Composites are available in a variety of colors and textures. Caution: if organic material is used in composite decking material, it can be susceptible to mold and mildew; over time, the mold or mildew can cause the decking material to degrade or decay, forcing replacement and generating higher costs. Composites, depending on their color and composition, can be warm to the touch.
PVC
Plastic decking can be made from polypropylene, polyethylene, or polyvinyl chloride (also known as PVC) and sometimes is formulated from a combination of those ingredients. Unlike composites, PVC dock decking is inert, so it won't support mold or mildew. PVC decking is lightweight, strong, and maintenance-free. It remains cool to the touch, sheds water, and will never rot or splinter. PVC decking can be manufactured in a variety of colors and textures offering stunning finishing options
Why PVC Dock Decking is the Preferred Material for Docks
Trusscore makes an ideal PVC-based decking material called DockDeck. DockDeck is designed to never require maintenance or replacing. It has an open-cavity profile that makes it 40 percent lighter than composite, and the open-cavity design dissipates heat. DockDeck never splinters, and is 100 percent recyclable. It comes in two slip-resistant surface textures and a variety of colors and lengths.
There are plenty of dock decking material options. When it comes time to finish off your dock project with decking, choose a product that will perform and meet your needs over the long term at a price you can afford.
Products for Dock Decking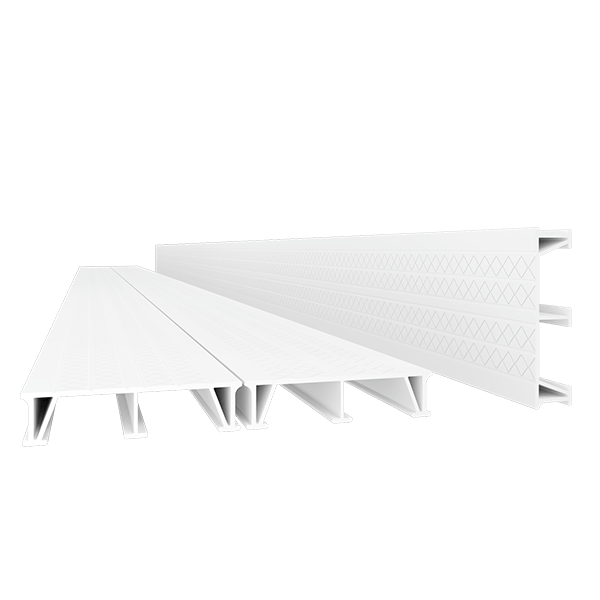 DockDeck
---
DockDeck by Trusscore is the ultimate lightweight and long-lasting dock decking material — perfect for removable and sectional dock applications. When you build your dock with DockDeck, you'll not only enjoy the look and feel but also reap the rewards of a high performing product for decades to come.
Learn More