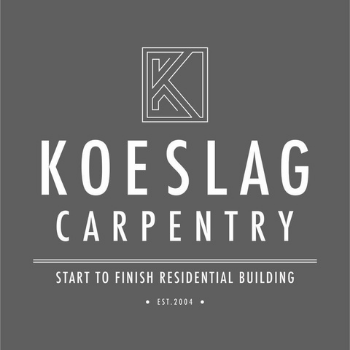 Scott Koeslag is a 39-year-old independent contractor based in Harriston, Ontario, and has worked with Trusscore products for more than six years.
His company, Koeslag Carpentry (Instagram: @scottkoeslag) specializes in new residential construction and renovations, particularly kitchens and bathrooms.
Scott took a few minutes from a home renovation he's currently working on to talk about his work and his experience with Trusscore building products.
---
Q: What led you into your line of work? Why the building trades?
A: I grew up on a dairy farm. I loved working on the farm, but my dad suggested I go and try something else, and that I could always come back to the farm if I didn't like it or it didn't work out. My aunt's brother had a construction company, so I worked a few summers with him. He offered me an apprenticeship in carpentry and I've never gone back to the farm.
When I was apprenticing, we did modular home building, so we had to marry pieces together on site. So I learned a little bit of everything, from roofing, to siding, to flooring, to drywall and trim. From there I went on to work with father-in-law, and I probably built 40 homes with him, start to finish.
I like it when a job offers variety – framing, drywall, and flooring and that sort of thing, and then finishing it off with the trimming.
I think it's pretty cool to turn around at the end and see the product when it's all done, and know that you've had a hand in all of it.
Q: Tell us about the first time you worked with Trusscore's product line. How did that unfold?
A: Well, about six years ago, my wife opened a flower shop in downtown Harriston, Elora St. Flowers. I knew [Trusscore co-founder and Chief Manufacturing Officer] Steve [Bosman] and so I was aware of Trusscore's products. We decided to use Trusscore Wall&CeilingBoard for my wife's large walk-in flower cooler. We used Trusscore SlatWall for her displays.
With the walk-in cooler being as humid and cool as it is, the product stood up really well with the moisture. We knew there would be no worries about mould or discoloration or anything, and we knew it would handle the abuse and wear and tear from busy days, like Valentine's and that kind of thing.
[My wife] has a lot of people in there, a lot going on, and it has weathered really well. There haven't been any marks or dings or breaks or anything like that, the way you might have with regular drywall in a high-traffic area.
So it has served its purpose very well.
Q: And what was it like working with the product?
A: It was fast. It was easy to work with, really.
Q: And since installing Trusscore in your wife's flower shop, have you had any other opportunities to work with the product?
A: I have. I worked for a time with Chalmers Aluminum out of Mount Forest. They're a siding company. They did custom home building as well, and in all the garages that they built, we used Trusscore. I've built a few homes with my father-in-law and we've always used the Trusscore in the garage, as well.
Q: Trusscore seems particularly well suited for garages, yes? What kind of feedback do you get about it from your customers?
A: I think people have accepted it very well into garages.
My customers love how bright it is, how clean it is. Garages often have a lot mould issues behind things that are stored in a garage, back in the corners and such. With Trusscore, they don't get any of that mould or discoloration. And if they get any kind of dirt – drywall typically attracts a lot of dirt near the floor level – they can just easily pressure wash it and carry on.
Q: You've worked a fair bit with drywall. How would you compare the experience of working with drywall versus Trusscore?
A: I see [Trusscore] being a good alternative to drywall. It's much, much faster and cleaner and easier to use. It's nice that you get it up in one go; you're not coming back for three coats of mud and sanding and painting all that stuff afterwards.
Q: So, it's less labour intensive?
A: Yes, exactly. I'm working on a project right now where I've been moving walls, I've patched walls, and moved electrical. I've just spent a whole week, now, chasing my tail around with coatings of mud and sanding and trying to get that all looking nice and smooth again. Whereas with Trusscore, you could open a wall up, take it off, do your repairs, make changes and what have you, replace any panels need replacing, cut in your new product and carry on. That'd be pretty awesome, by comparison, honestly.
Q: Now that you've worked with Trusscore products, do you find yourself recommending them to your customers, or do you leave it up to the customer to request the product?
A: I'll definitely recommend it to them. In fact, just in the last two months I've had a person come in – she's a dog groomer – wanting me to build a grooming room for her in the basement of a home that she's moving into. It's an old farmhouse. I showed her some of the Trusscore pictures from jobs that I had done, talked about it with her and she ended up doing the entire room in Trusscore. We added in another Trusscore product, NorLock, to make kennel stalls for the dogs. It worked out really well. It looked really sharp when it was all done.