---
Tuesday, December 06, 2022
Trusscore Wall&CeilingBoard panels are intended to be installed in an environment where the panels have been acclimatized to a temperature between 10° and 20°C (50° and 68°F).
Tips & TricksWall&CeilingBoard
Read More
---
Tuesday, November 22, 2022
Slatwall systems are a great way to maximize the storage space in your garage. There are some things you should consider before buying and installing one.
---
Wednesday, November 16, 2022
Consider this list of creative storage ideas for small spaces to ensure everything has its place when you live in a small space.
---
Wednesday, November 09, 2022
When installing Trusscore Wall&CeilingBoard on top of drywall, you'll need to install electrical box extenders on any outlets to match the thickness of the panels.
Tuesday, January 12, 2021
Embarking on a home renovation project is a big decision. There's plenty of money at stake. You want the job done right. Read through our 4 tips for a successful project.
SlatWallTips & TricksWall&CeilingBoard
Read More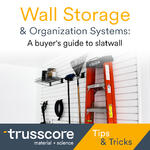 Tuesday, January 05, 2021
Storage solutions are the holy grail of home life. We break down the advantages and disadvantages of three popular wall-based organization systems.
Read More