The recently concluded International Builders' Show in Orlando, Florida, is one of the most important events of the year for the building and construction trades. Trusscore was there, and so, too, was professional contractor and HGTV co-host Bryan Baeumler, who says the show identified important new building trends, ones that Trusscore products are primed to meet.
Show stopper
The International Builders' Show, an event where new products and building trends are introduced to the construction industry, wrapped up last week in Orlando, Florida
Trusscore had a robust presence at the show and was an award finalist in the category of Most Innovative Building Material
Also at the show, and helping staff the Trusscore booth, was professional contractor and HGTV co-host Bryan Baeumler, who, in a special guest blog, describes why Trusscore products and their features perfectly mesh with the trends and themes that emerged in Orlando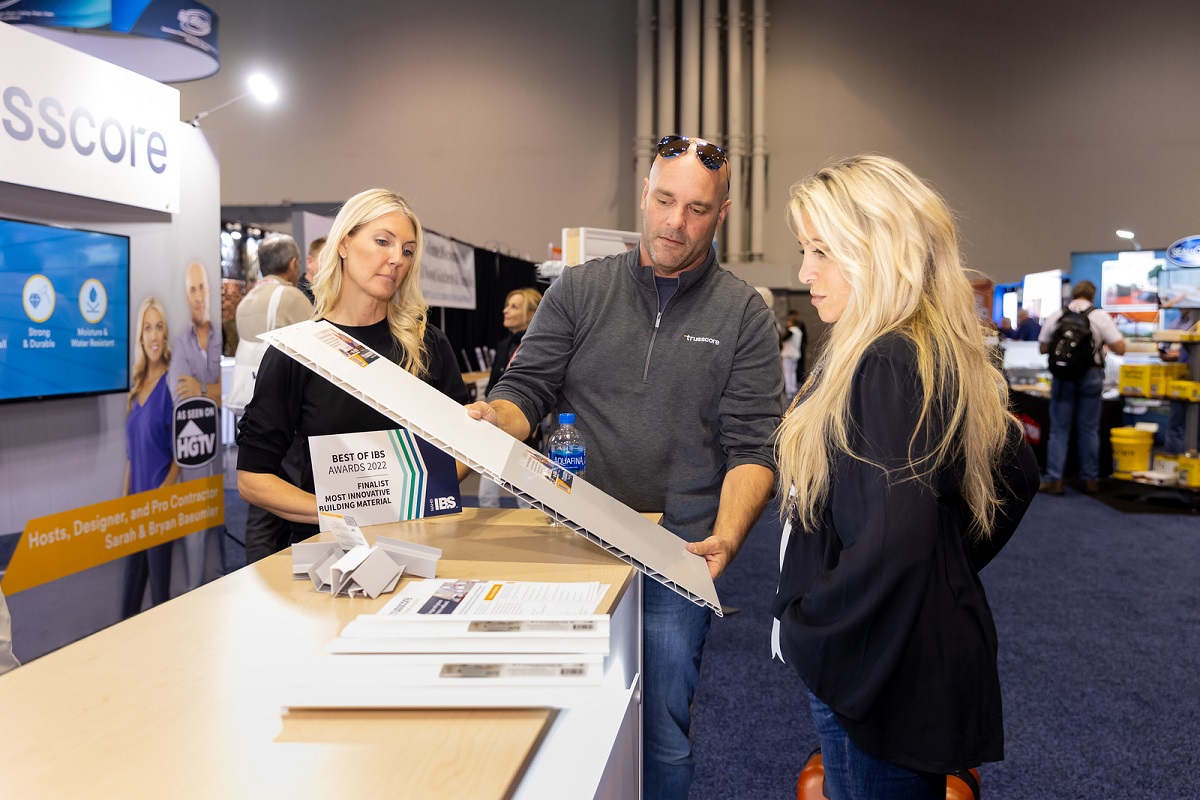 By Bryan Baeumler
There's nothing I like better than getting out and talking to people. About their home improvement projects. About building trends. About new construction ideas.
And there's no place better to do all that than at the NAHB International Builders' Show (IBS).
Last week, Sarah and I had the pleasure of travelling to Orlando, Florida, to attend the show – the largest of its kind in North America – and helping the Trusscore team at the booth in our capacity as Trusscore brand ambassadors. The experience was refreshing, not least of all because it was something we couldn't do last year, with the show trimmed back to online-only.
So, understandably, there was a lot of excitement from attendees this year, and frankly, it was one that Sarah and I shared.
IBS, for those who are unfamiliar with it, is a big deal. Typically, it features 800,000 square feet of exhibit and display space. Tens of thousands of people attend. It's a hub for new product launches, construction demos, education and thought-leadership sessions, and workshops. There's no shortage of events and activities.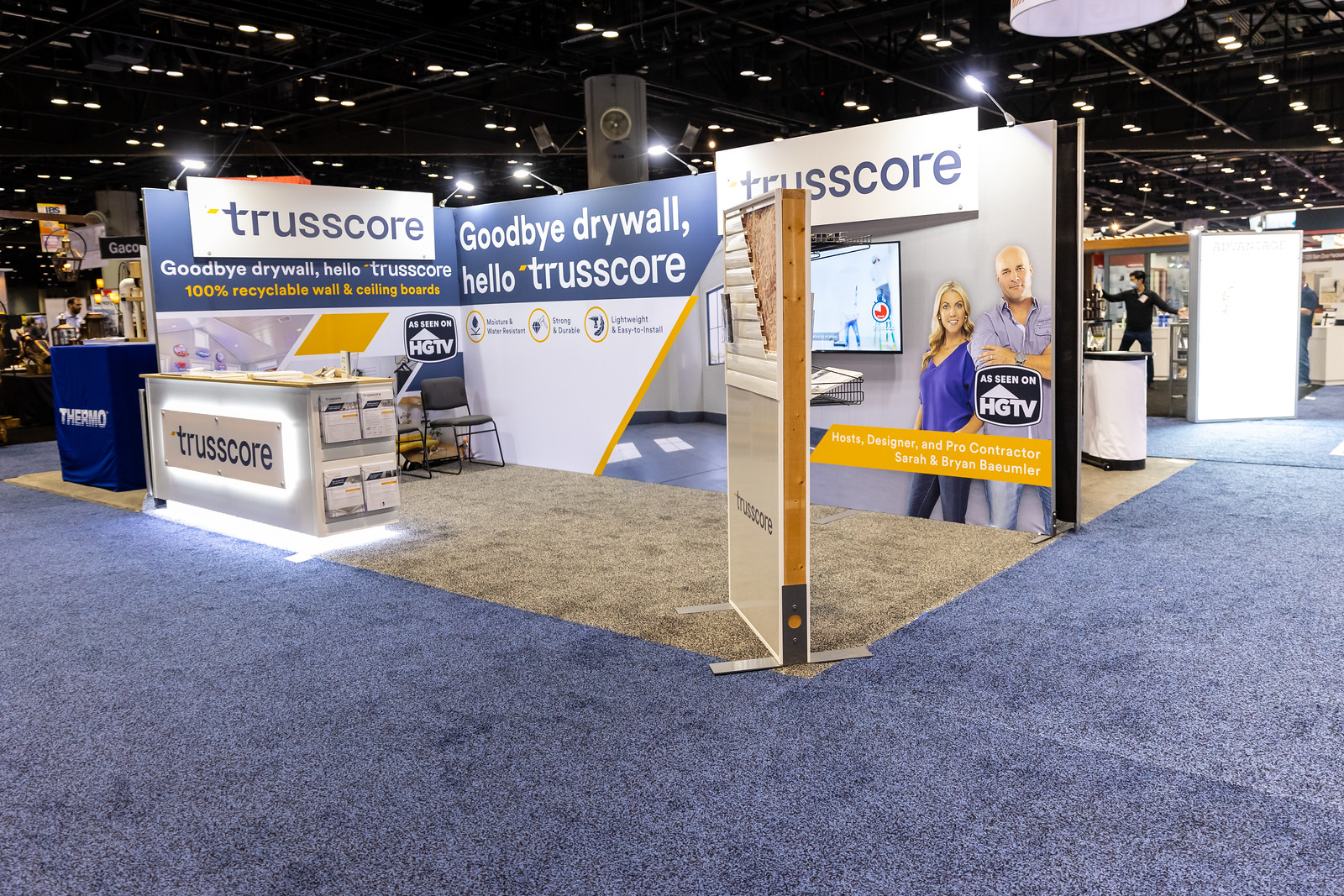 Walking the Talk
In addition to talking with people, I like to walk the show and get a feel for construction and building trends that are new and developments that I want to be aware of. This year didn't disappoint. Some broad themes emerged.
There was an emphasis on composite building materials and alternatives to wood
There was an emphasis on modular and prefabricated construction techniques
There appears to be a migration from the idea of "open spaces," to "smaller spaces," reflecting, perhaps, the soaring prices for properties and a shortage of housing
There was a continuing appetite for building and home technology, as well as product innovation
There was a continued focus on sustainability and an appetite for products that help reduce our carbon footprint
And there was continuing concern about the shortage of skilled and unskilled labor in the construction industry
Given those themes, I'm not at all surprised at the overwhelming number of people who stopped by the Trusscore booth, and the level of interest expressed for Trusscore products like Trusscore Wall&CeilingBoard and Trusscore SlatWall. People wanted to see and touch the products. They asked smart questions. They listened closely – and so did we.
The Right Products at the Right Time
In fact, as Sarah and I talked with people, it very much felt like Trusscore products were the right products, at the right time, and at the right place – physical examples of the very themes this year's IBS show emphasized:
They're tailor-made for the needs of the modular construction industry because they're fast and easy to install – far faster and easier than drywall.
They require far fewer workers during installation, which is a very nice feature to have on offer during an era when workers are hard to find.
Trusscore products are long-lasting and recyclable, and therefore far more environmentally friendly than drywall.
And, of course, Trusscore products are highly innovative and well-thought-out, backed by research and material science.
We weren't surprised when Trusscore was named as a finalist at the show for the coveted Most Innovative Building Material award.
The way to remain relevant as a builder is to be open-minded to new ideas and trends. For Sarah and I, attending IBS is very much part of that process.
Likewise, the way to have an impact as the maker of innovative new products like Trusscore Wall&CeilingBoard and Trusscore SlatWall is to have them on display at IBS. Trusscore shone at the show, and we were delighted to be there to help it do so.
Hope we see you there next year!