Keeping boat dock decking in good repair is key to maintaining a dock's utility. But should you replace a few broken boards or go with an entirely new deck? We lay out the pros and cons of each option as boating season comes to a close.
Keep your dock shipshape :
The way to make certain your boat dock is ready for the spring is to tackle repairs in the fall, soon after a dock comes out of the water.
Decking is among the most important dock components to evaluate at the end of the season, with the question being to repair or replace?
If the decision is to replace, consider using a long-lasting PVC-based decking material like Trusscore DockDeck.
When the leaves begin to turn color, cottage owners know it's time to haul the dock out of the water.
Those same owners know that once their dock is clear of the wet, they need to set aside some time to do a thorough inspection and evaluate how their dock has weathered the boating season. It's all part of protecting their waterfront investment and making sure their dock structure is safe and ready to perform when it goes back in the water in the spring.
The Importance of Dock Maintenance to Protect Your Investment
A dock inspection should start with a thorough cleaning, ideally with a pressure washer to remove algae and dirt while the dock is still wet, which makes the removal of dirt and algae easier.
Once the dock is clean and you have good visibility on the dock's various components, embark on a walk around and make note of areas that need attention: Is the structure sound? Has rust compromised the supports? Are bolts and fasteners tight? Are the bumpers torn? Does any decking need to be replaced?
Decking is important to keep in good repair. After all, it's the deck that supports human feet.
Signs Your Boat Dock Needs Repairing or Replacing
The problems that will emerge with decking depend largely on the kind of decking material that was used.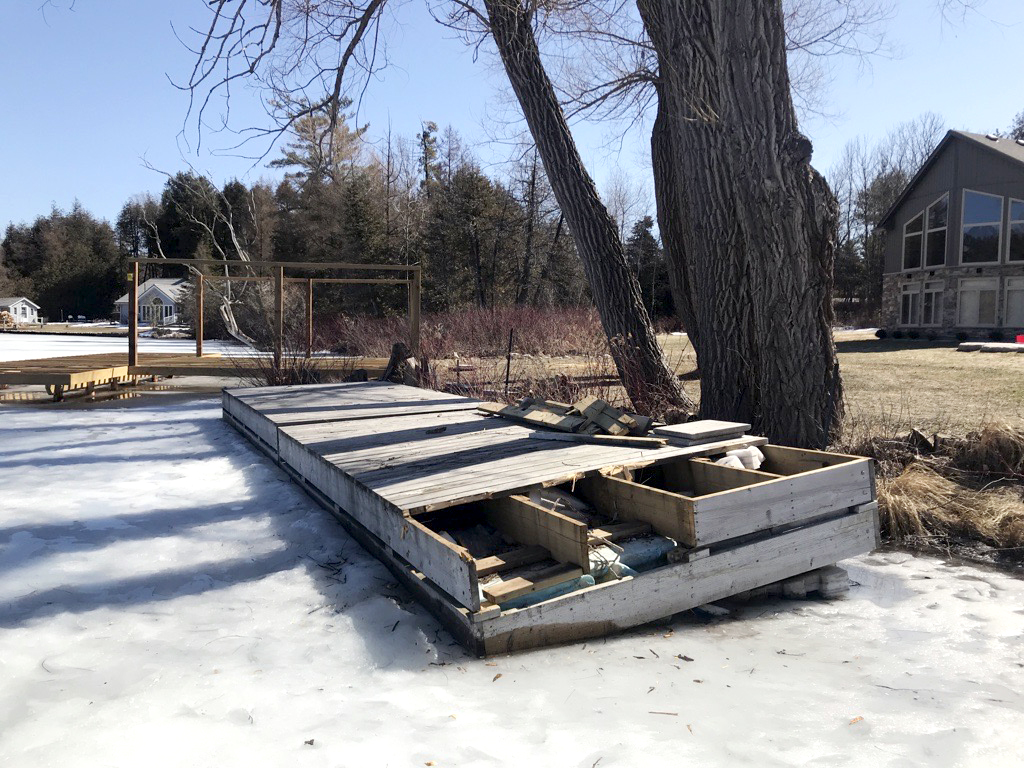 Wooden decking can splinter and even rot. Composite decking, if it's manufactured using cellulose material, can support mold and mildew growth. In either case, individual deck planks can weaken or come unfastened.
Replace deck planks as needed but pay attention to the number of new ones that are required.&
if more than several require attention, and if others have had to be replaced in previous seasons, it might make sense financially to consider installing an entire new deck platform.
The math on this needs to consider not only the upfront price of one material versus another but also how well or poorly a given material lasts from season to season.
A material that costs less upfront but generates added upkeep, both in terms of time and a need to replace many deck boards each season, isn't the bargain it seemed.
PVC dock decking generally costs more upfront than wood, but less than aluminum. PVC decking, however, has a very low ongoing maintenance cost compared to other materials; the product is extremely resilient and long-lasting.
Benefits of Replacing Dock Decks with PVC Decking Material
Trusscore makes a PVC-based decking material called DockDeck. It's an all-weather dock decking replacement that is amazingly durable and comes in a variety of attractive colors and two non-slip texture patterns.
DockDeck is lightweight, doesn't absorb heat (even in direct sunlight), and sheds water. It won't support the growth of mold or mildew.
And DockDeck is easy to install. It uses a clip strip system that keeps screws hidden, ensures that planks are spaced uniformly, and allows for natural expansion and contraction caused by temperature variation. In the rare event that a board needs replacement, it's easy to do without removing the surrounding boards.
A functioning dock is an important component of any cottage or waterfront property. A dock provides access to the water and all the water has to offer and in so doing sustains the value and utility of the cottage itself.
Keep your dock in good repair with DockDeck by Trusscore, PVC dock boards that are made to last.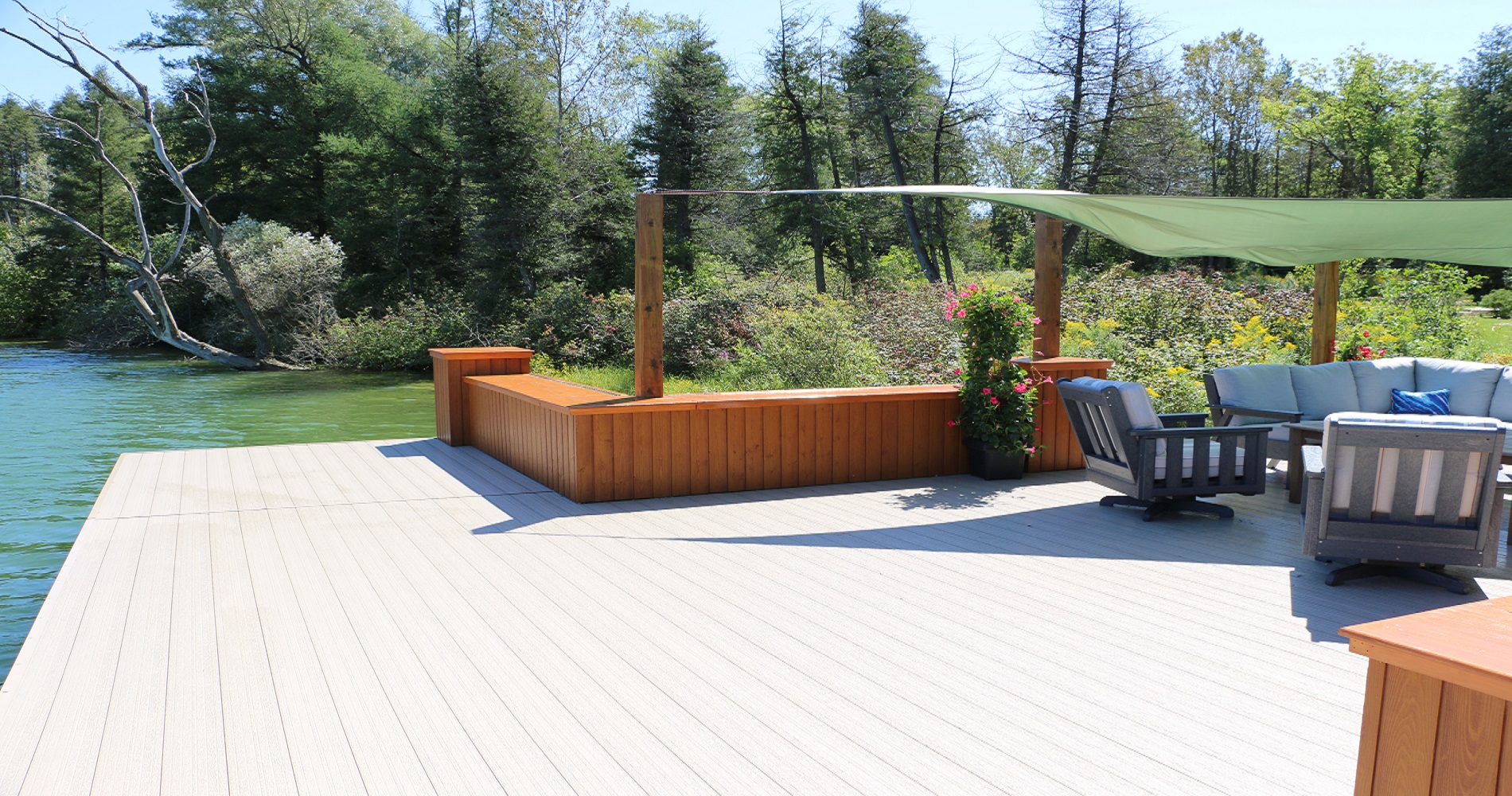 Products for Your Dock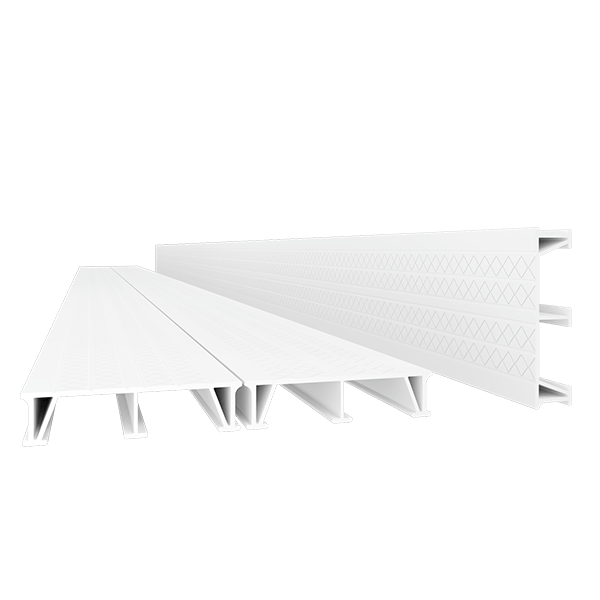 DockDeck
---
DockDeck by Trusscore is the ultimate lightweight and long-lasting dock decking material — perfect for removable and sectional dock applications. When you build your dock with DockDeck, you'll not only enjoy the look and feel but also reap the rewards of a high performing product for decades to come.
Learn More