Wainscoting has been a popular treatment for interior walls for centuries. While it's often used in common areas like dining rooms, living rooms, and entryways, basement wainscoting is on the rise as homeowners convert their basements from unfinished storage areas into additional living space.
But what is wainscoting, what's it made of, and why is it well-suited to basements?
We answer all this — and more — below.
What is Wainscoting?
Wainscoting is paneling that's installed on the lower portion of a home's interior walls. When plaster walls were common from the 1700s to the mid-1900s, wood wainscoting provided a much-needed layer of protection — plaster walls were incredibly easy to damage, and repairs were expensive. With wooden paneling, the lower third of the wall was safe from being scuffed.
Today, wainscoting is both functional and decorative: In high-traffic areas of your home (think mudrooms, dining rooms, stairways, and more), it keeps walls safe from bumps and blemishes while also adding texture and a visual element or personality to your space. Panels can be raised, flat, or have an overlay, and typically have a cap (along the top of the panels) and moulding or baseboards (along the bottom of the panels).
What's the Purpose of Wainscoting in a Basement?
Like when it's installed in any area of your home, basement wainscoting is designed to protect your walls from damage while elevating your space.
If you have a finished basement that doubles as a rec room, is home to a laundry room, or has an extra bathroom, wainscoting throughout can add to the overall durability of each space while tying each distinct room together with a cohesive look and feel. If you live in a flood-prone area or your basement is at a higher risk for flooding than normal, some wainscoting can even provide you with protection from floodwater damage — more on that in a minute.
What Building Material Should I Use to Create Basement Wainscoting?
Solid wood. Solid wood is the original wainscoting material, and it continues to stand the test of time. Whether you want cherry, maple, oak, alder, or walnut wainscoting, the choice is yours. However, it's important to note that wood wainscoting is the most expensive option of the four, and it requires careful — if not professional — installation to prevent cracks and gaps caused by seasonal expansion and contraction.
Medium-Density Fiberboard. MDF is a wood wainscot alternative that doesn't expand, contract, warp, split, or have knots. MDF wainscoting is often available in ready-to-install kits and often comes pre-primed or veneered. However, MDF will swell and break down when exposed to water, which can be a problem when installed in flood-prone basements.
Plywood. If adding an extra layer of protection to your walls is more important than the overall design of your space, plywood is an affordable option. The long, wide sheets are quick and easy to install — just cut them down to size, glue them to the wall, and finish with cap and base moldings. If you're feeling creative, you can use lumber to create framings and paint the plywood any color you'd like.
PVC. Polyvinyl chloride panels are also a popular option for basement wainscoting. Colors and designs are a bit more limited than alternatives, but PVC is moisture and water resistant, unlike the others, making it the perfect option for basements that are at risk of flooding.
Creating PVC Wainscoting with Trusscore Wall&CeilingBoard
If PVC panels are best suited for your basement wainscoting project, Trusscore Wall&CeilingBoard has your project covered. The 16" wide panels can be installed directly on studs or on top of drywall and come with several advantages over other PVC-based alternatives on the market, including:
Five Frequently Asked Questions about Basement Wainscoting
Still have questions about basement wainscoting? Check out these five FAQs below:
How high should my basement wainscoting panels be? Wainscoting panels should cover the lower third of your wall. Based on average wall height, your panels should likely be between 36 and 42 inches high. Any higher would technically be considered paneling, not wainscoting.
How wide should my basement wainscoting panels be? The width of your wainscoting panels is entirely up to you. However, it's important to keep a uniform width throughout the entire room.
Where in my basement should I add wainscoting panels? In a finished basement, add wainscoting panels to any room that needs added durability, including rec rooms, laundry rooms, home gyms, bathrooms, playrooms, and more.
How much does wainscoting cost? Wainscoting can cost anywhere between $6 and $66 USD per square foot. The price of wainscoting depends on the materials you choose to build with and how intricate of a design you want to install.
Can I install wainscoting myself? For DIYers who aren't as comfortable creating elaborate designs, consider buying ready-made wainscoting panels for your basement. For example, MDF wainscoting is available in ready-made sheets that can be cut to fit your space. Trusscore Wall&CeilingBoard is also especially DIY-friendly if you choose to go the PVC route.
Products for Wainscoting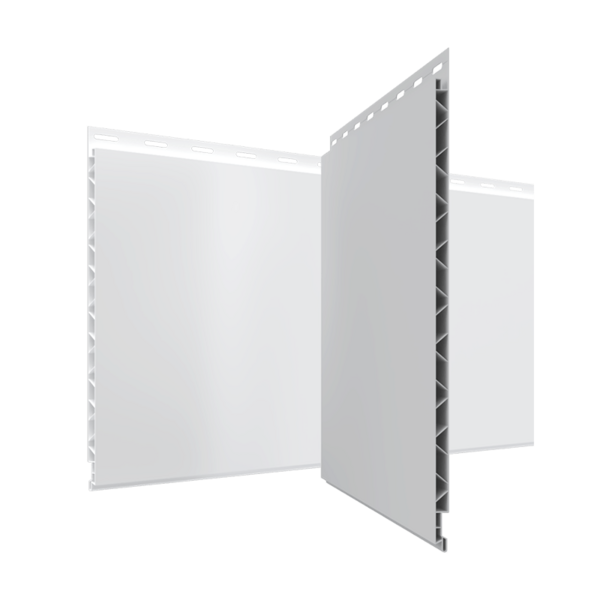 Wall&CeilingBoard
---
Trusscore Wall&CeilingBoard is an ideal drywall replacement that's durable, easy to install, and easy to clean. The wall and ceiling panels are perfect for many different residential, commercial, and agriculture applications.
Learn More