There are plenty of reasons why drywall might not be the best material for a ceiling, starting with its heavy weight, which makes it difficult to install. A better-performing alternative? Trusscore Wall&CeilingBoard: lightweight ceiling panels that install quickly and easily.
In summary:
Drywall is heavy, cumbersome, and difficult, therefore, to use as a ceiling material
Trusscore Wall&CeilingBoard – lightweight, easy to install – is a better-performing alternative
Wall&CeilingBoard requires no taping, no mudding, no sanding, and no painting, making it far less labor intensive. Installs 4 times faster – saving time and contractor costs
Anyone who has ever lifted a 43-pound sheet of ½" drywall off a truck, into their house, and then wrestled it up a ladder and into place for nailing to their ceiling joists, knows the process isn't much fun.
Drywalling a ceiling is hard, awkward work, work that almost always involves at least two people. And once the drywall boards have finally been attached to the ceiling, the work has only just begun. A long, messy process of taping, mudding, sanding, and painting still lies ahead – a literal pain in the neck.
And don't even mention the sheets of drywall that crack or break during the installation process.
What if there was a better alternative?
Trusscore Wall&CeilingBoard is an alternative to drywall for ceilings.
An eight-foot length of Wall&CeilingBoard weighs in at under eight pounds, which means it can be installed by just one person. There's no taping, no mudding, no sanding, no painting. The installation process is four times faster than drywall and much cleaner. Each sheet of Trusscore Wall&CeilingBoard clicks into place with the next in tongue-and-groove fashion. Easy-peasy.
And if you decided to go with a contractor rather than the do-it-yourself route, that ease and speed of installation translates into savings for you. Less labor means less cost to install.
Once it's installed, the benefits, particularly when compared to drywall, continue.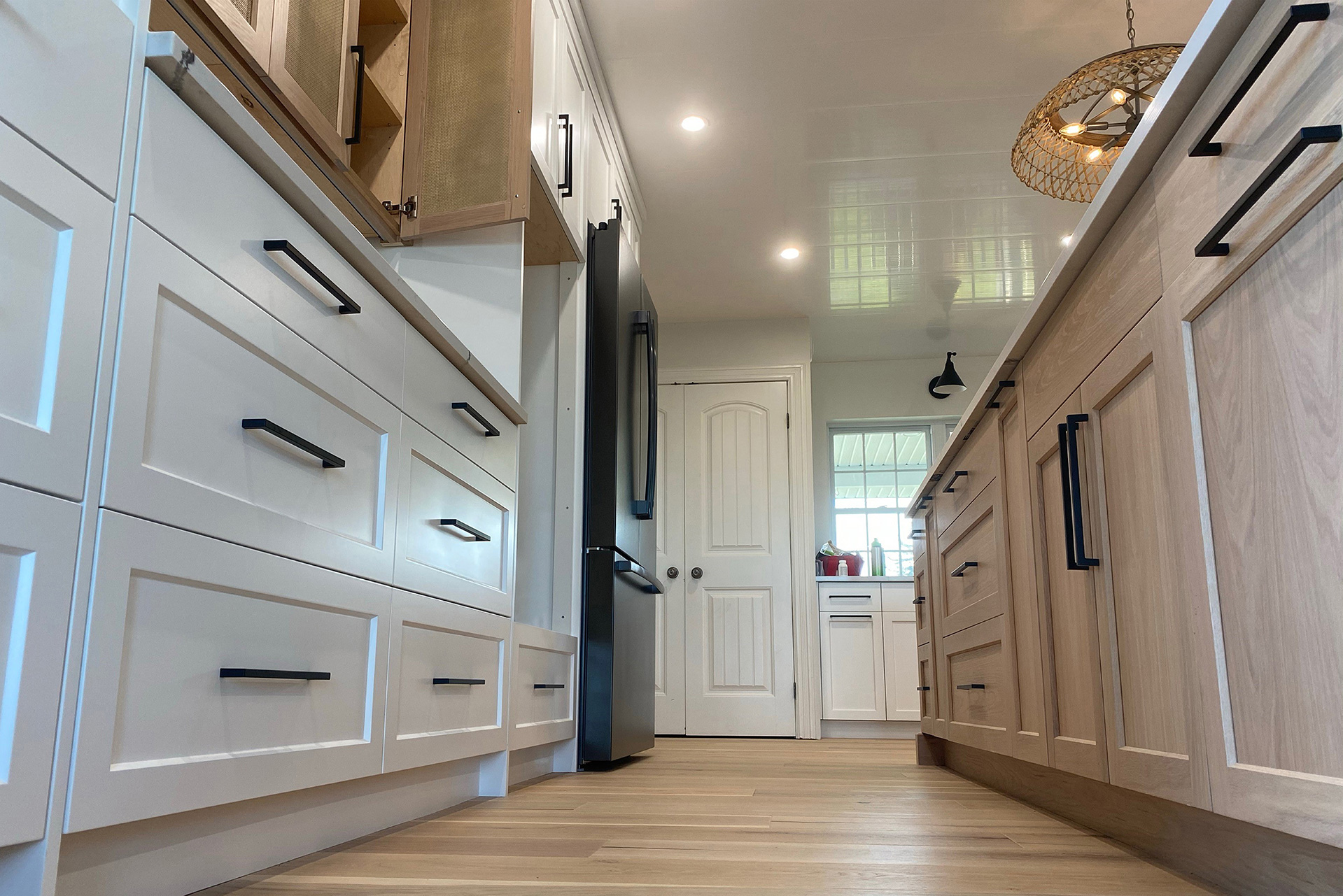 Benefits of PVC ceiling and wall panels
Removable to easily access wires or plumbing
Unlike drywall, Trusscore Wall&CeilingBoard panels can be easily removed and put back in place. Which means if you needed to gain access to wires or plumbing above the ceiling, you can do so with minimal fuss. With drywall, access is achieved only by cutting into the drywall, then patching afterward. More tape. More mud. More sanding. More paint.
Zero growth of mold and mildew
Ceilings tend to be places that bear the consequences of leaks. When drywall gets wet, it stains, swells, and becomes a vector for mold and mildew growth.
Trusscore products are made from PVC, which means they shed water. PVC ceiling panels don't support the growth of mold and mildew. They don't swell when they get wet.
Light-reflectivity helps spaces appear larger
Trusscore Wall&CeilingBoard comes in a bright white finish that reflects available light, which makes it a great choice for dark rooms like basements and garages.
Wall&CeilingBoard is long-lasting. It's fully recyclable. And it's washable – ideal for addressing splatter in a restaurant or commercial kitchen.
It's also designed to expand and contract naturally with temperature swings, meaning you'll never see nail-pops or face the cracking or splits generated in a drywall-finished cottage ceiling that's been left unheated over the winter.
There's no reason to settle for drywall as a material for a ceiling. There's no need to endure the heavy lift. Trusscore Wall&CeilingBoard is your lightweight alternative.
Want to see your ceiling with Trusscore featured here?
Send us your photos by clicking the button below, or mention us on social media @Trusscore and share your experience with us.
Products for Ceilings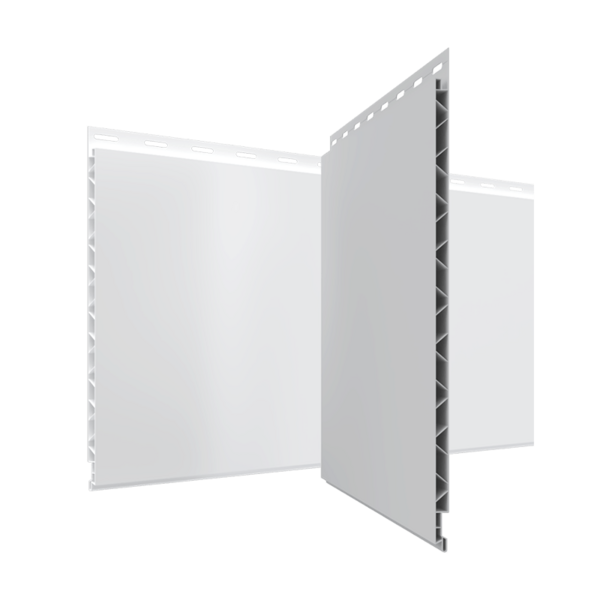 Wall&CeilingBoard
---
Trusscore Wall&CeilingBoard is an ideal drywall replacement that's durable, easy to install, and easy to clean. The wall and ceiling panels are perfect for many different residential, commercial, and agriculture applications.
Learn More