With housing in short supply and affordability soaring, with green spaces disappearing and sustainability at risk, it may just be time to rethink how we build cities.
This is the story of how one mid-sized Canadian community arrested urban sprawl, generated $4 billion in new density, and sparked the building of 17,000 new residential units.
Their answer? A light rail transit (LRT) line.
The LRT that spurred density and residential construction
Eager to spur housing starts and generate downtown density, Waterloo Region in southwestern Ontario, Canada set out to attract development
It did so by embarking on a light rail transit project called ION, which now winds 19 kilometers through the cities of Kitchener and Waterloo
The rail line has proven to be a magnet for people and developers alike, bringing people downtown, preserving farmland, and helping ease a housing shortage
The Waterloo experience may serve as an example of how cities can make themselves more sustainable, less dependent on automobiles, and more responsive to the housing needs of the people they serve
The housing crunch has become a major social and government-policy problem. The shortage of available and affordable real estate is growing and has become particularly acute in Canada's largest province, Ontario. It's a problem that's spilling over from urban to rural centers as a shortage of housing stock, high demand, and low interest rates drive the price of real estate far beyond that which most people can afford. And the issue has exacerbated other problems linked to housing: the loss of farmland, the breaching of greenbelts, climate change, sustainability.
The crux of the problem? There simply isn't enough residential housing stock available.
But what to do?
Perhaps the time has come to rethink the way we design cities and the infrastructure that supports them – to make cities more responsive to housing needs and to harness their capacity for density, not to mention their role in putting a stop to sprawl, and for preserving green spaces.
Perhaps we need to think about building infrastructure like they have in the modest burgh of Waterloo Region, the home, as it happens, of the Trusscore marketing and research and development teams.
Perhaps, as Waterloo Region has shown, we need more trains.
Waterloo Region has a population of 625,000 and is comprised of the adjoining cities of Kitchener, Waterloo, Cambridge, as well as four nearby townships. It has German roots, two universities, and a solid economic backbone consisting largely of big insurance companies and a vibrant tech-startup scene (it's home to Blackberry, the maker of the first smartphone). The tech jobs have helped compensate for the shuttering of a host of legacy manufacturing operations in the region through the 1970s, '80s, and '90s.
In 2011, with the startup scene gaining traction and attracting scores of young, urban professionals who were looking to live and work downtown, the region gave the green light to an expensive, controversial, experiment: the building of the first stage of a light rapid transit line called ION, one that would ultimately wind 19 kilometres from north Waterloo to south Kitchener.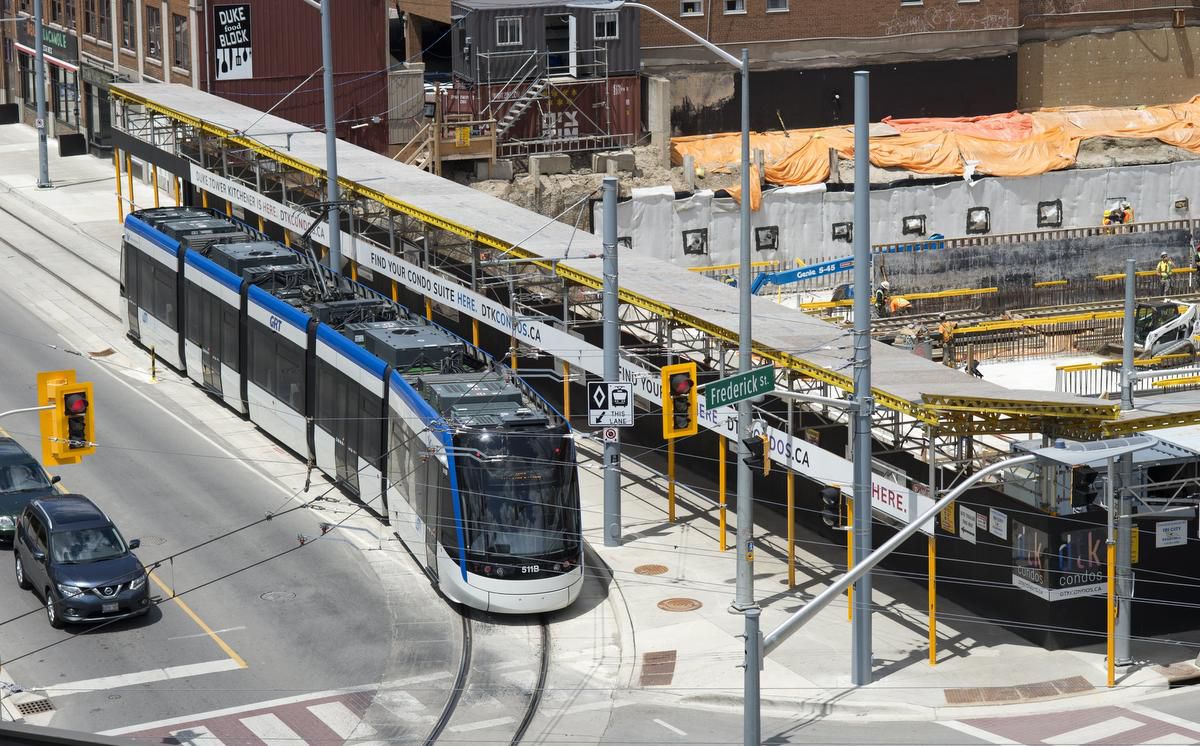 Big Money, Big Results
It was a big decision, one that was not without substantial opposition, and one that ultimately committed $818 million dollars from three levels of government, including $278 million from the region itself.
Interestingly, and somewhat incongruously, the decision to build the ION rapid transit line wasn't made to move people, per se, although there's no question it would eventually do that.
It was made to give them a place to live.
"We needed density," Waterloo Region councillor Tom Galloway explained to me back in 2017, approximately two years before the transit line would open.
The region, Galloway said, had been ordered in 2005 by the Province of Ontario to prepare for the arrival of 250,000 more people by 2031, a 50 percent increase of the then population of 500,000.
Housing would be needed. But the region didn't want developers to build on farmland and extend urban sprawl. It wanted urban density. It wanted housing in the cores of the cities.
And transit became the carrot to lure them there.
Because it turns out that if you sink a rail line into a city, people want to live nearby. They do because, unlike a bus route, a rail line isn't going to move. Developers simply follow the demand and build accordingly.
Did the plan work? Did it ever.
Two years before the ION line had even opened, builders had committed $1.8 billion in high-density development near stations along the line.
As of last summer, and since the ION project got the go-ahead in 2011, Galloway (who helped spearhead the transit project), says that figure has climbed to $4 billion in private money, which translates into nearly 17,000 new residential units and nearly five million square feet of non-residential space.
The visual evidence of the impact of the line is in plain view. Construction is taking place everywhere.
When I scale the hill in Kitchener's McLennan Park, I can currently see 13 construction cranes, and almost all of them are along the transit corridor," Galloway told Trusscore in a recent email. "That's the visual that declares ION a success as the planning tool it was primarily intended to be."
The ION experience closely mirrors a light rail project which was brought online in Portland, Oregon, and it's hardly a surprise because the region's planners studied the Portland experience and it served as something of a template. Portland, like Waterloo Region, wanted to spur urban development, and its project did just that.
Would the same amount of housing be constructed if the rail line didn't get built? It's unlikely. Galloway says the Portland experience showed that 40 percent more development takes place along a rail line than a bus route. And you gain 20 percent more transit riders, to boot.
A Template for Urban Centers
Trusscore is a big supporter of urban renewal and sound urban planning. The company recently acquired a derelict former automobile service station near the Kitchener train station and future rapid transit center and is currently transforming it into an Apple Store-style Experience Showroom for its products.
The plan is for the showroom to become the template for other urban centers throughout North America, giving city dwellers an access point for products like Trusscore Wall&CeilingBoard and Trusscore SlatWall. These are products that, thanks to their durability and sustainability, have proven to be particularly well-suited to the common areas, hallways, mechanical rooms, and loading areas of high-density projects like condominiums, apartments, and townhouses.
The housing crisis needs a solution. Light rail transit in Waterloo Region has proven to be a contribution to the answer and might just serve as a solution that can be copied in other smaller cities North America-wide, ones that have in the past depended on busses and automobiles to move people and are seeking to spark urban renewal and density. All aboard, indeed.
Products Designed for Urban Environments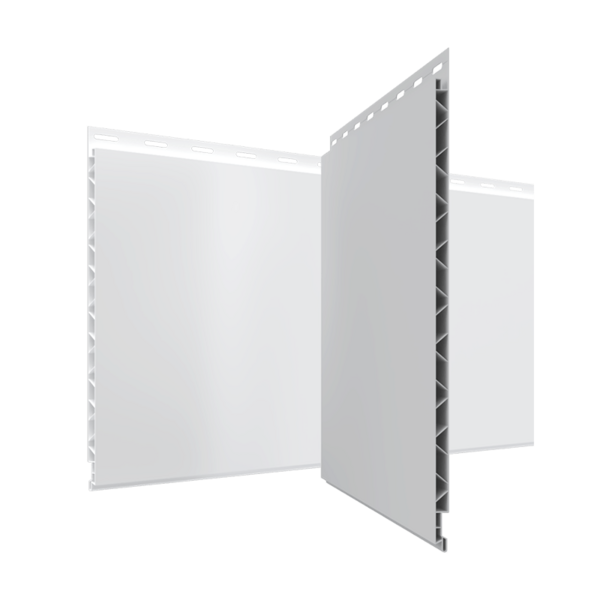 Wall&CeilingBoard
---
Trusscore Wall&CeilingBoard is an ideal drywall replacement that's durable, easy to install, and easy to clean. The wall and ceiling panels are perfect for many different residential, commercial, and agriculture applications.
Learn More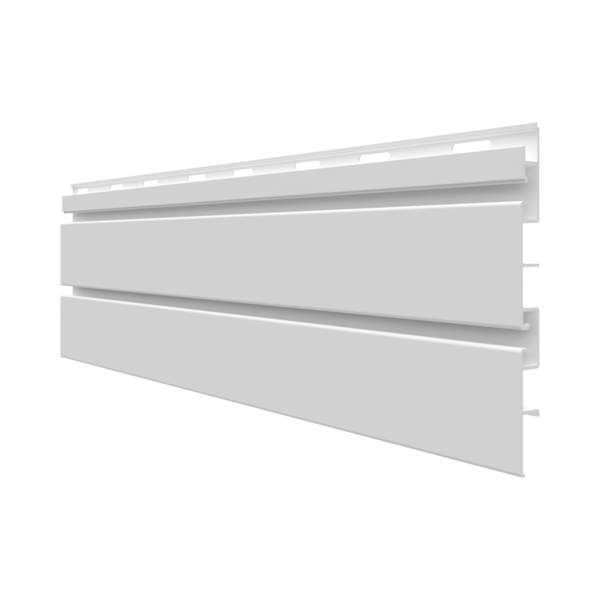 SlatWall
---
Declutter your space with Trusscore SlatWall, the organized and accessible solution for any garage or workshop. An ideal pairing with Trusscore Wall&CeilingBoard, SlatWall is easy to install for do-it-yourself projects and offers a wide range of hooks for your needs.
Learn More