Local knowledge – matching the right dock type to the characteristics of a particular waterway and climate – is the key to a successful dock project. That, and hiring a professional. We talked to a specialist about how he approaches his boat dock projects.
Dock building, done right
There are a variety of dock types, and each is suited to a particular use-case
Choosing the right dock for local lake conditions will ensure a successful dock project
Contractor Jim Boshart shares his method for building the perfect pier-style boat dock, and why it suits a lake with certain characteristics
It's one thing to wish for a new dock for your lakeside property. It's quite another to actually build it. Docks are a highly specialized construction project requiring sound planning, good knowledge of local geography and waterway peculiarities, and plenty of specialized skill and construction ability.
There are many different types of docks, each suited for a particular use-case and geography. The key to a successful project is matching the correct dock type to the body of water and customer need, and then hiring the right person to handle the job. In short, you want an expert, one with plenty of local knowledge.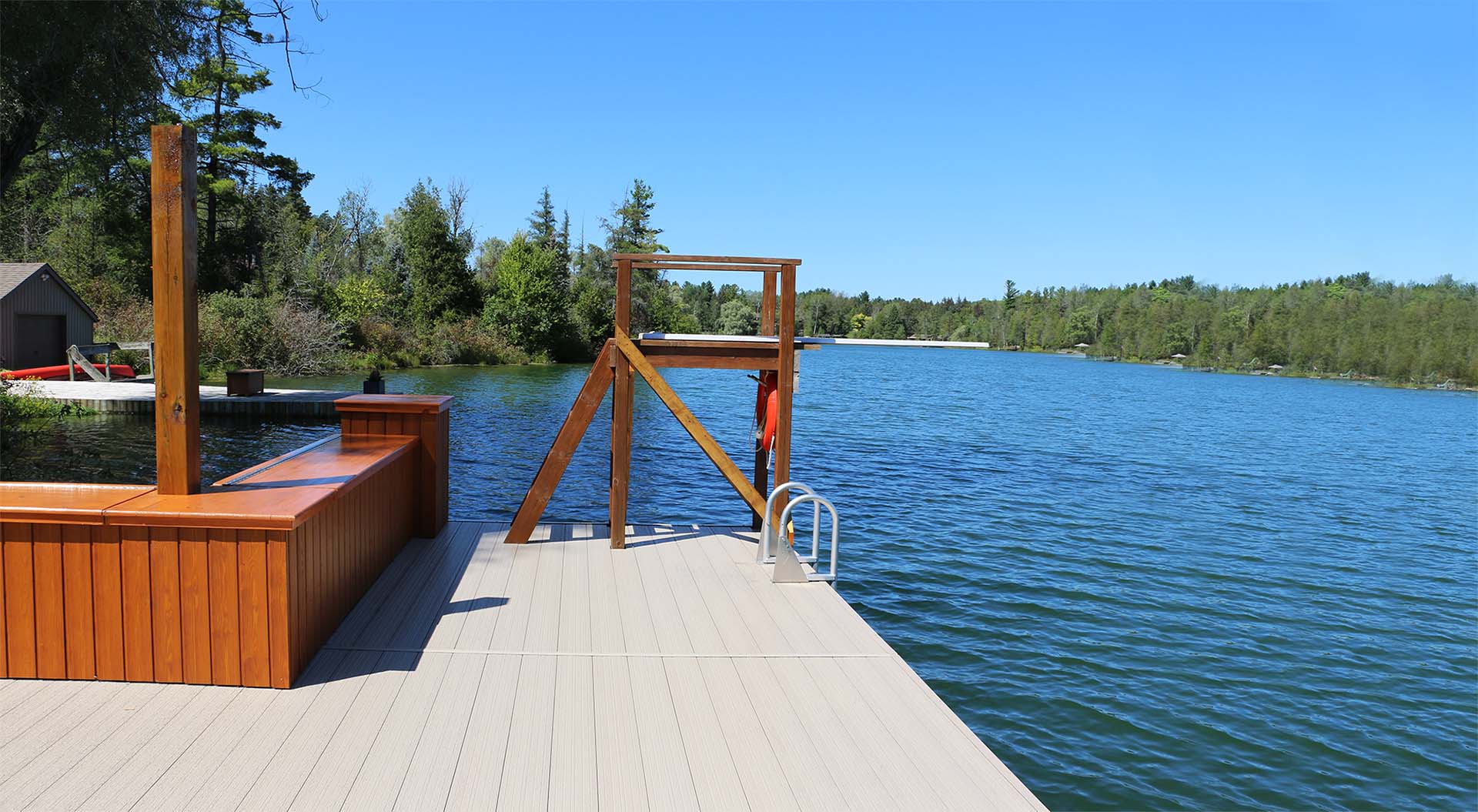 Working With A Pro
Jim Boshart, principal of Boshart Construction, is just such an expert.
Boshart, based in Clinton, Ontario, has spent decades working in construction, both as a supervisor for a large company and as an independent contractor. Renovations. Doors. Windows. Bathrooms. Kitchens. Decks. And docks. He's done it all.
Boshart is now angling toward retirement – "I'm not looking for more business!" he says with a laugh – but lately, docks have become something of a niche specialty for him. Boshart has now completed seven docks for home and cottage owners on Sunfish Lake, just a few minutes' drive northwest of Waterloo, Ontario. He has been hired to build another three docks on the same lake.
How to build a boat dock? The process, he says, starts with a plan, and the plan must be tailored to the particulars of the lake for which the dock is intended.
"All docks are different," he says. "What's unique about Sunfish Lake is it's small, but it's quite deep – about 66 feet – and the bottom of the lake is all mud and peat. It's just muck on the bottom."
What to Consider Before Building a Dock?
The sharp drop-off and the soft bottom at Sunfish Lake dictated that a pier dock, also known as a pile dock, be Boshart's dock type of choice.
A pier dock is a permanent structure supported by large posts driven into the bottom of the waterbed. A pier dock is stable, strong, and able to withstand plenty of severe weather – not that particularly severe weather is an issue at Sunfish Lake. But what is an issue is the soft lake bottom. Boshart's piers are driven down deep enough into the lakebed that they find firmer footing, ensuring they, and the dock that they'll support, will remain stable.
Constant lake level
If Sunfish Lake had a firmer bottom – "something like sand or rock," says Boshart – a pole dock, with the supports resting on the lakebed, might have been an option. In this case, it wasn't.
"The piers are driven down anywhere from 11-to-15 feet," Boshart explains. "My posts are spaced about four to five apart," ensuring plenty of support for the structure.
Another reason a pier dock works well for Sunfish Lake is that the lake level is reasonably constant, meaning there's a low risk of the dock being swamped by the lake or left too high above the lake level; on lakes where the level fluxgates widely, a floating dock might have been a logical choice.
Ice. Ally or foe?
Boshart builds his pier docks in the winter, using the ice sheet over the lake as both a construction platform and a lever for driving in the piers.
He begins each dock project by first drilling a hole through the ice for the pier. Then, on either side of the main hole he drills two more holes and slips into those what he calls his "anchor," steel cleats placed below the ice that supports a chain and cable arrangement that attaches to a winch. The winch drives the post into the water, using the ice as leverage.
"People don't understand just how strong ice thick ice is," he says.
At some locations, the presence of lake ice could be a problem, causing the piles to lift and the dock to come out of square as the ice forms and melts each season. On Sunfish Lake, that isn't an issue, Boshart says, because the lake is relatively small, so in the spring the ice melts around the pole first and heaving is kept to a minimum.
Pressure-treated beams
In fact, in the case of Sunfish Lake, the ice is Boshart's ally, serving as a workbench upon which he constructs the dock frame. He puts marker pins in the ice, squares everything up, "and then I plumb from that."
He then attaches wooden, pressure-treated beams, each made from a pair of 2x8s, to the poles that have been driven into the lakebed, notching them in and securing them with hot-dipped, galvanized (for corrosion resistance), half-inch bolts.
The dock joists, made from pressure-treated wood, are then attached to the beams and boat dock decking is secured on top of the overall structure.
Selecting Dock Decking Material to Extend Dock Life
Typically, Boshart uses wooden decking, but lately, he has begun working with other materials, at the request of one of his customers: DockDeck by Trusscore.
DockDeck is a PVC-based material with an open-cavity profile that makes it 40 percent lighter in weight than other composites. DockDeck won't retain heat, sheds water, won't splinter, and is easy to install using fasteners that clip to the underlying joists. It's designed to withstand the punishment dealt out by the wind, water, and sunlight for years and years.
"When it's finished, DockDeck looks very nice," says Boshart. "I was impressed with the way it snaps firmly into place."
And the learning curve? "You've pretty much got it down pat after a day working with it."
DIY Dock Building vs. Hiring a Contractor
A dock is a project that adds value to a property and provides access to a variety of enjoyable summertime activities – boating, swimming, fishing, and general outdoor living relaxation.
The key to a successful dock project, Boshart says, is to consult with a local contractor, someone who has plenty of experience and who has good local knowledge of the geography and characteristics of the lake for which the dock is intended.
"Local contractors know the local conditions," he says. "They'll make sure you end up with a dock that will serve your needs and leave you enjoying your dock for years to come."
Products for Docks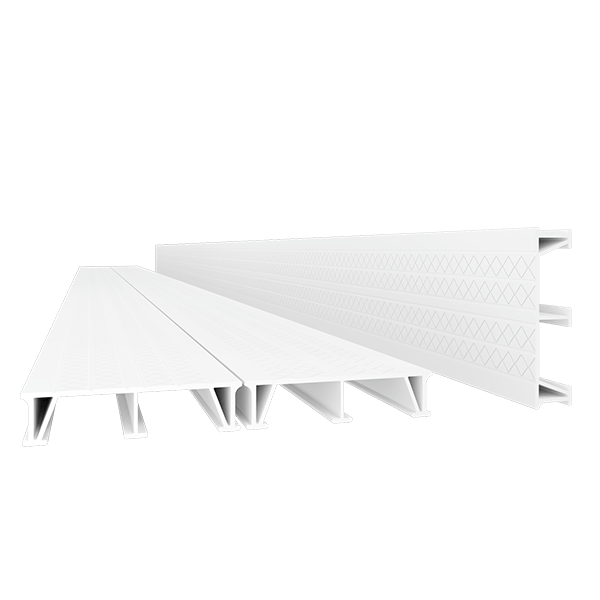 DockDeck
---
DockDeck by Trusscore is the ultimate lightweight and long-lasting dock decking material — perfect for removable and sectional dock applications. When you build your dock with DockDeck, you'll not only enjoy the look and feel but also reap the rewards of a high performing product for decades to come.
Learn More