---
Tuesday, May 24, 2022
North American jurisdictions are looking at changing building codes to gain improvements in the energy performance of commercial and residential structures
Read More
---
Tuesday, May 17, 2022
Rental properties require maintenance to maintain their value. Some planning and pro-active work will save a landlord time and money over the long term.
---
Tuesday, May 10, 2022
Events of the past two years have generated pressures on the construction industry. Shortages of materials and supply chain tumult will continue for the near future.
---
Tuesday, May 03, 2022
Drywall waterproofing is mostly a myth. For a truly waterproof wall panel, you need – a PVC-based product like Trusscore Wall&CeilingBoard.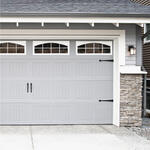 Tuesday, February 01, 2022
Sheet metal and PVC-based panels are among the options available to those looking for interior wall and ceiling solutions for their garage. But which is better?
SlatWallTips & TricksWall&CeilingBoard
Read More
Tuesday, January 25, 2022
PVC is transforming residential and commercial construction. Trusscore answers the top 10 questions about PVC as a building material and how it can be used.
Read More