Popular Posts:
---
Tuesday, November 16, 2021
Drywall serves as the most common garage wall finish, although not always the best solution. Improve your garage walls with these drywall alternatives.
---
Tuesday, November 22, 2022
Slatwall systems are a great way to maximize the storage space in your garage. There are some things you should consider before buying and installing one.
---
Friday, October 27, 2023
A garage is an extension of your home. The extra square footage offers storage space, a place to park your car, and can add resale value to your home. But how much does it actually cost to build a garage?
Latest Blog Post:
---
Friday, November 24, 2023
Transform your laundry room with the perfect colors. Our guide makes makeover decisions easy for a stylish and vibrant space.
Read More
Tuesday, November 03, 2020
Late last summer, Roz Llewellyn, the Community Recreation Coordinator for the township of Oro-Medonte, was faced with a dilemma.
Read More
Tuesday, October 27, 2020
The volunteers and staff at The Working Centre's urban community garden know better than most that when everyone chips in, when seeds are planted in the proper conditions, good things are bound to sprout.
Customer StoryWall&CeilingBoard
Read More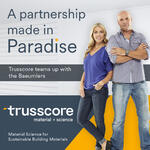 Wednesday, September 23, 2020
Trusscore, maker of a range of sustainable, improved alternatives for drywall, plasterboard, and fiber-reinforced plastic panels, has teamed up with do-it-yourself renovation TV stars Bryan and Sarah Baeumler.
Read More