---
Tuesday, May 24, 2022
North American jurisdictions are looking at changing building codes to gain improvements in the energy performance of commercial and residential structures
Read More
---
Tuesday, May 17, 2022
Rental properties require maintenance to maintain their value. Some planning and pro-active work will save a landlord time and money over the long term.
---
Tuesday, May 10, 2022
Events of the past two years have generated pressures on the construction industry. Shortages of materials and supply chain tumult will continue for the near future.
---
Tuesday, May 03, 2022
Drywall waterproofing is mostly a myth. For a truly waterproof wall panel, you need – a PVC-based product like Trusscore Wall&CeilingBoard.
Tuesday, February 22, 2022
Slatwall systems create a functional wall-based storage. Here's what you need to know to create a custom garage slatwall system that will solve your storage problems.
SlatWallTips & TricksWall&CeilingBoard
Read More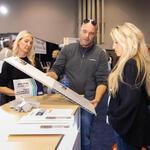 Tuesday, February 15, 2022
Bryan Baeumler recaps the International Builders' Show 2022 in Orlando, Fla., and breaks down the emerging construction and building trends.
Read More
Tuesday, February 08, 2022
Waterloo Region needed downtown housing. The region built a light rail line. The result? $4 billion in new development and 17,000 new residential units.
Read More