---
Tuesday, June 28, 2022
Vertical farming – scalable and highly automated systems capable of growing vast amounts of produce indoors – may be the answer to the problem of a growing population.
Industry FeatureWall&CeilingBoard
Read More
---
Thursday, June 23, 2022
Before you place your order for traditional building materials like drywall and pressure treated wood to take care of your cottage renovation, consider pvc-based products for durability.
---
Wednesday, June 22, 2022
There are plenty of choices available for garage ceilings, each with pros and cons and each suited for unique situations and conditions. We break it all down.
---
Tuesday, June 14, 2022
Fathers have stuff. Stuff needs organization. Trusscore SlatWall is the answer, regardless of the interests and activities of the father in your life.
Tuesday, October 27, 2020
The volunteers and staff at The Working Centre's urban community garden know better than most that when everyone chips in, when seeds are planted in the proper conditions, good things are bound to sprout.
Customer StoryWall&CeilingBoard
Read More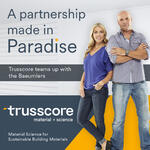 Wednesday, September 23, 2020
Trusscore, maker of a range of sustainable, improved alternatives for drywall, plasterboard, and fiber-reinforced plastic panels, has teamed up with do-it-yourself renovation TV stars Bryan and Sarah Baeumler.
Read More