---
Friday, August 05, 2022
The era of the single-family North-American home may be coming to an end: sky-high prices and a drive to reduce carbon emissions are spurring a move to urban density and multi-residential construction. . Long live denser living.
---
Wednesday, July 27, 2022
In the unlikely event you damage a Trusscore Wall&CeilingBoard panel, follow these steps to replace the damaged panel with a new one.
---
Tuesday, July 12, 2022
LEED is a certification available for buildings that reach environmental and sustainability benchmarks across a range of categories. Read about the requirements and levels for LEED.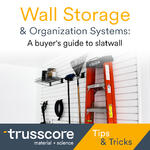 Tuesday, January 05, 2021
Storage solutions are the holy grail of home life. We break down the advantages and disadvantages of three popular wall-based organization systems.
Read More
Tuesday, December 29, 2020
Now that many people are working out of their houses, there's a bigger need to get clutter under control. Read our tips on how to get your home organized with SlatWall.
Read More
Tuesday, December 15, 2020
TempWall by Trusscore quickly became a hit with hospitals and medical facilities. An instant space divider, it allowed medical administrators and personnel to quickly respond to changing conditions during the pandemic.
Read More