---
Tuesday, May 24, 2022
North American jurisdictions are looking at changing building codes to gain improvements in the energy performance of commercial and residential structures
Read More
---
Tuesday, May 17, 2022
Rental properties require maintenance to maintain their value. Some planning and pro-active work will save a landlord time and money over the long term.
---
Tuesday, May 10, 2022
Events of the past two years have generated pressures on the construction industry. Shortages of materials and supply chain tumult will continue for the near future.
---
Tuesday, May 03, 2022
Drywall waterproofing is mostly a myth. For a truly waterproof wall panel, you need – a PVC-based product like Trusscore Wall&CeilingBoard.
Tuesday, November 03, 2020
Late last summer, Roz Llewellyn, the Community Recreation Coordinator for the township of Oro-Medonte, was faced with a dilemma.
Read More
Tuesday, October 27, 2020
The volunteers and staff at The Working Centre's urban community garden know better than most that when everyone chips in, when seeds are planted in the proper conditions, good things are bound to sprout.
Customer StoryWall&CeilingBoard
Read More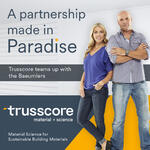 Wednesday, September 23, 2020
Trusscore, maker of a range of sustainable, improved alternatives for drywall, plasterboard, and fiber-reinforced plastic panels, has teamed up with do-it-yourself renovation TV stars Bryan and Sarah Baeumler.
Read More