---
Friday, August 05, 2022
The era of the single-family North-American home may be coming to an end: sky-high prices and a drive to reduce carbon emissions are spurring a move to urban density and multi-residential construction. . Long live denser living.
---
Wednesday, July 27, 2022
In the unlikely event you damage a Trusscore Wall&CeilingBoard panel, follow these steps to replace the damaged panel with a new one.
---
Tuesday, July 12, 2022
LEED is a certification available for buildings that reach environmental and sustainability benchmarks across a range of categories. Read about the requirements and levels for LEED.
Wednesday, March 31, 2021
How modular walls made by Trusscore are helping with the delivery of COVID-19 vaccinations in several Ontario communities: The largest, fastest vaccination campaign in Canadian history is unfolding across the country. TempWall by Trusscore is playing a vital role.
Read More
Tuesday, March 23, 2021
Heather Scott is a real estate agent and construction company co-owner. Her advice to would-be home sellers? Renovate to gain a cost-effective avenue to a quick sale and an enhanced selling price.
Read More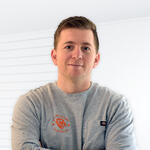 Tuesday, March 16, 2021
Joel Greening, 31, is the owner and principal of Lions Valley Carpentry, based in Campbellville, Ontario. Lions Valley serves the Campbellville, Milton, Burlington, Oakville, and Mississauga areas and specializes in trim, high-end finishes and interior work.
Read More