---
Wednesday, January 25, 2023
A garage is an extension of your home. The extra square footage offers storage space, a place to park your car, and can add resale value to your home. But how much does it actually cost to build a garage?
SlatWallTips & TricksWall&CeilingBoard
Read More
---
Tuesday, January 17, 2023
Plywood and PVC panels are two popular wall and ceiling choices for home garages. But which is the best choice? We do a head-to-head comparison.
---
Tuesday, January 10, 2023
In Part II of our series on the technological transformation of the construction industry, we look at how machines are accomplishing tasks on building sites that once required human hands.
---
Wednesday, January 04, 2023
In this six-minute video, we walk you through the step-by-step process for estimating how much Trusscore Wall&CeilingBoard is needed in any space.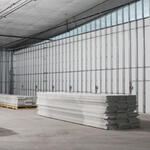 Tuesday, December 06, 2022
Trusscore Wall&CeilingBoard panels are intended to be installed in an environment where the panels have been acclimatized to a temperature between 10° and 20°C (50° and 68°F).
Tips & TricksWall&CeilingBoard
Read More